Tiger Woods posts 72 at Masters, apologizes for actions in second round
Tiger Woods didn't do much on the golf course in the third round of the Masters, but it was what he said after his round that had people buzzing.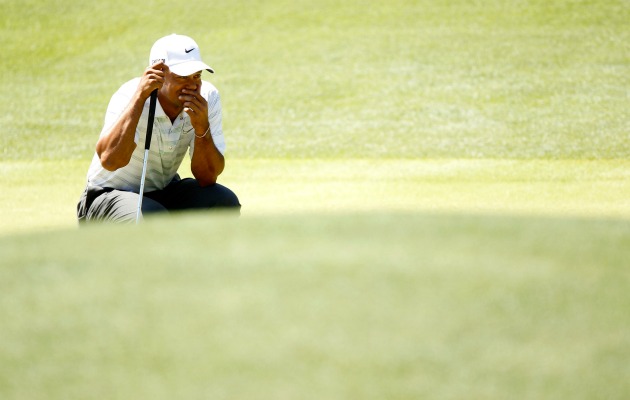 Tiger Woods is in danger of not breaking 70 for the first time since the '07 Masters. (Getty Images)
AUGUSTA, Ga. -- There are plenty of words and phrases you constantly hear from Tiger Woods. "So close," "process," and "almost" are some that quickly come to mind. One that isn't so often heard? "I apologize." 
But that happened on Saturday at the Masters after Tiger finished another frustrating round at Augusta National. Woods, who shot a third-round 72 that didn't include a single birdie after the fourth hole, is in danger of not breaking 70 in the Masters for the first time since 2007.

Friday, he was overheard screaming into microphones, throwing clubs and kicking his nine-iron on the 16th hole, and although he didn't address that after his second-round 75, he did say something Saturday.
"I'm frustrated at times, and I apologize if I offended anybody by that." Woods said.  "But I've hit some bad shots, and it's certainly frustrating at times not hitting the ball where you need to hit it."
Tiger is obviously not going to win his fifth green jacket this year. He had another case of the lefts Saturday, but it was the putter where he couldn't get things going; he needed 31 putts in the round. 
But it is nice to hear Tiger say he's sorry about acting a little childish on the course, whether he really means it or not. 
Woods is a role model in sports, and a few of his actions after some of these swings have been unnecessary. We all get frustrated on the course, but handling it with a little more humility and grace would be appreciated. 
2012 Masters

The obvious reason for Tiger being so upset is because he came in with such high hopes. Coming off his first win in 30 months, he was the favorite before the Masters kicked off, and everyone seemed to be picking him to take this thing home and move a step closer to Jack Nicklaus. 
If nothing else, his play shows us just how level the playing field is now. Tiger can be on one week, off the next, as it just seems to be in 2012 with nearly all of these players not named Rory McIlroy. 
It has been long time since the days of the Tiger Slam, and maybe the fans need as much of a reality check as Tiger does. He's still a good player who has the chance to win big tournaments when his game is on. The simple conclusion is that each week, his game might be completely different than it was the week before. 
Rory McIlroy also bounced back nicely and Tiger Woods (unfortunately) missed the cut

For the first time in over two years, Woods will try to complete back-to-back events

Woods missed the cut on Friday following a miserable performance in Round 2
The opening round rocked as the best field of 2018 clashed at one of the best courses in the...

All systems go a Riviera this week with these three over the first two days

Big Cat picked himself up on the greens after several wayward drives