2013 Futures Game: Twins prospects steal the show during BP
Twins prospects Miguel Sano and Byron Buxton stood out from the pack during batting practice before Sunday's Futures Game at Citi Field.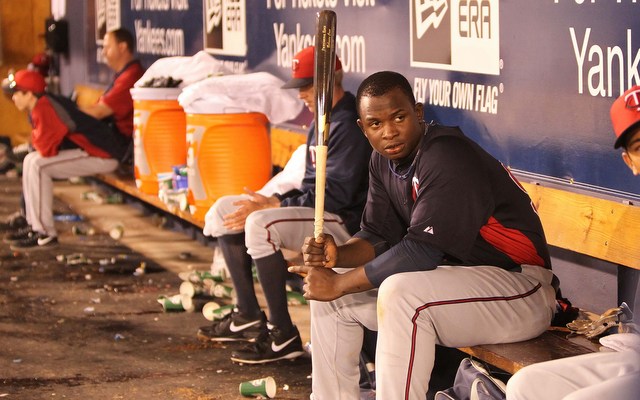 More MLB: Scoreboard | Standings | Probable Pitchers | Sortable Stats | Odds
NEW YORK -- Major league players still have some games to complete on Sunday, but All-Star Weekend officially got under way with the 2013 Futures Game. Baseball's best prospects gathered at Citi Field for what amounts to a one-game showcase. These youngsters get two or three at-bats or an inning's worth of work to show everyone why they might be the next Mike Trout or Matt Harvey.
On the field before the game, the buzz surrounded two Minnesota Twins prospects. Twenty-year-old third baseman Miguel Sano was the star of batting practice, hitting five home runs (several into the hard-to-reach second deck) in his first round of swings alone. He is listed at 6-foot-3 and 195 pounds, but I think that might be a little light and not in a bad way. Sano just looks powerful.
Later on, outfielder Byron Buxton showed a very quick bat and line-drive stroke from the right side of the plate. Here's some batting practice video of the 19-year-old, who was the second overall pick in the 2012 draft:
Like Sano, Buxton looks meatier thank his listed 6-foot-2 and 189 pounds in a good way. He looks like the perfect baseball player physically -- strong but explosive. In my informal poll of various Team USA and World Team coaches, Buxton's name was brought up far more than anyone else's while discussing the most exciting player in the Futures Game.
Buxton came into the weekend hitting .333/.418/.533 with nine home runs and 35 stolen bases across two levels of Single-A ball while Sano owns a .293/.388/.609 line with 22 homers between Single and Double-A. Baseball America ranked Buxton and Sano as the best and third-best prospects in all of baseball last week, respectively, and it was obvious why on Sunday. On a field with the game's elite prospects, the two future Twins stood out from the pack.
Here are some other notes from the field before the Futures Game:
SS Carlos Correa (Astros) is much bigger than I realized. The first overall pick in last summer's draft is listed at 6-foot-4 and 205 pounds, but he moved quick while fetching balls on the infield and launched some long home runs into the second deck during batting practice.
SS Francisco Lindor (Indians) gets the unofficial "sweetest swing in batting practice" award, and he showed it from both sides of the plate. He's just so smooth and natural in the batter's box.
OF Christian Yelich (Marlins) looked the part of a pure hitter by spraying nothing but line drives to all fields and hitting the ball out both to this pull side and the opposite field. He looks like he was born to hit. Here's some video.
1B C.J. Cron (Angels) fits the profile of a brute masher. He's listed at 6-foot-4 and 235 pounds and was just hammering the ball to dead center from the right side of the plate. I'd say he was the scariest-looking hitter of the day. Not someone I would want to face if I was a pitcher.
OF Henry Urrutia (Orioles) is the second oldest player on either active roster at 26, but the Cuban defector had a lightning quick bat from the left side. I spoke to more than one person who hadn't seen him before and was very impressed.
It's part of Commissioner Rob Manfred's ongoing effort to improve pace of play

But one other team is prominently in the mix for the Marlins' slugger

Morgan went into the Hall in 1990 and has some strong words for PED users
Mark Appel was one of the players being moved about on Monday night

Garrett Cooper is the answer to a trivia question

We still don't know if Ohtani will be jumping to the majors yet