Dodgers vs. Rays score: Tampa evens World Series with Game 2 win as Brandon Lowe, Blake Snell step up
The Rays stormed out to a 5-0 lead and held on to tie the 2020 Fall Classic
What, you didn't think the Tampa Bay Rays would go away quietly after losing Game 1 of the World Series on Tuesday night, did you? The Rays stormed back to even the series against the Los Angeles Dodgers at a game apiece in Game 2 on Wednesday (Rays 6, Dodgers 4). This is now a best-of-five series.

Tampa received a strong outing from starter Blake Snell and, for what feels like the first time this October, production from Brandon Lowe and timely hits. Lowe hit two home runs in Game 2 and Joey Wendle drove in three runs. He'd driven in two runs total in Tampa's first 15 games this postseason.

With the win, the Rays improved to an MLB best 32-7 (.821 winning percentage) when scoring first this year, including the postseason. Here are six takeaways from Game 2.
1. Snell dominated early
Over the last three seasons only three pitchers threw pitches in the strike zone at a lower rate than Blake Snell. His game is getting hitters to chase out of the zone and it's very successful. Snell won the Cy Young award two years ago and again pitched at an ace level in 2020.

The Dodgers, meanwhile, chased the second fewest pitches out of the zone this season. Their hitters are very patient and unwilling to expand the zone. On paper, Los Angeles was a terrible matchup for Snell. On the field, Snell was outstanding: 4 2/3 innings, two runs, nine strikeouts. That's why they play the game, as they say.
It wasn't until the Rays built a 5-0 lead that Snell allowed his first hit -- Chris Taylor socked a two-run home run in the fifth inning -- and he befuddled Los Angeles with sliders and curveballs in the first four innings. Here are his breaking ball locations: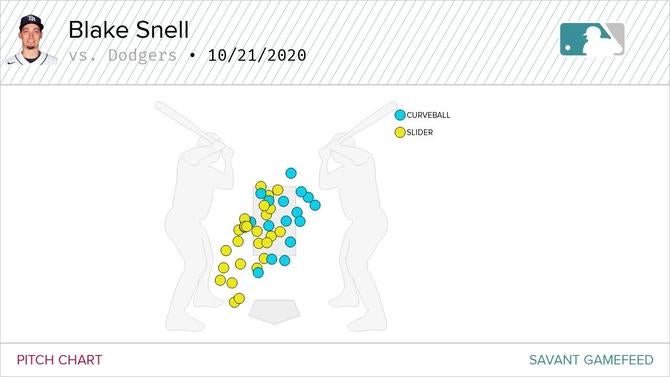 Mostly in the strike zone and at the edges. That was always where Snell would need to pitch to be effective against the Dodgers. Live out of the zone and they weren't going to chase. Once he got them to respect the breaking ball in the zone, he was able to expand the zone.

Snell is the first pitcher to open a World Series game with six strikeouts in three hitless innings since Randy Johnson in Game 2 of the 2001 World Series. Snell is also the second pitcher ever to begin a World Series game with eight strikeouts in four hitless innings. Sandy Koufax did it in Game 1 of the 1963 Fall Classic.

Alas and alack, things unraveled a bit after the Taylor home run, and Snell was unable to complete the fifth inning. He exited with runners on first and second with two outs. Snell still has not completed six innings in a start this year, though the 4 2/3 innings he gave the Rays in Game 2 were very good.
2. Lowe had his breakout game
The Rays have been waiting for Brandon Lowe to snap out of postseason slump for weeks now. He was 6 for 56 (.107) this postseason going into Game 2 and yet manager Kevin Cash struck with him, and his faith was finally rewarded.

Lowe smacked two opposite-field home runs in Game 2. The first gave the Rays a 1-0 lead in the first, the second a 5-0 lead in the fifth. Here are the two dingers: 
Lowe had two chances at a third home run but couldn't connect. He grounded out back to the pitcher in the seventh and struck out in the ninth.
Opponents have been challenging Lowe with fastballs all postseason and he'd been swinging through them pretty consistently. He did not miss the 3-1 heater from Tony Gonsolin in the first inning though. The second homer came on a hanging breaking ball in an 0-2 count, another pitch Lowe had been missing.

Needless to say, Lowe (finally) snapping out of his slump would be enormous for the Rays. Scoring runs has been a real struggle this postseason and Lowe can be an impact hitter. He was in Game 2 and Tampa needs it to continue.
3. The Rays finally got a timely hit
Coming into the World Series, Rays players other than Randy Arozarena were hitting .185/.276/.344 this postseason, and all Tampa players were hitting .174/.301/.362 with runners in scoring position. The offense has really struggled.

Lowe got the Rays on the board early in Game 2 with his solo homer. Three innings later the Rays tacked on two insurance runs thanks to a blown double play opportunity. Ji-Man Choi hit a tailor-made 4-6-3 grounder to Enrique Hernandez, but Hernandez bobbled it, and the Dodgers were only able to get the out at second.

The inning should've been over. Instead, Manuel Margot followed with a two-strike single punched the right, and Joey Wendle provided The Big Hit with a two-run double into the right-center field gap. You have to place it well to get a ball to fall between Cody Bellinger and Mookie Betts, and Wendle did.
The two-run double surely felt like a relief after the Rays had a runner at third with one out and did not score in the second inning. Willy Adames hit a grounder right to Corey Seager at short and Manuel Margot was easily thrown out at home on the contact play.

Tampa's win probability prior to Choi's grounder was 63.1 percent. After Wendle's double, it was 81.6 percent. Had the Dodgers turned the double play, the Rays' win probability would've been 55.4 percent. Pretty huge swing in win probability there. The Rays had scored nearly 75 percent of their postseason runs on homers going into the World Series. Wendle's double was huge. 
4. Anderson is still a concern
The postseason has not been kind to Nick Anderson. The Rays righty has been one of the top relievers in the game the last two years, but he'd allowed a run in five of his first seven outings this postseason, and in each of his last four appearances as well.

Make it five straight games with a run. Anderson served up a solo home run to Will Smith in the sixth inning. This is a guy who has allowed a run in only five of his 42 regular season appearances with the Rays. He's now done it in five straight postseason games (and in six of eight postseason games overall).

To be fair, Anderson did get maybe the biggest out of Game 2 as well. He replaced Snell with runners on the corners and two outs in the fifth inning, and struck out Justin Turner to end the threat. Turner represented the tying run at the time. The rest of Tampa's bullpen handled the final three innings.


Anderson struck out two of the five batters he faced in Game 2, which is good news because he did not strike out any of the previous 23 batters he faced. This is a guy who struck out 44.8 percent of the batters he faced during the regular season. That's alarming. The Rays need Anderson to get right and soon.

After playing five games in five days during the LDS and seven games in seven days during the LCS, off days return in the World Series, so Cash was able to push Anderson, Peter Fairbanks, Aaron Loup and Diego Castillo to close out Game 2 knowing he had an off day coming Thursday to rest them. That certainly played a role in his decision-making.
5. L.A.'s youngsters are struggling
The Dodgers have opted against using Tony Gonsolin and Dustin May as traditional starters this postseason, instead deploying them as openers and bulk-inning relievers. The duo had a 2.46 ERA in 102 2/3 regular season innings. Following Game 2, they have a combined 7.02 ERA in 16 2/3 postseason innings. Ouch.

According to MLB, Gonsolin made the shortest start by an uninjured pitcher in the World Series since at least 1947. Here's what Gonsolin and May did in Game 2: 
| | IP | H | R | ER | BB | K | HR |
| --- | --- | --- | --- | --- | --- | --- | --- |
| Tony Gonsolin | 1 1/3 | 1 | 1 | 1 | 1 | 1 | 1 |
| Dustin May | 1 1/3 | 4 | 3 | 3 | 0 | 1 | 1 |
| Total | 2 2/3 | 5 | 4 | 4 | 1 | 2 | 2 |
May's outing was particularly ugly. He surrendered Lowe's second home run and the four batted balls he allowed in the inning left the bat at 107.0 mph, 108.4 mph, 104.0 mph, and 107.5 mph. Lowe's home run had the lowest exit velocity of the four. Yikes.

The Dodgers have Walker Buehler lined up to pitch Game 3 on Friday. Game 4 is undecided at the moment but Los Angeles would do well to give the ball to Julio Urias. He's allowed two runs (one earned) in 16 innings this postseason and simply has looked much better than Gonsolin and May.
6. The Rays are right back in it
Historically, teams that have taken a 2-0 series lead in the World Series have gone on to win the series 80.4 percent of the time, including each of the last 12 times. Those are the odds the Rays avoided with the Game 2 win. It was close to a must win, truly. The World Series is now a best-of-five. Thursday is an off day and Game 3 is Friday night.
See New Posts
Pinned
Pinned
Pinned
Pinned
Dave Roberts indicated Julio Urias would start Game 4 and Clayton Kershaw Game 5.

— Ken Gurnick (@kengurnick) October 22, 2020
Pinned
Buehler starts Game 3, then it's Urías for Game 4.

— Dodger Insider (@DodgerInsider) October 22, 2020
Pinned
Pinned
Pinned
Pinned
Pinned
Pinned
Pinned
and Mookie Betts is on deck, so that wouldn't be fun
Pinned
I guess big picture, if you don't like the matchup, you can't change letting the tying run come to the plate the way teams homer these days
Pinned
I get the mid-inning pitching change, two-run lead in the ninth inning of a World Series game, but it still annoys me.
Pinned
interesting that they left Loup to face three hitters (total; two this inning) but with no on and two out, they just have to get him out for Castillo
Pinned
The ultimate fan favorite, the pitching change with two outs in the bottom of the ninth.
Pinned
Stated another way, Rays have a 92.7 percent chance of winning Game 2.
Pinned
Dodgers have three outs to get two (or more) runs.
Pinned
Arozarena gets his first hit of the World Series, an infield single.
Pinned
Pinned
he does not join the illustrious group
Pinned
Lowe gets another shot to join Babe, Reggie, Albert and ... Pablo
Pinned
Pinned
Bellinger gets caught looking at a fastball down the middle. The Rays will take at least a two-run lead into the bottom of the ninth.
Pinned
Loup gets Bellinger looking and it'll head to the ninth, 6-4 Rays
Pinned
Pinned
now here comes the lefty Loup to face Bellinger. If he doesn't get him out, he has to stay in for at least three batters (or until the third out)
Pinned
102.6 mph off the bat on that line-out.
Pinned
Pinned
great, now that's all I'm going to notice
See More