Edgar Renteria is retiring from baseball
Long-time big league shortstop Edgar Renteria, a two-time World Series MVP, is retiring from baseball.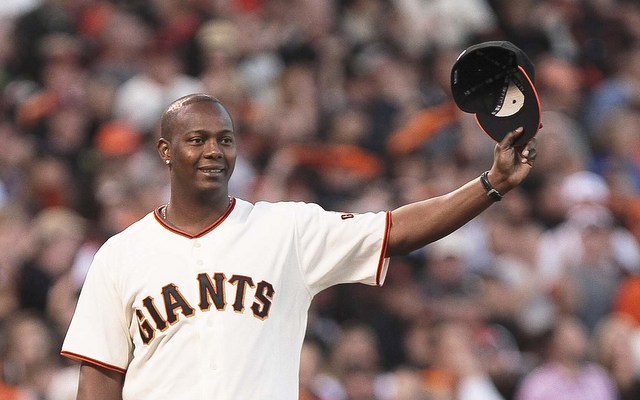 Long-time big league shortstop Edgar Renteria has decided to retire from baseball, he told RCN Television in his native Colombia.
"I'm definitely retired from baseball and it will soon be announced in the majors," said Renteria. "I decided to retire from baseball and try to spend all my time with my family.
"I always wanted Colombia to know before the rest of the world. This is my official retirement," he added. "I feel proud, I feel satisfied with what I did, my heart is telling me that's enough and it's time to retire. You have to know when to retire, and that's why I took a year and a half to rest and think about what I was going to do. This is the right time."
Renteria, 36, did not play in 2012. He last appeared in the big leagues with the Reds in 2011, when he hit .251/.306/.348 in 96 games. Renteria retires as a .286/.343/.398 (94 OPS+) career hitter with 140 homers and 294 stolen bases in part of 16 seasons. His best years came with the Cardinals, with whom he hit .290/.347/.420 (98 OPS+) from 1999-2004. He also suited up with the Marlins, Red Sox, Braves, Tigers, Giants and Reds.
A two-time World Series MVP, Renteria had not one but two World Series winning hits. He hit the walk-off single in the 11th inning of Game 7 of the 1997 Fall Classic while with Florida, and in 2010 he hit a go-ahead three-run homer in the 7th inning of Game 5 of the 2010 World Series for San Francisco. He also played in the 2004 World Series with St. Louis.
By WAR (28.9), Renteria is by far the best Colombian-born player in MLB history. Orlando Cabrera is a distant second at 18.1. Renteria finished second to Todd Hollandsworth in the 1996 NL Rookie of the Year voting and was an All-Star five times. He also received a handful of MVP votes in 2002 and 2003. According to Baseball-Reference.com, Renteria banked just over $85 million in his career.
Batting Stats
Year
Team
G
AB
R
H
HR
RBI
BB
SO
SB
CS
OBP
SLG
AVG
1996
FLA
106
431
68
133
5
31
33
68
16
2
.358
.399
.309
1997
FLA
154
617
90
171
4
52
45
108
32
15
.327
.340
.277
1998
FLA
133
517
79
146
3
31
48
78
41
22
.347
.342
.282
1999
STL
154
585
92
161
11
63
53
82
37
8
.334
.400
.275
2000
STL
150
562
94
156
16
76
63
77
21
13
.346
.423
.278
2001
STL
141
493
54
128
10
57
39
73
17
4
.314
.371
.260
2002
STL
152
544
77
166
11
83
49
57
22
7
.364
.439
.305
2003
STL
157
587
96
194
13
100
65
54
34
7
.394
.480
.330
2004
STL
149
586
84
168
10
72
39
78
17
11
.327
.401
.287
2005
BOS
153
623
100
172
8
70
55
100
9
4
.335
.385
.276
2006
ATL
149
598
100
175
14
70
62
89
17
6
.361
.436
.293
2007
ATL
124
494
87
164
12
57
46
77
11
2
.390
.470
.332
2008
DET
138
503
69
136
10
55
37
64
6
3
.317
.382
.270
2009
SF
124
460
50
115
5
48
39
69
7
2
.307
.328
.250
2010
SF
72
243
26
67
3
22
21
43
3
0
.332
.374
.276
2011
CIN
96
299
34
75
5
36
24
65
4
2
.306
.348
.251
Total
 
2152
8142
1200
2327
140
923
718
1182
294
108
.343
.398
.286
The O's need rotation help, and Cobb is available for hire

The Red Sox and Cardinals are expected to make trade offers next

The free agent first baseman may be a fit in St. Louis
The front office changes in Atlanta continue

The Marlins are more likely than you think on our list

Judge finished a distant second in the balloting and he paid respect to the winner