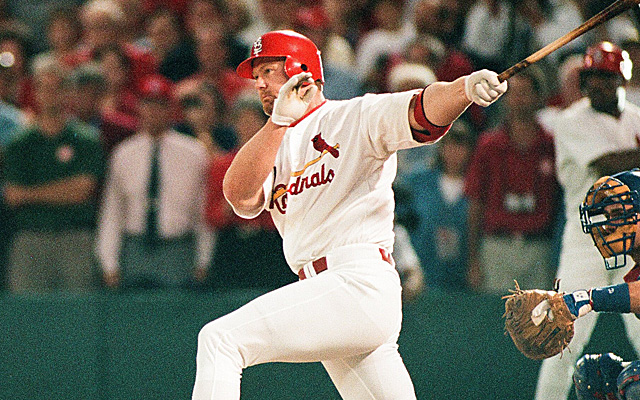 For the next several days, Eye On Baseball will break down cases for each candidate on the BBWAA Hall of Fame ballot for 2015. We'll present the pros and cons as they relate to existing Hall of Fame standards and then wager a guess as to whether the candidate in question makes it in this time by earning the necessary 75 percent of votes. Up now is Mark McGwire ... [Note: For previous players profiled, scroll to the bottom for all the links]
What is the best possible thing a hitter can do in any given plate appearance? Obviously not make an out would be one answer (on-base percentage FTW!), but the specific answer is hit a home run.
Few in the history of Major League Baseball have been as good at hitting the home run than Mark McGwire. In fact, you could argue he was the best home run hitter of all-time. Among players with at least 3,000 plate appearances, McGwire had the fewest at-bats per home run (10.61) ever. Babe Ruth is second, Barry Bonds third, Jim Thome fourth, Ralph Kiner fifth. So on a rate basis, McGwire was even better at hitting the long ball than Babe Ruth and Barry Bonds. That's decent, no?
In terms of what he compiled -- remember, it's not a negative! -- McGwire ended up with 583 homers, good for 10th all-time.
McGwire led the majors in homers five times, hitting at least 49 five times. He topped 50 four times and, of course, is the only man in history to have two seasons with at least 65 homers and one of only two to get to 70.
That sounds ridiculous because it is, and McGwire had some help. Therein lies the rub with McGwire. He's admitted to using PEDs in his career and that's one of the reasons his vote total has never exceeded 24 percent (23.7 percent in 2010 was his high mark) and was down to 11 percent last year as the ballot gets more and more crowded.
McGwire's case doesn't seem complicated. If you care about PEDs, he's definitely a no. If you don't, he should be a yes.
Where he's losing votes, I suspect, is that he was probably too one-dimensional to beat out some of the other candidates on this ballot.
The rest of McGwire's counting stats aren't knock-you-over impressive: 1626 hits, 252 doubles, six triples, 1167 runs and 12 stolen bases. He wasn't an especially deft fielder (range, etc.) for the most part despite being pretty sure-handed. So I guess his statistical case revolves around only home runs.
Still, his home-run hitting ability also landed him tons of walks and his career .394 on-base percentage is 81st in MLB history. Factor in his eighth-best slugging percentage (.588) ever and his OPS is 10th all-time. The 163 OPS+ clocks in at 12th.
Shouldn't we factor in the whole home run chase of 1998 with Sammy Sosa, where McGwire broke Roger Maris' revered single-season record? Sure, it was admitted by McGwire himself that it was juice-fueled, but it also brought baseball "back" nationally as people were still a bit turned off by the 1994-95 player strike. If we are going to tell the story of baseball in the late '90s to future generations, we can't do it without Sammy and Big Mac. Baseball as a whole turned a blind eye (oh, by the way, you can't blame me -- I was in college at the time and not a writer) to the juice then and it helped the game, and now baseball seems to want to shun all of the players who took part in being enabled.
As far as any other boxes to check off, McGwire never won the MVP, but did finish in the top five of voting three times. He has a World Series ring and went to the Fall Classic three times. He won the 1987 Rookie of the Year and still owns the rookie record for homers in a season with 49.
Still, it really all boils down to one thing here, doesn't it? Do you care about players using PEDs back when the league had zero punishment for it?
I don't, so I'm a yes for McGwire. If you do, which is totally fine -- remember, this is all subjective and everyone is entitled to his or her own opinion -- then you're a no. It shouldn't be complicated.
And for many, it isn't. Look for McGwire's vote total to dip below 10 percent, maybe even fall off the ballot by getting less than five (he's tracking at 7.61 percent as of Wednesday morning). He'll be off the ballot within the next few years anyway and probably won't ever get in -- at least not while alive.
More Hall of Fame candidates: Craig Biggio | Mike Piazza | Curt Schilling | John Smoltz | Larry Walker | One and dones | Jeff Bagwell | Tim Raines | Roger Clemens | Barry Bonds | Lee Smith | Edgar Martinez | Alan Trammell | Mike Mussina | Jeff Kent | Fred McGriff