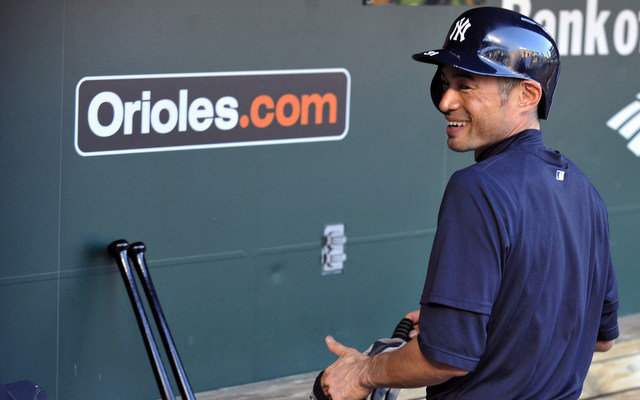 In more ways than one, long-time Mariners and current Yankees outfielder Ichiro Suzuki is one of the most unique players in baseball history. His hitting style is unteachable -- as in you wouldn't teach anyone to hit like that -- but his freakish hand-eye coordination has made it work.
Ichiro is also known as an all-world joker and character guy with a tremendous sense of humor. So much so that he's even learned to speak some Spanish throughout his career so he can trash talk opponents and get a laugh. Brad Lefton of the Wall Street Journal has more:
Ramon Santiago, the veteran shortstop of the Cincinnati Reds, recalls being startled and amused during his first encounter with Ichiro Suzuki in 2003. Santiago was barely into his first full season with Detroit when Ichiro's Mariners came to town. After a leadoff single to open the game, Ichiro dashed to second on a steal. As he popped up safely from his slide, he looked at Santiago and deadpanned in Spanish, "No corro casi."

Loosely translated, he was telling Santiago, a native of the Dominican Republic, "I don't have my legs today." Before Santiago could stop smiling, Ichiro was stealing third two pitches later on those same heavy legs.

"I knew he always spoke through an interpreter," Santiago said recently. "And that was for English, so of course I never imagined he could speak such nice Spanish."

...

Veteran first baseman Carlos Pena remembered one of his frequent encounters with Ichiro. He was defending first for the Tampa Bay Rays, and Ichiro had just arrived on one of his patented infield hits. Ichiro peered over at Pena and asked, "Que coño tu mira?," or, "What the hell are you looking at?" Pena clamped his lips together to prevent the laughter from bursting through.
Ichiro said he feels a special bond with Latin American players because they're all foreigners in a different country playing the game. And, he added, "we don't really have curse words in Japanese, so I like the fact that the Western languages allow me to say things that I otherwise can't."
Ichiro has picked up on Spanish through conversations with teammates over the years -- he still uses an interpreter for interviews because he is talking to fans and wants his message to be clear -- but he can't carry on a conversation in the language. He only knows some words and phrases.
There are very few players in baseball who could learn another language just to trash talk and still get a laugh out of opponents. Ichiro is that guy.