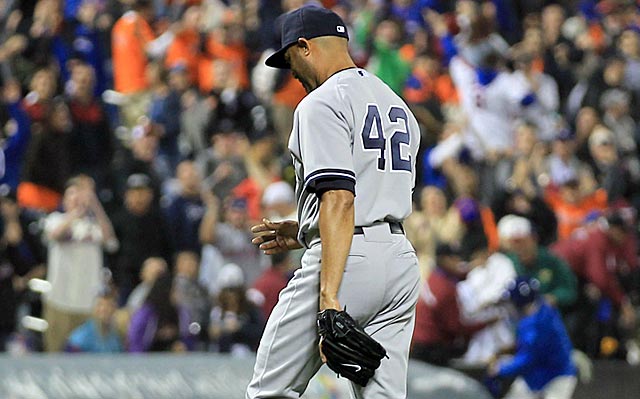 NEW YORK -- For his final act in a regular-season game at Citi Field, Mariano Rivera did something he had never done before.
Not that he'll remember it fondly.
For the first time in his entire 19-year career, Rivera blew a save and lost a game without recording an out. He entered Tuesday's game against the Mets with a 1-0 lead, then gave up three straight hits to lose the game 2-1.
It was only the third time in Rivera's 1,072 career appearances that he hadn't recorded an out, the first since 2008. And in the other two, he faced only a single batter.
Tuesday, he faced three, and all three got hits. Daniel Murphy led off the ninth with a double. David Wright followed with a single, and took second on a bad throw by Brett Gardner (and Rivera's failure to back up the plate). Lucas Duda then won it with a single.
That was it, Rivera's first blown save in 19 chances this season.
And his first without getting an out in 730 career save situations.
Rivera was honored by the Mets on Tuesday afternoon. He threw out the ceremonial first pitch before the game, his final regular-season game at the ballpark where in 2009 he recorded his 500th career save (although he'll certainly be back in July for the All-Star Game).
The ceremonial first pitch was an unusual honor for an active player.
Rivera's no-out loss was even rarer.