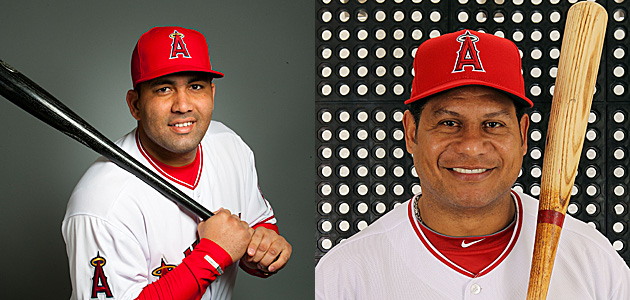 Back in early February we took a look at position battles to watch for the spring. Naturally, as we seep into the middle of March, it's a good time to see how those battles have shaped up so far this spring. We'll start with the AL West, home of the two-time defending AL Champion Rangers, big-spending Angels, rebuilding A's and King Felix's Mariners.

Los Angeles Angels
Designated hitter: Mark Trumbo vs. Kendrys Morales vs. Bobby Abreu vs. Vernon Wells
We certainly have some more clarity with this situation, but that could change in an instant. It would appear that as long as he's healthy (enough), Morales is going to be the DH. Wells is slotted for left field and the Angels are attempting to move Trumbo to third base. That leaves Abreu as the fall-back option -- and
he's previously sounded like he'd be none-too-happy with not being a regular starter
-- should Morales' leg not continue to improve as it has thus far. He
ran the bases Sunday and is set to play this week
. We'll see how things shake out in the next few weeks, but for now it really looks like Morales has the upper hand.

Oakland Athletics
Closer: Grant Balfour vs. Brian Fuentes vs. Fautino De Los Santos vs. Joey Devine
Most of the attention in A's camp this spring has been about either San Jose, the Giants, Manny Ramirez or Yoenis Cespedes. But after trading Andrew Bailey to the Red Sox, the A's opened up a battle for the replacement at closer. Fuentes is the most established of the group, but he seems a very unpopular choice among fans.
A poll on Athletics Nation
has Balfour, De Los Santos and Devine all within a few percentage points of each other (from 28 percent to 33 percent), but Fuentes has only gotten eight percent of the vote. That doesn't matter to management, of course, and Monday, Jane Lee (
MLB
.com's A's beat writer) tweeted that
manager Bob Melvin said Fuentes and Balfour were the top candidates
.

Seattle Mariners
No. 3-5 starters: Blake Beavan vs. Charlie Furbush vs. Hector Noesi vs. Kevin Millwood vs. Hisashi Iwakuma
By now, it seems Iwakuma is a pretty safe bet to be the third man in the rotation. So the last two spots come down to the rest. For whatever it's worth, Furbush has thrown five shutout innings this spring, allowing only four hits and a walk. Beavan has a 1.42 ERA in 6 1/3 innings, too. So those two are looking good, but you never know how much stock is put into that. It's just such a tiny sample size. In an even smaller sample, Noesi hasn't allowed a run ... in just two innings. On the other hand, Millwood has given up seven hits and four earned runs in five innings. He has struck out six and walked none, but he still needs to get hit less hard if he wants to win a job. Also, we can now add Erasmo Ramirez to the mix here, as the
Seattle Times
reported Sunday
he was a possibility in the rotation
. So instead of things getting more clear, they are more muddied. We'll know a lot more one week from now.

Texas Rangers
5th starter: Matt Harrison vs. Alexi Ogando vs. Scott Feldman
Well, this is an easy update.
CBSSports.com's Danny Knobler covered it Sunday
. Knobler reports the Rangers aren't yet close to determining the final man of the rotation, but that the odds are stacked against Ogando, who instead will likely join up with Mike Adams as a setup man for closer Joe Nathan. So it appears the battle is now between Feldman and Harrison. Neither Harrison (in two innings) nor Feldman (five innings) have allowed a run this spring.