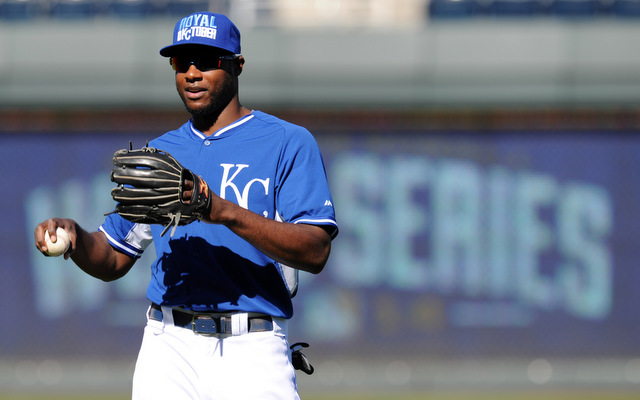 Walk into an MLB clubhouse before a game, and you'll see players on their iPads watching movies, television shows, playing video games, whatever. Baseball is a daily grind for six months of the year, so these guys try to find time to relax whenever they can. I'm sure the same is true in other sports as well.
Some of that pregame relaxation was hurting the Royals earlier this season, as Andy McCullough of the Kansas City Star explains. Apparently several players on the team were playing the video game "Clash of Clans" too much and weren't spending enough time preparing for each game.
Here's some more from McCullough:
One day early in the season, reserve Jarrod Dyson introduced Lorenzo Cain to "Clash of Clans." Cain indulges in video games throughout the offseason. When he was drafted in the 17th round of the 2004 draft, he barely paused his game of "Madden NFL" to take a call from the Brewers. In "Clash of Clans," he found a new channel for his interest.

The game resembles the classic PC version of "Warcraft," as gamers build a community and wage animated war. During the summer, the iPad activity became part of the daily routine for Royals such as Cain, Dyson and Danny Valencia. Mike Moustakas and Eric Hosmer also took part on occasion. The game's verbiage entered the clubhouse lexicon, as players debated the relative merits of their clans and beseeched each other for orders of goblins and witches.

"Maybe I need to cut back some of my hours on it," Cain said in July. "I think I'm going to cut back on it a little bit."

Cain was laughing at the time. He may not have been aware that his coaches did not find humor in the situation. The frustration intensified later that month as the Royals frittered away their temporary lead on the Detroit Tigers. As the season burned, "Clash of Clans" acted as the fiddle.
First base coach Rusty Kuntz said it was "really disappointing" to see the players focused on the video game as their lead in the AL Central withered away. Manager Ned Yost called a team meeting in July and told his players they needed show more energy on the field. Raul Ibanez and James Shields led a players only meeting a few days after that to reinforce the point.
The video game has since been pushed to the backburner -- "I'm ending it. I'm winding it down. I'm toning it down. I'm trying to tone it down. It's going to be hard, but I'm trying to tone it down," said Dyson -- and the Royals focused more on pregame work. The hitters spent the extra time watching video, for example.
Being a major league baseball player is very hard, and players need some kind of outlet to avoid burning themselves out. The 162-game schedule is brutal. There's nothing wrong with watching a movie or playing some video games before batting practice, but when it starts to interrupt preparation, it's a problem. The Royals solved that problem in July and it's helped get them to the World Series.