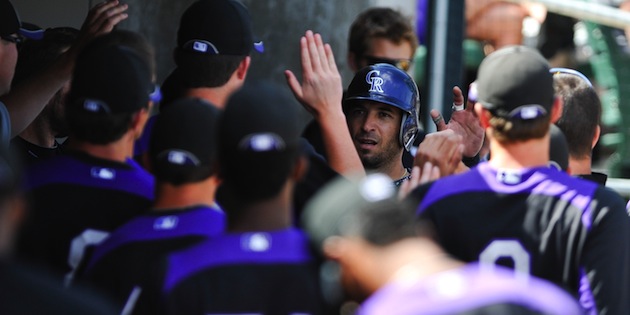 Few teams were as disappointing in 2011 as the Rockies, as Ubaldo Jimenez struggled and then found himself out of town. Jimenez's trade was the first of many moves the Rockies made in reaction to the 73-89 season, with the biggest offseason acquisition being the signing of
Michael Cuddyer
, who should find Coors Field to his liking.
Major additions:
OF/IF Michael Cuddyer, C
Ramon Hernandez
, OF
Tyler Colvin
, 2B
Marco Scutaro
, RHP
Jeremy Guthrie
Major departures:
C Chris Iannetta, 3B Ian Stewart, RHP Jason Hammel, RHP Huston Street, OF Ryan Spilborghs
Probable lineup
1.
Dexter Fowler
CF
2. Marco Scutaro 2B
3.
Carlos Gonzalez
LF
4.
Troy Tulowitzki
SS
5.
Todd Helton
1B
6. Michael Cuddyer RF
7. Ramon Hernandez C
8.
Casey Blake
3B
Probable rotation
1. Jeremy Guthrie
2.
Jhoulys Chacin
3.
Juan Nicasio
4.
Alex White
5.
Guillermo Moscoso
Back-end bullpen
Closer:
Rafael Betancourt
Set-up:
Rex Brothers
,
Matt Belisle
,
Matt Reynolds
Important bench players
C
Wilin Rosario
, OF Tyler Colvin, 2B
Eric Young Jr
.
Prospect to watch
Third baseman
Nolan Arenado
, 20, led the minors with 122 RBI last season, but that was in the offensive playground of the California League. This year we'll see how he does at Tulsa in the Double-A Texas League. Since the Rockies took him in the second round of the 2009 draft out of high school, he's done nothing but hit, putting up a .302/.346/.483 slash line in three years. Depending on how he reacts to Double-A and how Blake performs for the Rockies, Arenado could be in the big leagues by midseason.
Fantasy sleeper:
Rafael Betancourt
"At age 36, he's no longer so easily rattled. Want proof? Hey, he was at his best while filling in for Street last year, posting a microscopic 0.32 ERA over his final 30 appearances, when he recorded all eight of his saves. He has always had great peripherals, from his strikeout rate to his WHIP, and his stuff is as good as ever despite his age. Betancourt is likely to slip in drafts given his limited closing experience, but if you draft him late as your second or third reliever, he might end up being your best." --
Scott White [Full Rockies fantasy preview]
Fantasy breakout:
Dexter Fowler
"In June of last year, he was hitting so poorly that the Rockies actually demoted him to the minors. Instead of sulking, he adjusted, changing his stance -- which was never a thing of beauty from the left side -- to shorten his stroke. He returned a different player, hitting .297 with 36 extra-base hits, nine steals and a .901 OPS in his final 64 games. That's who the Rockies thought they were getting when Fowler was first breaking into the majors. Granted, the homers aren't there yet, but given his 6-foot-4 frame and extensive number of doubles and triples, they should come as he enters his prime." --
Scott White [Full Rockies fantasy preview]
Optimistic outlook
The division is certainly winable -- if the Rockies can get the starting pitching. Guthrie should at least eat innings, but it'll be interested to see if the move from the AL East to the NL West is as much of an advantage as pitching at Coors Field is a disadvantage. If Guthrie takes to the NL, Chacin continues to develop and Jorge De La Rosa comes back midseason healthy and pitching at the same level, there's enough offense to make a run to the playoffs.
Pessimistic outlook
The starting pitching can't hold up (sound familiar?) and Tulowitzki and Gonzalez are left trying to carry the rest of the team -- something that's more or less impossible, finishing a disappointing fourth place in the NL West yet again.
Projected lineups, rotations