Bulls players want contract extension for coach Tom Thibodeau 'ASAP'
Chicago Bulls forward Carlos Boozer says the team should offer a contract extension to Tom Thibodeau as soon as possible.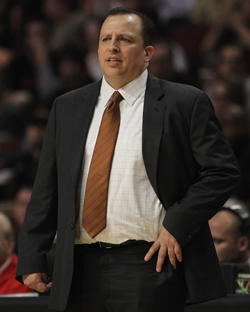 Tom Thibodeau awaits a new contract.
(Getty Images)
Welcome to a weekend edition of "The NBA Non-Story Of The Day." 
Chicago Bulls coach Tom Thibodeau has an option on his contract for next season. Everyone and their grandmothers knows that the Bulls will pick it up and perhaps seek to lock him up for an extension, as he's posted a record of 104-31 (.770 winning percentage) in his two seasons with the Bulls and guided the team to the Eastern Conference Finals last season.
The Chicago Tribune reported
that Thibodeau has rasied the subject with his players but Thibodeau later denied that. 
"I don't know where that's coming from. I'm not worried about any of that stuff. I'm under contract. I'm fine with everything here," Thibodeau said, according to the paper.
Meanwhile, multiple Bulls players have gone on the record saying they would like the issue to be resolved. ESPNChicago.com
has the details
.
"He doesn't talk about that stuff, but we need to get him an extension ASAP," Bulls forward Carlos Boozer said. "He wouldn't talk about that stuff, but we know how great he's done for us and what he's meant for our team and the system he's putting us in and the way he's been able to manage (the season). This is a tough season -- 66 games crunched into like four months.
...
On the whole, Bulls' players don't seem concerned about Thibodeau's situation. They just hope the process will take place soon.

"Of course," Bulls forward Luol Deng said. "Not just for me, but for this organization and what he's done. If we don't bring him back, someone is going to take him. He's that good."
The Chicago Tribune also reported
the reaction from reigning MVP Derrick Rose.
"I'm not worried about it at all. He wants to be here. That's all the front office. I know they'll get it done," Rose said.
Retaining Thibodeau is a move that's almost as obvious as offering a max contract extension to Rose, something the Bulls did in December. The phrase "no-brainer" almost isn't strong enough.
Any expression of urgency is purely manufactured at this point. Anyone in any contract negotiation would prefer that things were wrapped up but it's difficult to imagine a more stable situation than what Thibodeau has created in Chicago. The Bulls fully understand his importance and will get this done; the only question is price. 
The Hawks and Sharecare reportedly agreed to terms on a five-year deal

A look at the context of the schedule and who plays who when, and how far they travel during...

Durant took on rapper Lil Dicky and actually might have lost
A report that James would once again be leaving Cleveland made the rounds on Wednesday

Known for his 'take that for data' rant, the Grizzlies coach touched on a number of important...

Wade's days with the Chicago Bulls may be numbered