Greg Oden admits to 'alcoholic' past, plans to sit out 2012-13 NBA season
Former Portland Trail Blazers center Greg Oden says that he has dealt with alcoholism during his NBA career and that he plans to sit out the 2012-13 season as he recovers from knee surgery.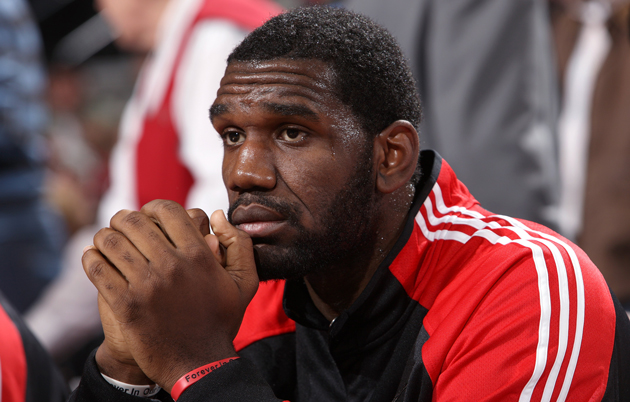 Greg Oden finally opened up about his struggles on and off the court with the Blazers.
(Getty Images)
In a rare interview, Greg Oden admits that he hit the bottle hard but says he still has plans to hit the hardwood.
The No. 1 overall pick in the 2007
NBA Draft
opened up
to Grantland.com
, detailing his five seasons with the Portland
Trail Blazers
on and off the court.
During his time in Portland, Oden underwent five knee surgeries -- including three microfracture surgeries -- and was
released by the Blazers in March
. He appeared in just 82 games as a professional and hasn't played since Dec. 2009, and he spent much of his time in Portland alone or rehabilitating. All that time and freedom led Oden to alcohol, he said.
That's because it wasn't an NBA veteran who took Greg under his wing in his second season — it was his veteran cousin from the Air Force who moved into Greg's house in Portland.

"If you know anything about guys in the Air Force," Greg explained, "it's that they drink a ton. My cousin got wrapped up in the NBA lifestyle and threw parties at my house all the time. So I got wrapped up in it too. When I played well, I'd drink to celebrate. And when I played poorly, I'd drink to forget. That second year in Portland I pretty much became an alcoholic."
Back in June 2011, Oden's agent
Bill Duffy acknowledged
that Oden had undergone "interventions" to help deal with the mental side of his injuries.
"Counseling, therapy, interventions, just to let him understand all the pressures, not to put too much pressure on himself," Duffy said at the time. "Everybody needs that. Not just an athlete but someone to talk to and share your thoughts and your concerns and just get reassurance. If you do things the right way, stay patient, keep your eye on the prize, you'll be fine."
In February
, Oden underwent arthroscopic surgery on his right knee and microfracture surgery on his left knee. He also dealt with blood clots in his left ankle that delayed the surgery on his left knee.
Blazers acting GM Chad Buchanan told CBSSports.com at the time that it was "anybody's guess" as to whether Oden would be able to return to the court and that it was "tough to say" whether Oden would attempt a comeback, noting that Oden had dealt with swelling and soreness throughout his rehabilitation. 
Grantland.com reports that Oden does not plan to retire but that he will step away from the game for next season with the knowledge that his career might be over.
Right now, his plan is to take off the entire 2012-13 season, move back to Columbus, take all the time he needs to rehab his knee back to full strength, and continue working toward the degree that he abandoned after one year at Ohio State. Once he feels ready, he plans to sign with an NBA team in 2013 and (hopefully) string together a few years of injury-free basketball. 

"I'd just have to accept it," Greg said. "I'm at peace with everything. I want more than anything to be able to play again. But if I can't, I'll still have a decent life. Getting cut (by Portland) kind of put everything into perspective. There's more to life than basketball, and at some point it's going to end anyway. I'm going to do what I can to get back on the court, but if it doesn't work out, I'll find something else to do and have a normal life."
Oden, 24, posted career averages of 9.4 points and 7.3 rebounds during his time in Porland.
CBS Sports HQ Daily Newsletter
Get the best highlights and stories - yeah, just the good stuff handpicked by our team to start your day.
Please check the opt-in box to acknowledge that you would like to subscribe.
Thanks for signing up!
Keep an eye on your inbox for the latest sports news.
Sorry!
There was an error processing your subscription.
All the info on the top names still on the market this offseason

Keep checking back for the latest updates as NBA free agency continues

This is the second LeBron mural that's been defaced since the superstar joined up with the...
Hayward demonstrates how far he's come along since the gruesome injury he suffered in his Celtics...

Here are the top prizes left in the 2018 NBA offseason

Wade is an unrestricted free agent, and one of the biggest names left unsigned