Melo takes the money to stay home, and there's nothing wrong with that
A day after LeBron takes less money to go home, Melo takes more to stay. Does that make him selfish? No more than James was -- both got what they wanted.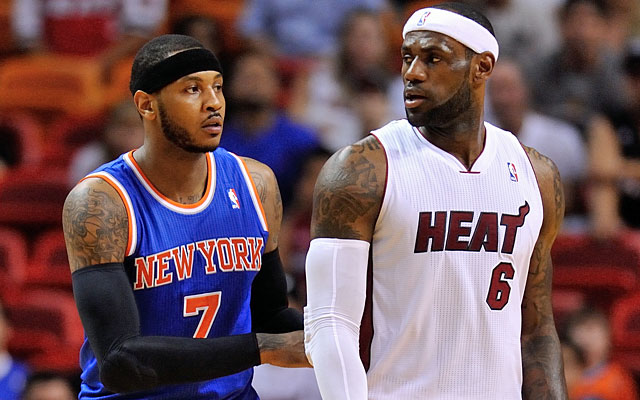 More Offseason Analysis: Coaching changes, news | Free Agency | Draft
After his friend LeBron James took less money to go home, Carmelo Anthony decided to take more money to stay.
Not that there's anything wrong with that.
There was no press conference to win, but James won the essay contest on Friday with a moving explanation to Sports Illustrated about why he's going back to Cleveland. Melo, not being the mushy type, went with a more straight-forward approach.
"Melo is staying," a league source with direct knowledge of the decision told CBSSports.com Saturday.
Five years, $129.5 million (assuming Anthony agrees to a deal for the full max, which is still under negotiation), and stranglehold on the sports spotlight in New York for the foreseeable future. What else could a man want?
Nonetheless, Anthony's decision will be interpreted as shallow and greedy, and he will be portrayed as a superstar who doesn't care about winning. It's nonsense. Anthony didn't negotiate the collective bargaining agreement that caps his earnings at this amount -- though he, like many other stars, could have been a little more involved. The point is, this is the owners' system and stars like Anthony are merely living in it.
While James' decision was first and foremost about going home and seizing his career narrative (as Bleacher Report's Howard Beck skillfully wrote here), it also was a capitulation from the sport's most important player in the continuing aftershocks of the 2011 lockout. Under this CBA, stars can no longer have their cake and eat it, too -- as Anthony did in forcing a trade from Denver to the Knicks that landed him a three-year, $65 million extension in 2011. 
That loophole was closed, as were many others. The sign-and-trades that delivered James and Chris Bosh to Miami on six-year deals with maximum raises four years ago -- and caused Miami to surrender multiple draft picks -- are no longer an option, either. 
So on Friday, James joined Dwight Howard in becoming the only superstars who have willingly taken a shorter deal with lower annual increases to leave their existing teams. The money left on the table for both was approximately $30 million. Both presumably will recoup that money, and more, at a later date.
Howard and James had their reasons for leaving Los Angeles and Miami, respectively. Anthony had his reasons for staying in New York. So what?
Anthony narrowed his choices to the Lakers, Bulls and Knicks in recent days. With Miami's Big Three broken up and James in Cleveland, joining Derrick Rose and Joakim Noah in Chicago would've set Anthony up for a clear path to at least the Eastern Conference finals next season. But in order to clear a $22.5 million spot for Anthony, the Bulls would've needed to amnesty Carlos Boozer and dump Taj Gibson and Mike Dunleavy while taking no salary back.
Even then, Anthony would've been eligible for at most a four-year, $96 million deal. He is 30 years old.
If James gets the benefit of the doubt for taking less money to back to his former team, why should Anthony get criticized for staying with his current team at the individual cap that the owners and players' association have established for him?
The Knicks have gotten younger and more athletic this summer, evidently assuring Anthony that next season will not be a repeat of last season's 37-win disaster. They've upgraded at point guard with Jose Calderon, not to mention upgrading the vision with Phil Jackson calling the shots. There are still moves that can be made, if Jackson can somehow find a team to absorb Andrea Bargnani's $11.5 million expiring contract -- which came at a dear price under the previous regime. Depending on the structure and dollars in Anthony's deal, the Knicks may be able to open modest flexibility this year or in future years. 
Regardless, Melo has the city he wants and a stage he can dominate while maximizing his earnings. No arguments here. And with Jackson's magnetic force permeating Madison Square Garden, there is ample cap room next summer to add another star.
Does any of this mean Anthony is being selfish? No more than James was a day earlier. They both wanted what they wanted -- different circumstances for different reasons. And there's nothing wrong with either one.
Steve Kerr opens up about his back issues and more

OJ Mayo, banned from the NBA for positive drug test, is considering playing overseas

The King? 'LeBron, it turns out, is Aquaman,' or so the account via Dwyane Wade's wife goe...
From Penny to Thunder Dan to Pistol Pete to Agent Zero, guys who would be better in 2017

Griffin said recently he thinks it's more likely that LeBron James goes to New York than L...

Mayo was suspended for two years last summer for violating the league's anti-drug program