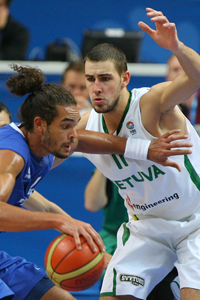 The NBA may finally get their first look at first-round pick Jonas Valanciunas next season.
(Getty Images)
The
Raptors
are in a great spot headed into next season. They took huge strides forward under Dwane Casey, transforming into a solid defensive team that gave great effort every night. They did this without their first-round pick, Jonasa Valanciunas, who was under contract overseas last year. But it looks like that's about to end, and the Raptors will get their prized defensive big man to pair with an improved
Andrea Bargnani
. From
NBA
.com:
Jonas Valanciunas has started negotiations on the release agreement with his team in Lithuania, sources said, an important step in the 2011 lottery pick finally being able to join the Raptors.

While it has been expected all along that Valanciunas would be in the NBA in 2012-13 after a final season in his native country, news of talks with Lietuvos Rytas are a comforting development for Toronto fans who missed having their center of the future in 2011-12.

The release agreement is part of the process before Valanciunas can pay the $2.4-million buyout to the team in Lithuania and sign in Toronto. The Raptors are allowed to pay $550,000 of that.
via Valanciunas Closer to Joining Raptors « NBA.com | Hang Time Blog.

So the Raptors' biggest weakness (they played Jamal Magloire at the five-spot last year for crying out loud) is about to get a major upgrade. Valanciunas was widely regarded as the best defensive big man in last year's draft, a shot-blocking machine. He was slated to go as high as No.3 overall before sliding to Toronto. 

But it gets better. The Raptors retain their pick this year and didn't move down in the lottery. They keep the 8th spot, which is a good area for their positions of need. But GM Bryan Colangelo is considering being more aggressive with the pick. Or at least he's not opposed to the idea if it's presented. From the Toronto Star:  
"Obviously if there's a transaction that warrants moving the pick, we'll consider that but we're not actively shopping it," Colangelo said after league's draft lottery here Wednesday night.

But Colangelo is more than willing to listen.

"It's all going to be a matter of what's on the board and as you know, the $12 million (U.S.) of flexibility that we have … gives us some options to take on contract," he said. "It may be committing some or all of the cap space moving forward. We would consider doing that and if it was the right player, a player of a significant caliber, then we would obviously consider upping the ante by including the pick if necessary."
via Toronto Raptors retain eighth pick in NBA draft - thestar.com.

So what's a "significant" player? You have to think that includes a point guard. The 8th spot is a bit high to take the best point guard available in Damian Lillard, but that might be the best option if they keep it. Our mock drafts have them taking Jeremy Lamb, because it's been widely said they're in pursuit of a wing that can score. They need a long-term solution to allow them to move Jose Calderon, and Lillard would help.

There are a number of players who could fall to that spot that teams might take a shot at acquiring, but it's unlikely it would be for a "significant" player. Value in this draft has cooled remarkably over the past several months, taking it from being one of the most highly considered to one of the weaker drafts. I'm not sold on that idea, but it's out there and it's prevalent.

The Raptors will have options. But then, they've had options over the past ten years. What they do with it is what's going to be important.