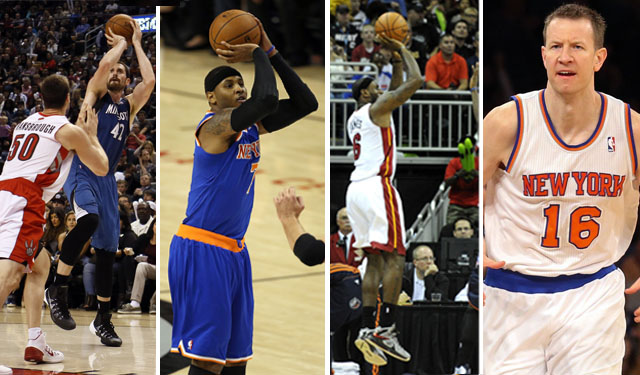 The stretch-4 isn't a new concept by any means. 
When the NBA brought the 3-point line into the rules of the game in 1979, it didn't take long for coaches to find ways to exploit it. There wasn't a high volume of 3-pointers taken by big men in the first few years, but guys like Sam Perkins, Kiki Vandeweghe, Tom Chambers, and Larry Bird started showing what it looked like for athletic big men to step out to the deep end of the pool and see if their big man defenders could swim.
Stretch-4s have been at the disposal of teams for decades, but it wasn't until the last few years that coaches started dedicating small ball lineups and sweet-shooting big men from downtown to their offensive game plans in order to make the defense uncomfortable. Going small is now the trend in the NBA and something a lot of coaches are trying to figure out how to utilize within the construct of their rotations. The tricky part is making sure you don't compromise your defense and make the entire venture a wash. 
Until the magic of the STATS' SportsVu cameras starting helping us truly parse out and digest the impact of certain lineups within the defensive scheme, it's hard to find any exact science for judging just how effective or ineffective a lot of the defensive measurements actually are. Typically when we analyze defense, it's just a lot of guesswork because there really aren't acceptable comprehensive stats out there that provide impact with the proper context.
This can make measuring the defensive impact of a stretch-4 a little tricky as well. In trying to figure out just how effective the current stretch-4s around the league are, I created a little "scouting matrix" for myself in which I looked at their effective field goal percentage as a power forward (thanks to the position breakdown of 82games.com; I only used guys that played a significant portion of minutes at the 4) and then looked at the team's defensive rating with the player at the power forward position in comparison to the team's overall defensive rating (also courtesy of 82games.com).
It's not an exact science by any means, but it seemed like a decent way of measuring whether or not a stretch-4 could shoot a high/acceptable effective field goal percentage while helping his team be better on the court with him at the 4 than overall. I only looked at forwards from the 2012-13 season (and Kevin Love from 2011-12 because of his hand injuries last season) that attempted at least 100 3-pointers (at any position). 
In the chart below, you'll see the average eFG is 50.2 percent and the average impact on defense was giving up 0.8 fewer points per 100 possessions with them on the court. Ideally, you'd want to be in the lower right corner of this chart to be considered an effective stretch-4.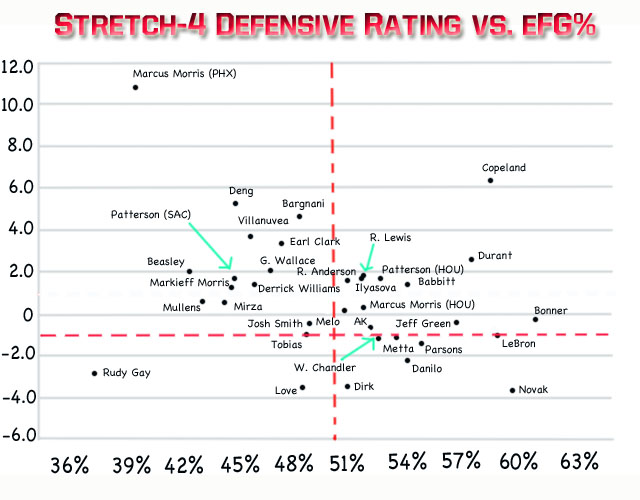 The most notable, successful stretch-4s we see on this chart are guys like LeBron James (right at the average impact and one of the best stretch-4 shooters on the court), reserve stretch-4 Steve Novak (second best effective field goal percentage and best impact according to this crude measurement system I devised), Dirk Nowitzki (above the average eFG and one of the biggest defensive measurements), and then a bunch of small forwards playing power forward like (Wilson Chandler, Chandler Parsons, Danilo Gallinari, and Metta World Peace).
World Peace was probably the most surprising player on the list because he's not thought of as a shooter but spent a considerable amount of time at the 4 last year and took a lot of 3-pointers. Rudy Gay was the worst shooter at the 4 amongst these players, but his defensive impact showed it was an overall good decision to throw him out there (note: I only used his time with the Raptors). Josh Smith was someone that helped his defense at the 4, but shot an eFG under what you would hope he'd produce, based on the mean.
To classify this and put players in their proper stretch-4 categories, I turned the chart from above into a .gif showing the best stretch-4s, those that had solid shooting but poor defensive impact, those that had poor shooting but solid defensive impacts, and the players that probably shouldn't play a lot of stretch-4.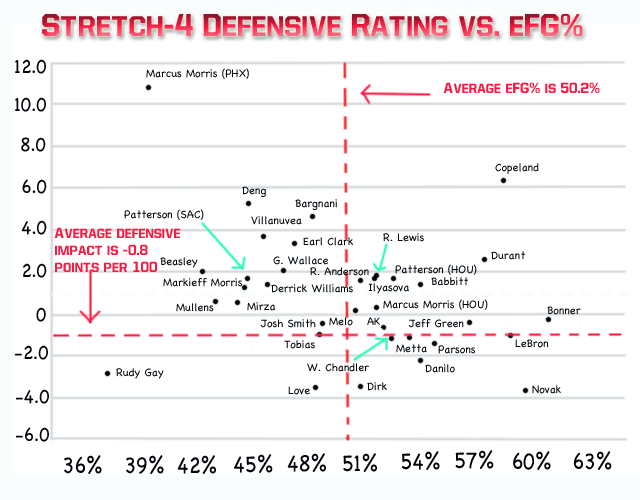 The key to most utilizations of the stretch-4, along with most defensive schemes in the NBA, is having a rim protector. The top performers in this attempt at measuring their impact were Steve Novak (he had Tyson Chandler), Danilo Gallinari and Wilson Chandler (JaVale McGee can turn shots away), Metta World Peace (Dwight Howard), and Chandler Parsons (Omer Asik). Guys like LeBron James and Dirk Nowitzki had defensive schemes that made up for the lack of a shot blocker with great positioning. 
Maybe the most intriguing of all of these stretch-4s were Carmelo Anthony and Kevin Durant. Durant was one of the elite shooters at the stretch-4 with an effective field goal percentage of 57.4 percent. But the team's defense suffered by a couple of points per 100 possessions whenever he was playing the 4. Carmelo Anthony's team had a negligible change in team defense performance when he was playing the 4 and he was an above average shooter at an eFG of 50.8 percent. 
Asking superstar wing players like Melo and Durant to play "out of position" (in traditional terms) and be effective stretch-4s appears to be the future of offense in the NBA. As teams become far more perimeter-oriented and we see volume (and properly selective) 3-point shooting permeate offensive systems around the league, it will be vital for these wing players to play bigger than their scouting reports in order to maximize effectiveness.
The concept of the stretch-4 isn't new but it is an evolving weapon for how teams attack the defense while trying to avoid giving up massive concessions on their own defensive end of the floor. As we find better ways to measure out the impact of these small ball lineups on both ends of the floor, we'll finally be able to evaluate which stretch-4s are the best at what they do.