Broncos franchise tag Super Bowl MVP Von Miller: 3 things to know
As expected, the Broncos tagged Von Miller on Tuesday. And that means he'll be in Denver for another year -- and possibly beyond 2016.
• 2 min read
Von Miller isn't going anywhere. The Broncos made sure their star pass-rusher will remain in Denver for, at the very least, one more year.
As expected, the Broncos hit Miller with the franchise tag on Tuesday.
Miller racked up 11 sacks this past season and, in the process, raised his sack total to 60 since the Broncos drafted him in the first round of the 2011 draft. Then, he took over in the playoffs. In Super Bowl 50, Miller was responsible for the two game-changing Cam Newton fumbles that sealed the Broncos' win. As a result, he was named the MVP of Super Bowl 50.
You can keep up with all of Tuesday's action with our franchise tag tracker, but let's dig deeper into Miller's situation with the Broncos. Here are three things to know about the Broncos' decision to tag Miller:
1. He's not going anywhere. The Broncos used the exclusive tag -- not the non-exclusive tag like the Bears used with Alshon Jeffery -- which means Miller will not be able to negotiate with other teams.
If any of the other 31 teams were dreaming up a scenario that involved Miller in their uniform next season, that dream just ended. Even if the Broncos and Miller can't agree to a long-term deal, he'll be on the Broncos next season and will play under a one-year deal.
As it stands, Miller's value under the tag will be $14,129,000. He'll be worth every penny.
2. The Broncos will try to sign Miller to a long-term deal. Both sides have been optimistic in their belief that a long-term deal will eventually get done. The franchise tag gives the Broncos exclusive rights to negotiate with Miller without worrying about another team scooping him up, and it gives them more time to come to an agreement -- as John Elway mentioned on Tuesday.
John Elway: "Designating Von as our franchise player gives us the time to continue working toward a long-term agreement."

— Nicki Jhabvala (@NickiJhabvala) March 1, 2016
The Broncos have until July 15th to sign Miller to a long-term contract. Given his consistent production since 2011, they'd be wise to find a way to lock him up for the long haul. 
3. This affects other prized Broncos free agents. Now that Miller took up the tag, other members of the Broncos should hit free agency. Among those players are quarterback Brock Osweiler, defensive lineman Malik Jackson, and linebacker Danny Trevathan.
Had the Broncos been able to reach a long-term deal with Miller prior to Tuesday's deadline, then they could've tagged any one of those three players. Instead, they'll be competing with other teams for their services.
Osweiler figures to be a high priority for the Broncos, and Miller recently complimented him for his "leadership qualities," but he wouldn't be unwise to test the market given the lack of free-agent strength at the position. If anything, it'll help him get a sense of his value.
The same goes for Jackson and Trevathan, who will both get paid this offseason, as other teams are reportedly interested in their services. Will the Broncos be able to afford both players and keep their historically great defense intact?
That remains to be seen. But, at the very least, they won't lose the most important member of that defense.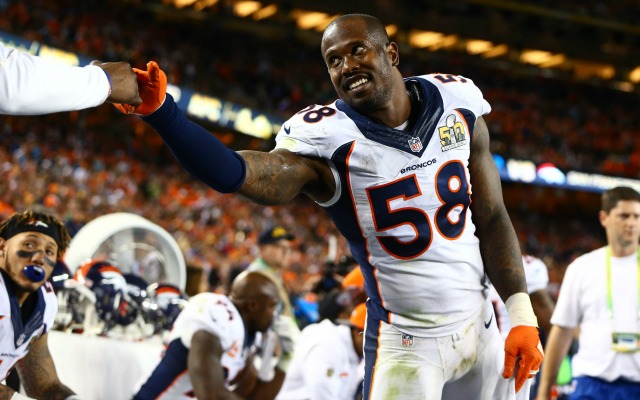 Warren Sapp was one of several players named in a lawsuit against NFL Network

Check out the uniforms that Denver and Indianapolis will be wearing on Thursday

The Cowboys are going to need a few things to go their way to get into the postseason
Rudolph will be put under the microscope in Mobile by clubs looking for a quarterback early...

This fan is taking the Saints to court for using 'football games as a platform for protest...

Can Aaron Rodgers get the Packers to the postseason? Even if they win out, they'll need he...