NFL Week 6 as told by Twitter: Tom Brady sets Twitter on fire
Week 6 of the NFL season was a little quiet until Tom Brady led one of the best two-minute drills you'll see this season.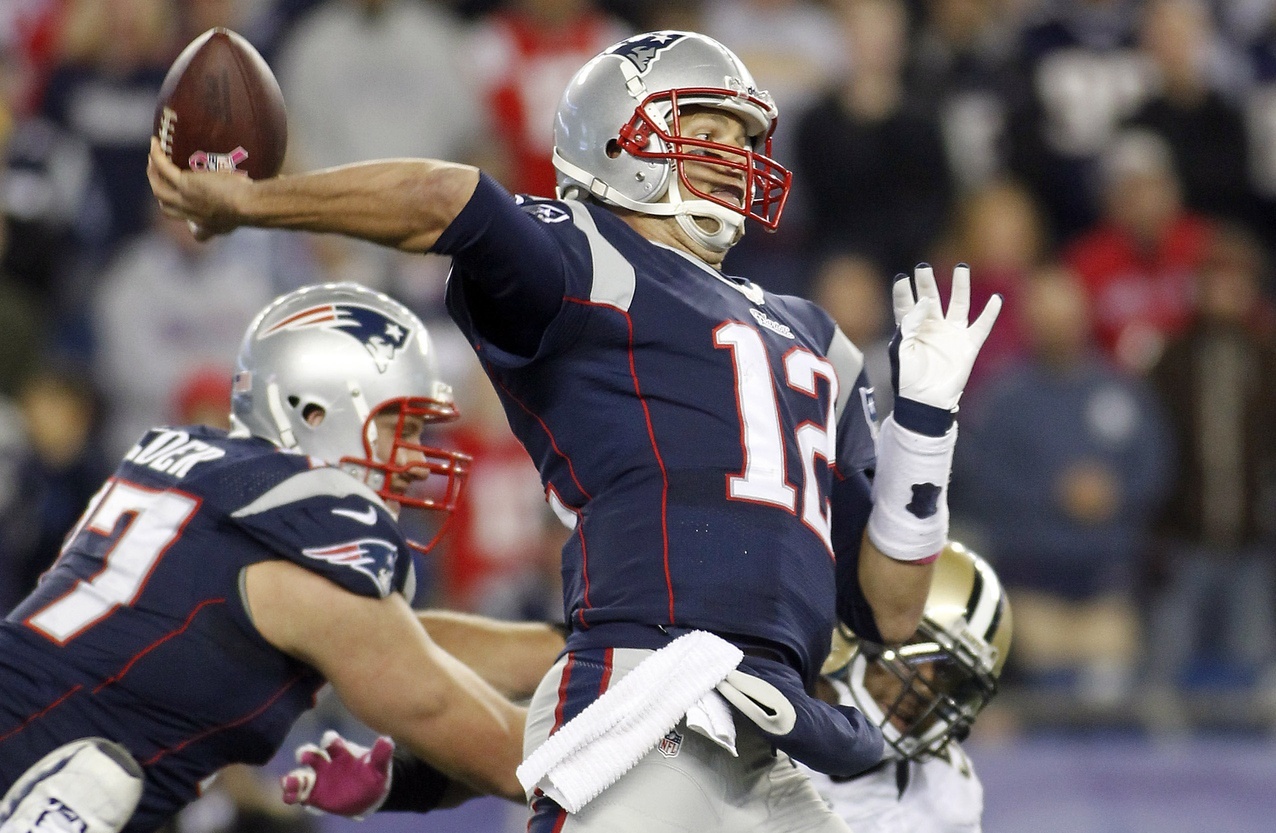 Every week there's been that one moment whether it be a game-winning play, an inept interception, or an incredible catch that took over Twitter. Thank to some poor decision making and the Saints' inability to get a first down (twice), Tom Brady gave NFL fans that moment in Week 6.
Brady's toss saves Belichick from criticism for 4th down decision. MY COLUMN: (man, sit down)

— Raphielle Johnson (@raphiellej) October 13, 2013
Tom Brady can throw to me, you and your friends and win.

— Pete Prisco (@PriscoCBS) October 13, 2013
Give a great QB 3 chances in last 3 mins, that is what happens!!!! Can't play NOT to lose! #tombrady #airandground

— Kurt Warner (@kurt13warner) October 13, 2013
You can't give Brady two chances to make a comeback even with useless receivers.

— Amanda Rykoff (@amandarykoff) October 13, 2013
Vintage Tom Brady.

— CBSSports.com (@CBSSports) October 13, 2013
Tom Brady has now convinced me to buy a pair of Uggs.

— Ben Manuel (@bswag45) October 13, 2013
"I dedicate this win to sarcastic sports bloggers on Twitter," Tom Brady wearing Givenchy footy pajamas in 20 minutes.

— jon greenberg (@jon_greenberg) October 13, 2013
And Rob Ryan comes crashing back to earth. In related news, Eli Manning called and he wants his sad face back. pic.twitter.com/adW5PO80X0

— ryan wilson (@ryanwilson_07) October 13, 2013
No, Dad, I don't know where your pipe is. RT @drewmagary: Tom Brady dressed as a member of Erasure this evening. pic.twitter.com/pXhFjNYtUx

— Cindy Boren (@CindyBoren) October 14, 2013
NFL players are trying to give Jacksonville a vote of confidence. It didn't work.
Am I the only one that think the Jags can win this game?

— Aaron Curry (@AaronCurry51) October 13, 2013
Like the Jaguars, the Texans are also a disaster.
Good news for Matt Schaub. That TD was not a pick six. Fumbled kickoff, Rams will be up 25.

— Jason Lisk (@JasonLisk) October 13, 2013
Somebody call Favre.

— Myron Medcalf (@MedcalfByESPN) October 13, 2013
Maybe the Houston Texans are just performing some kind of tribute to the tactics of Texas Senator Ted Cruz

— Bruce Arthur (@bruce_arthur) October 13, 2013
I am DISGUSTED with #Texans "fans" who cheered for Schaub's injury. No sports lover EVER cheers for a player injury. EVER.

— Jayme Lamm (@jaymelamm) October 13, 2013
Things aren't going well for the winless Buccaneers, too.
The Buccaneers lost today, but this Buccaneers fan won big: pic.twitter.com/Y9JUw2zKPR

— SportsPickle (@sportspickle) October 13, 2013
How long will Greg Schiano last in Tampa Bay?
Greg Schiano blistered by fans as he walked off field. Briefly glanced up at hecklers before bowing his head.

— JoeBucsFan (@JoeBucsFan) October 13, 2013
Stat of the Week: Andy Reid's rejuvenation continues.
Andy Reid's 2013 Chiefs have more takeaways in five games (15) than Andy Reid's 2012 Eagles had all year (13).

— Reuben Frank (@RoobCSN) October 11, 2013
Everything you need to know about the Packers-Panthers game on Sunday afternoon

The Lions will be wearing their Color Rush uniforms for the first time on Thursday

The Lions look to maintain playoff positioning while the Bears attempt to play spoiler
The Panthers have hired an outside law firm to conduct the investigation

Here's every official injury designation for each NFL team for Week 15

Bennett was one of the few players who escaped punishment after Sunday's melee in Jacksonv...