Report: Former Miami OT Seantrel Henderson fails drug test
Seantrel Henderson continues to assure teams that they shouldn't draft him.
• 1 min read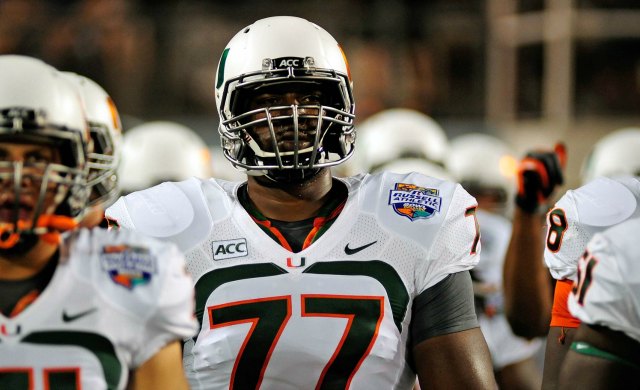 More Draft coverage: Mock Drafts | Prospect Rankings | Big Board | News
If you're a once-great high school prospect who wants to basically be assured that he'll never be drafted, one could do worse than to follow the path trailblazered by University of Miami offensive tackle Seantrel Henderson -- who, at one point, was considered a late-round draft pick but who had a disastrous pro day last month in which he couldn't finish his drills.
Now comes this news via ESPN.com.
NFL teams notified last week that Miami OT Seantrel Henderson tested positive at combine for smoking marijuana, per league sources.

— Adam Schefter (@AdamSchefter) May 5, 2014
Like his workout in front of scouts last month, this latest bit of news likely won't help him emerge from the UDFA pool.
This also isn't the first time Henderson has been tied to marijuana. With the Hurricanes, he was suspended three times during his career for violating team rules, and he later told the South Florida Sun Sentinel that it was for marijuana use.
"I felt like I had a lot of maturing to do and I feel like I have," he said, via the Florida Times Union, in January at the Senior Bowl. "Now I'm ready to move onto the next level ... I've been taking interviews since I've been here and I've let them know exactly what happened and that the past is the past. Eighteen years old, ranked super high, expectations from everybody to play the best you can. Some people think you're supposed to be mistake-free, but you're still a kid."
Though it's not out of the realm of possibility that a team could take a late flier on Henderson -- because he still has the talent and athleticism to be intriguing -- this latest reported transgression certainly won't help his cause. Particularly since everybody who's attending the combine has to know that he will be drug-tested. And to fail would be a particularly bad piece of planning.
Seantrel can't get out of Seantrel's way.

— Josh Norris (@JoshNorris) May 5, 2014
Galynn Brady explains what her life has been like for the past 18 months

The NFL is prepared to put its full marketing weight behind a formal initiative starting Week...

CBS All Access allows viewers to stream every NFL on CBS game in their local market
CBS All Access allows viewers to stream every NFL on CBS game in their local market

CBS All Access allows viewers to stream every NFL on CBS game in their local market

CBS All Access allows viewers to stream every NFL on CBS game in their local market