Tim Tebow's wild NFL ride: A brief pictorial history
Few NFL players have attracted the kind of media scrutiny and fan response Tim Tebow has in just a few tumultuous years as NFL quarterback. Here's a brief pictorial history of his career thus far.
It's been a whirlwind NFL career for former Florida Gators golden boy Tim Tebow, and it's not over yet. The quarterback and perennial lightning rod for media attention has reportedly been picked up by the New England Patriots, not long after it was feared his NFL career might be over.
Here are a few images we feel encapsulate his epic, if brief, NFL tenure thus far: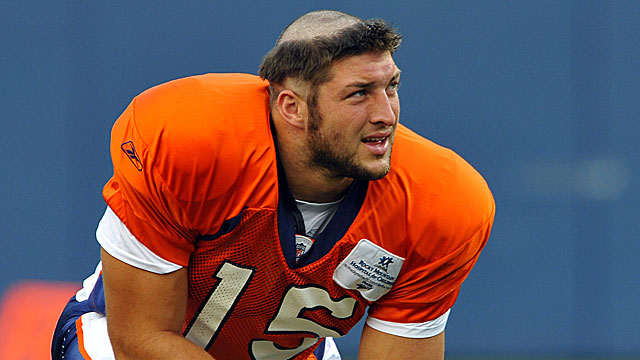 Taking his lumps as a rookie: The Denver Broncos' roster vets took the liberty of grooming Tebow's hair into a classic, Friar Tuck-style cut. The ever-gracious Tebow took it in good stride. (Photo: USATSI)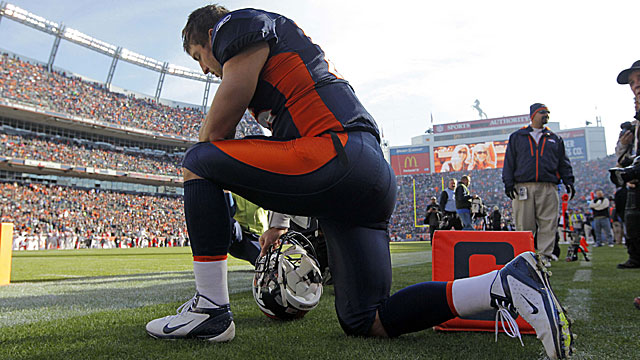 2011: Tebow takes over for Kyle Orton as starting QB in Denver, and the team enjoys an improbable string of victories that many attribute to Tebow's heroics. His habit of kneeling and praying is soon dubbed "Tebowing," which goes viral and becomes a short-lived craze. (USATSI)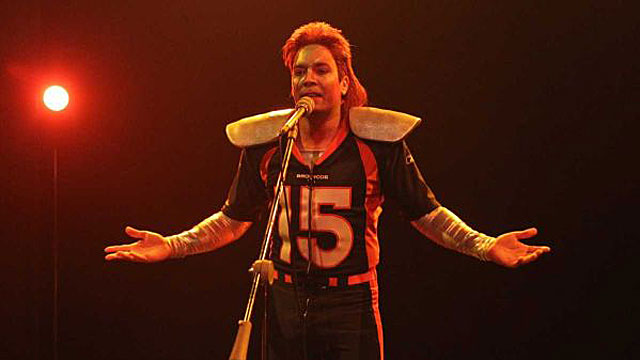 Late-night talk show host Jimmy Fallon gets in on the fun, impersonating a hybrid of David Bowie and Tebow dubbed "Tebowie." (NBC)
Even 1980s rocker John Parr was inspired by Tebow's success in Denver, to the point where he re-recorded his iconic theme from St. Elmo's Fire as Tim Tebow's Fire.(KDVRDenver/YouTube)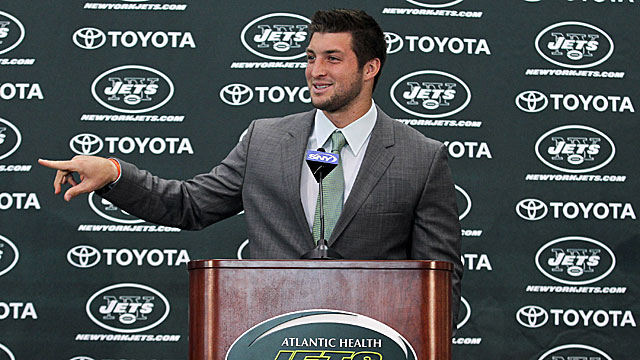 2012: The Broncos trade Tebow to the New York Jets. It is immediately assumed there will be a QB battle between Tebow and Mark Sanchez for the starting spot. (USATSI)
By Week 10 of the 2012 season, it becomes clear Tebow's time in New York isn't going as well as hoped. (For that matter, neither is Sanchez's. Yikes.) The Jets drop Tebow in the offseason.
Rumblings that the Jaguars might be interested in bringing Tebow back "home" are squashed by Jags owner Shahid Khan, along with, presumably, the dreams of this fan. (USATSI)
Tebow was last seen hanging out at a charity event with Gary Busey and Trace Adkins on NBC's Celebrity Apprentice. (NBC.com)
The Chargers, after starting 0-4, can take first in the AFC West with a win Sunday

The Fins wide receiver took a shot at the Pats with his touchdown celebration

Former Atlanta sportswriter Larry Hartstein knows the Falcons and locked in a pick for 'Monday...
The Patriots losing might be bad for New England but its great for watching Bill Belichick

The league-owned network suspended Marshall Faulk, Ike Taylor and Heath Evans as it investigates...

R.J. White has his finger on the pulse of Indy and made a strong play for 'Thursday Night...