Cory Schneider to start opener, end Martin Brodeur's streak at 18 years
Cory Schneider will end up starting the season opener for the Devils, ending Martin Brodeur's streak of 18 straight opening-night starts for New Jersey.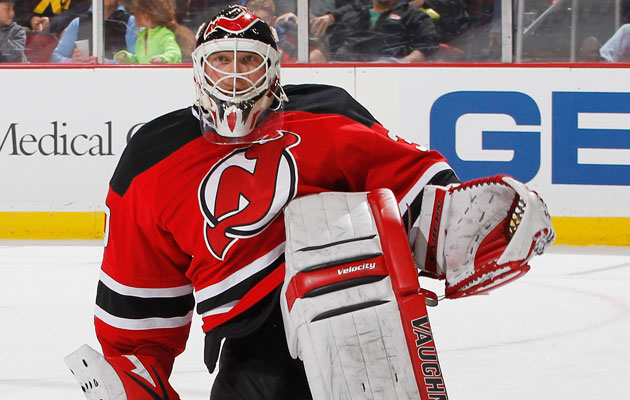 NHL previews: Atlantic Division | Metropolitan Division | Central Division | Pacific Division
Originally, Martin Brodeur had been tabbed by coach Peter DeBoer to start the season-opener for the New Jersey Devils in Pittsburgh on Friday night. There's been a change of plans and instead Cory Schneider will get the start.
Last week Brodeur's dad Denis died back in his hometown of Montreal and Martin spent a little bit of time in Quebec. As a result, DeBoer decided to give Martin a little more time and start Schneider instead.
"Ended up being a fairly easy decision just based on the last week and a half Marty's had and what he's dealt with," DeBoer said. "It was more the timing that he could get an extra day to prepare after what he's been through."
It also means that Brodeur's incredible streak of starting 18 consecutive season openers for the same franchise -- just one of his numerous NHL records -- will come to an end. He has led the Devils onto the ice for the first game every season since 1994-95, an incredible run, one that's nearly impossible to imagine ever seeing again.
The time will likely come this season that Brodeur is bumped out of the starting role by Schneider, who had an infinitely better season last year than Brodeur did. He's the heir apparent to Brodeur's throne. Schneider getting the first start of the year, though, is no indication that's happening yet. Still, it's at least somewhat symbolic if nothing else.
Brodeur won't be out of the lineup long as it's expected he'll get the start on Saturday when the Devils play their home-opener.
The Pittsburgh Penguins will put politics aside and visit the White House out of 'respect'...

NBC will reportedly be devoid of NHL game broadcasts between Feb. 7-26

The Winnipeg winger suggests Trump is going after 'the principles the U.S. was founded on'
League gets excited about exhibition matches in Beijing and Shanghai

NHL players are still disappointed they won't be going to skate in PyeongChang

With Artemi Panarin in the mix and a Vezina winner headlining the defense, Columbus can be...