From injuries to coaches watching practice, Habs-Rangers heats up
The Rangers and Canadiens have had a lot of time off the past few days and that has escalated the back-and-forth in the media. Alain Vigneault isn't too happy about any of it.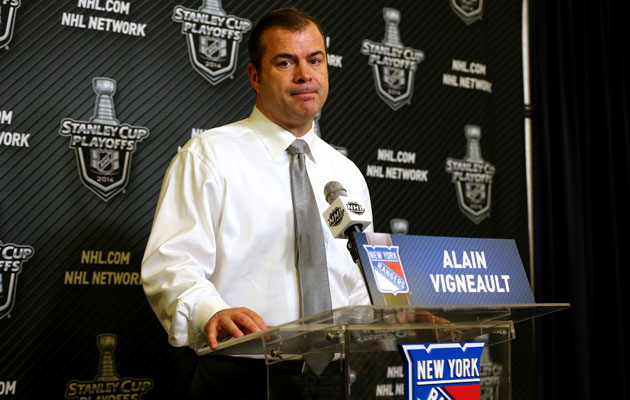 More NHL Playoffs: Schedule, TV listings | Expert Picks | Bracket | Scores | Odds
Coming in to the Eastern Conference finals it didn't figure to be an overly nasty series. The Montreal Canadiens had already defeated their archrivals from Boston and the Rangers had taken out the hated Flyers in the first round. Even though they're both Original Six teams, the rivalry that existed between the Rangers and Habs was minimal at best.
It has heated up in a hurry.
The back-and-forth bickering has really increased with just one game in a five-day span with all this time off, just adding to the entertainment value. It all started with Brandon Prust's suspension-earning hit to Derek Stepan that broke the latter's jaw. Some of the Canadiens were open that they didn't believe Stepan was injured badly and that he would play in Game 4 despite having surgery.
On Sunday after the morning skate, Rangers coach Alain Vigneault confirmed Stepan will not be playing, thereby also confirming Brendon Gallagher and Daniel Briere won't be picking up their medical degrees when this series is over.
That was only a part of the squabbles, though, as another Rangers injury has been a focal point. Derick Brassard is likely to return to the Rangers' lineup for Game 4 after suffering a "mystery" ailment. Apparently it's no mystery to Canadiens coach Michel Therrien.
#canadiens Michel Therrien in french:"we expect Derick Brassard to play and we know exactly where he's injured. Hockey is a small world."

— Renaud Lavoie (@renlavoietva) May 24, 2014
At this point even this got Vigneault all riled up, or at least mildly perturbed (his standards are a bit relative).
"Let's put it this way, I hope nothing happens to Brass, the player, and Michel could be in trouble."
Vigneault certainly has a point there. Players say all the time they aren't intending to hurt anybody and there isn't much reason to doubt them. But if there's a weakness in your opponent, you'll try to exploit it, especially this time of the year. If the Habs really do know the injury and then do go after Brassard in that spot, well it won't look good at all. Not to mention it would get the Rangers all that more upset.
Hope you haven't had enough silly yet because there's more.
On Saturday the Canadiens held a practice -- not a morning skate or anything but an actual practice -- that was attended by Rangers assistants including Ulf Samuelsson. Or at least briefly attended.
The Canadiens and Therrien asked them to leave. He explained after the practice why.
"There is always a gentleman's agreement between two teams and the general manager that coaches are not allowed to attend practices between games," Therrien said. "Game day is different. So when we saw those assistant coaches there, they were not supposed to be there, so we let them know."
Vigneault apparently missed this gentleman's agreement memo because he didn't agree. He was just happy his assistants handled the situation well.
"Well, we were treated very unfairly yesterday," Vigneault said Sunday morning. "There is no rule. There was no agreement between both teams. That is the exception, not the rule. I mean, I've been asked in the past to do this on a couple of occasions. Usually the coach calls me or the GM calls the GM, never happened. What happened yesterday was uncalled for. Without a doubt, my staff handled it with a lot of class, just like our team, play whistle to whistle, don't get involved with the other stuff. We're very credible. This is the National Hockey League, and that type of behavior, we're lucky it didn't escalate."
Yes, the coaches are well into the spats now too.
"I think [Therrien] said prior to the series, for this two-week period, we're not really friends and he's probably right," Vigneault said.
It's almost like Sunday is a pay-per-view event and they have been spending the past few days getting people excited. Fortunately for you, it is on Sunday evening on NBC Sports Network (and CBC north of the border, of course). Then it becomes just about the hockey again.
The former Boston Bruin was the first black player to play in the NHL

Inclement weather led to the Charlotte Checkers and Bridgeport Sound Tigers playing in front...

The NHL chose the Detroit rocker as its All-Star Game entertainment and not everyone is th...
NHL fans from all over seem to agree on one thing: Hating Kid Rock

The team tweeted on Monday that Shaw would be re-evaluated in 7-10 days

The Montreal forward was hospitalized after taking a Zdeno Chara slap shot to the head