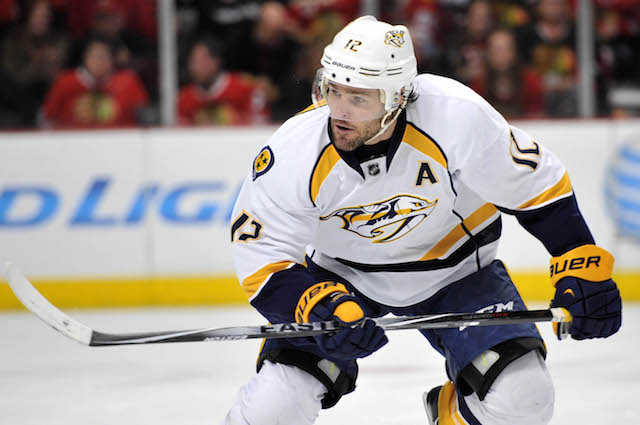 The Nashville Predators announced on Friday morning that the club has signed veteran forward Mike Fisher to a new two-year contract that will pay him an average annual salary of $4.4 million through the end of the 2016-17 season.
He was eligible for unrestricted free agency this summer.
In terms of annual salary, it's obviously a similar deal to the one that Carl Soderberg just reportedly signed with the Colorado Avalanche on Friday morning, so it's pretty much the going rate for a second-line center in this current free agent market, which is extremely thin at forward and only getting worse with each re-signing that takes place before July 1.
The only concern for the Predators should be that for as dependable as Fisher has been in recent years on the ice, both offensively and defensively, he is at a point in his career where he is only likely to get worse. But along with the fact that it is only a two-year commitment, the good news for the Predators is that even though Fisher just turned 35 earlier this month his production really hasn't started to decline much.
If anything he's been even more productive over the past couple of years than he was before joining the Predators during the 2010-11 season in a trade with the Ottawa Senators. If he is able to maintain that production, or at least come close to it, over the next two years it won't be a terrible investment for a Predators team that has plenty of salary cap room.
In 59 games last season Fisher scored 19 goals and recorded 20 assists.