NHL lockout: Alex Ovechkin's soul is in DC, says he'll return to Caps
Alex Ovechkin suggested he might not return to the NHL if players take a big cut. Forget that, his soul is in Washington, so he will be, too.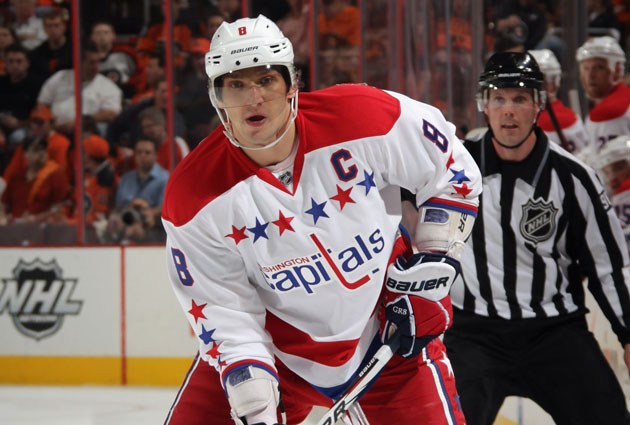 Ovechkin's soul still sits in Washington with the Capitals. (Getty Images)
Hey, do you remember that time when Alex Ovechkin said he might consider staying in the KHL even after a new CBA was reached? Well you can forget that.
Just in case it wasn't already clear that the captain of the Washington Capitals was just blowing some smoke and perhaps trying to use his name as some leverage for the players, Ovechkin made it pretty clear that he is looking forward to returning to Washington. Albeit he said it a touch more poetically.
Here is what he had to say to Igor Fein of vmdaily.ru -- translated by the Alex Ovetjkin blog -- regarding a potential return to the NHL when the lockout is over.
So once the lockout will be over, will you return to the NHL as soon as possible?

Certainly. I am very comfortable in Moscow, Russia in general, but my soul is across the ocean, in the NHL, with Washington Capitals, with whom I still hope to win the Stanley Cup.

Alas, every week, even every day and hour, the hope that the NHL lockout will be solved, is decreasing.
There you have it, Ovechkin yearns to reunite with his soul half the world away in our nation's capital. Or perhaps it's his bank account that he wants to return to in Washington.
Given the agreement between the NHL and KHL to honor existing contracts, it was going to be a nasty fight if Ovechkin had decided to try to stay in the KHL. He also would have lost out on the massive $9,538,462 annual salary through the year 2021. That's an awfully big incentive to come back to the NHL when this is all figured out.
Even still, Ovechkin said it's not just that he has a good thing going in Washington that he wants to return to -- it's also that the KHL really just isn't for him.
Here's how Ovechkin responded when he was asked what he doesn't like about the KHL experience.
The most annoying thing is almost complete lack of interest in hockey in Moscow, especially noticeable after sold out arena in St. Petersburg, not to mention other cities. For example, our game with CSKA was attended by fewer people than a basketball game CSKA -- Zalgiris. And the difference was enormous, three thousand spectators less than watching "Gullivers". We had around six thousand, the basketball game almost ten.

In addition, it is unclear why such stars and supposedly favorite players of our the country, as Alexei Yashin, Slava Kozlov, are not used as much as they could be? Unclear situation with a classy goalkeeper Ilya Bryzgalov, the dismissal of SKA St. Petersburg coach Milos Rzhiga. This is probably the kind of world record with a "minus" in front.
Basically, the KHL has its issues too. It sounds like somebody misses a whole city Rocking the Red.
Ovechkin and his other comrades who fled to the KHL could say all the while that they were considering staying in the Russia-based league, but it never had a real chance of happening. Whether they loved playing in the KHL or not, like Ovechkin has now admitted, the logistics of it just never made sense. It was the most transparent posturing of this entire lockout, and there has been plenty of posturing.
On the plus side, Ovechkin did just have one of his best games thus far in the KHL, recording his first hat trick of the season over the weekend thanks in part to Washington and Dynamo teammate Nicklas Backstrom. Ovechkin has 12 goals and 15 assists in 22 games and in case you're curious Backstrom has 7 goals with 11 assists in 13 games.
For more hockey news, rumors and analysis, follow @EyeOnHockey and @StubitsCBS on Twitter and like us on Facebook.
The former Boston Bruin was the first black player to play in the NHL

Inclement weather led to the Charlotte Checkers and Bridgeport Sound Tigers playing in front...

The NHL chose the Detroit rocker as its All-Star Game entertainment and not everyone is th...
NHL fans from all over seem to agree on one thing: Hating Kid Rock

The team tweeted on Monday that Shaw would be re-evaluated in 7-10 days

The Montreal forward was hospitalized after taking a Zdeno Chara slap shot to the head