Patrick Kane, Blackhawks again get best of Bruins defensive stalwarts
Patrick Kane score two more goals in Game 5 of the Stanley Cup Final matched up with Zdeno Chara as the Hawks take a 3-2 series lead.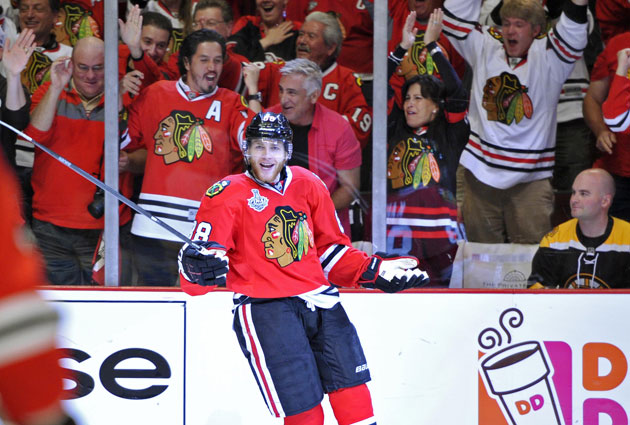 More NHL Playoffs: Scores | TV Schedule | Expert Picks | Odds | Mock Draft | Rumors
CHICAGO -- Before Game 5, Bruins coach Claude Julien more or less dared the Chicago Blackhawks to try and prove they really had found an antidote for Zdeno Chara. Challenge: accepted.
In Game 4 the Blackhawks were able to beat the Bruins 6-5 with the big man Chara on the ice for five of those goals, a rather shocking stat for one of the NHL's best defensemen. No way would that happen again, right? Well history didn't exactly repeat itself, but only because the Blackhawks weren't able to score six goals again in Game 5. Chara was instead on the ice for all three Chicago goals in the 3-1 win -- albeit one was into an empty net. The big man has been on for eight of the last nine Blackhawks goals and as a result the Bruins find themselves in a 3-2 series hole with the Final shifting back to Boston.
It's beginning to evoke an old cliché; speed kills. With the Blackhawks' top lines pushing hard and forechecking so well, they have been showing an ability to get around the big man and, more importantly, get to into the crease.
Or maybe more appropriately, Kane kills. As in Patrick Kane. He scored twice in Game 5, both goals coming right in Tuukka Rask's turf, an area where not many have gone before.
"I think one of the things on this team, you want to crash the net, and whether it's bringing it back out and getting pucks there and then crashing it again, it seems to have worked the last couple games," Kane explained. "But they're a tough defensive team. You're not going to get those chances often, so it was good to bury them."
The young forward is once again becoming a monster playoff performer. Remember when he was being roundly criticized for not scoring enough in this postseason for the Blackhawks? It seems like a long time ago, doesn't it? After two more goals in Game 5, Kane now has nine goals, one behind teammate Patrick Sharp for the most in the playoffs. He's elevating his game when it's needed most.
It's three goals in the last two games and seven in his last seven. It's tough to come up any bigger than that, especially on this stage.
"It's not a coincidence that Kaner makes the big goals," defenseman Niklas Hjalmarsson said. "He wants the puck when it comes down to the wire. He's a difference-maker."
The genesis of the revival of sorts was the moment that Blackhawks coach Joel Quenneville decided to put Kane back with Jonathan Toews and Bryan Bickell on Chicago's top line. The only questioning you could do of that move is to simply wonder why it wasn't done before because they have been a force, one that not even the once seemingly invincible Chara has been able to handle.
When he's on his game, Kane is as fun to watch as any player in the league. It only helps to get him on his game when he is having fun, too.
"I think he gets excited playing with Bickell and Toews, two games in the last series, two games, just seemed to be a little chemistry there," Quenneville said of Kane. "They get excited about that togetherness, and they seem to read off each other.
"Kaner has got high-end skill. He's dangerous with the puck, his anticipation without it offensively is high end. I think reading off those guys in the offensive zone has been very effective for him."
It's almost as if partnering up with Toews and Bickell again was Kane's version of stepping into the phone booth and coming back out with his Superman cape tied around his neck. He -- with the top line -- has been more than a difference-maker, he's been their superhero, finding a way to take down Boston's Lex Luther, Chara.
"I think everyone wants to be that guy in big-time games, and I've been lucky enough in a couple to step up," Kane said after the game.
Sometimes it is indeed better to be lucky than good but don't mistake it, Kane has been really good and only getting better. His two goals stand out but he had six shots on goal on Saturday night and missed three more attempts. The chances were certainly there, it was only right that he was rewarded.
Kane has been a big reason why the Blackhawks have been able to do what many failed to do before; make Chara and the Bruins defense look ... normal.
At this point you can't help but wonder if Chara's slowing down or it it's just the Blackhawks making him look slow. Chara has played more, way more, than any other player in the postseason, so it's a question that's bound to be raised, even if Chara is a renowned physical freak capable of playing the big minutes.
Now the load, which has absolutely been shared by Toews, could fall squarely on Kane's shoulders. Toews was injured in Game 5, not playing at all in the third period despite being on the bench. He could play in Game 6, the Blackhawks are hopeful and surely Kane is too.
Now this series is on the brink, the Blackhawks are one win away from another Cup. The Hawks have taken the dare and Kane and the top line have been the truth.
The former Boston Bruin was the first black player to play in the NHL

Inclement weather led to the Charlotte Checkers and Bridgeport Sound Tigers playing in front...

The NHL chose the Detroit rocker as its All-Star Game entertainment and not everyone is th...
NHL fans from all over seem to agree on one thing: Hating Kid Rock

The team tweeted on Monday that Shaw would be re-evaluated in 7-10 days

The Montreal forward was hospitalized after taking a Zdeno Chara slap shot to the head