Senators clinch playoff spot in Erik Karlsson's return
The Ottawa Senators clinched a playoff spot on Thursday night in Erik Karlsson's first game back from injury.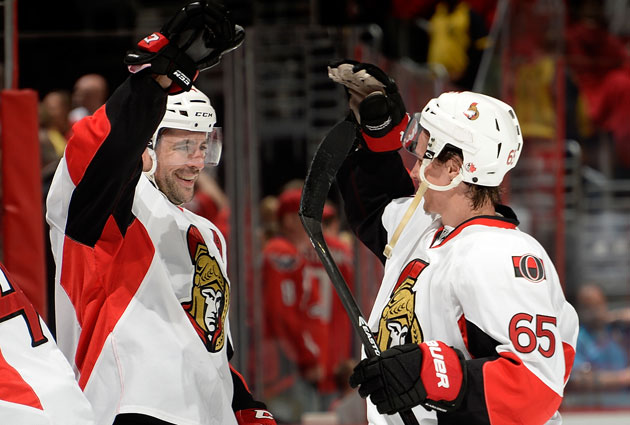 More NHL: Scores | Standings | Odds | Fight-O-Meter | League Leaders | Rumors
WASHINGTON -- The Ottawa Senators were playing for a postseason berth on Thursday night in Washington DC, but eyes weren't on the No. 7 or No. 8 seeds. They were on No. 65.
Erik Karlsson, who had been out since mid-February after his Achilles tendon was partially severed by the Penguins' Matt Cooke, made his return to the ice. It was well ahead of schedule, but the Sens insisted he was good to go and that Karlsson had the say of whether he would play or not.
He was indeed good to go, stepping right in and looking exactly like the same player who won the Norris Trophy last season as the league's top defenseman.
When the night was all said and done, Karlsson played more than anybody not in goalie pads, a total of 27:11. He had a whopping eight shots on net and four more attempts blocked.
It was unbelievable. Almost.
"If I hadn't seen him practice maybe I'd say that, but we saw him on the ice all week with us," said Marc Methot, his defensive partner. "He looked just like the old Karl that we had months ago. I'm shocked that he had such an impact in the game but, at the same time, he's such a special player he can do these types of things."
For a player who seemed to come back awfully quickly from a rather awful injury, the question was if he could handle such a work load.
"Felt OK," Karlsson said. "Did battle some issues out there. Didn't feel quite as comfortable as I used to, but overall I think it was a solid, solid game. I still have to work through some mistakes and clean things up."
If you consider two assists on the only two Sens goals and more ice time than any player, then yes, it was a solid game.
"I think we were kind of cautious of what to expect from him, but we knew his capabilities," captain Daniel Alfredsson said. "He was great tonight, creating a lot more openings for everybody else, just the small plays. It's awesome to have him back."
"I think Erik shows the difference that he can make and the quality and type of player he is," coach Paul MacLean added. "Obviously, our team was a different team with him on the ice and the things that he can do that others can't do. He's a very special player, and to his credit he was up and running.
"He's done a ton of work in his rehab to this point and he was good and going. I thought he was one of our best players."
This is not to say everything was all OK on Thursday night with the offense. The Sens still struggled to score against the Capitals, who were playing with their backup goaltender Michal Neuvirth and with nothing on the line, needing more than 60 minutes to get a second goal. Still, they were generating a ton of offensive chances. In total, the shots ended up being 41-20 in favor of Ottawa, the last a Sergei Gonchar rocket on the power play in OT. Keep firing shots like that and things will be where they need to be.
Regardless, things were good enough to clinch the playoff spot they coveted. All the Senators needed was two points in their final three games. They decided to get it out of the way on the first chance.
"Overall, it's been a really great season for us," Alfredsson said. "With all the injuries we had, guys came up and played really hard with us. It's really good to be back in the playoffs."
There was one player who loved what the Sens did just a little bit more: Methot.
"I love, I love, I love that we were able to prove all those people wrong," Methot said, sporting a #PeskySens T-shirt. "I think that's a huge credit to the coaching staff and all the young guys in this group that came together and stepped up their game. It's great to know that the organization can handle that kind of situation."
It still felt like the night was more about Karlsson than the playoff spot but not for Karlsson's money.
"I would have been happy if I sat in the stands and we won this game," Karlsson said. "That's the main goal. I'm going to have to keep working on my stuff, and as long as the team keeps winning I'll be happy."
The good news for the Sens is that now with a playoff spot set, Karlsson is just getting started. They hope they are too.
The NHL says it's only interested in expanding to Seattle, but here's a look at all the moving...

The NHL says it is only looking toward Seattle for the next expansion team

The 33-year-old defenseman hopes to help find a cure for serious head injuries in athletes
Chicago becomes the latest NHL club to earn an evaluation of $1 billion or more

The city council has approved a $600 million redevelopment project for KeyArena

Arvidsson took off his glove to reveal an engagement ring for one lucky fan