Cupsmanship? Uruguay's supply of dulce de leche confiscated
So, does Uruguay's history of success at Brazilian World Cups have anything to do with Brazilian authorities confiscating their supply of dulce de leche? (Probably not.)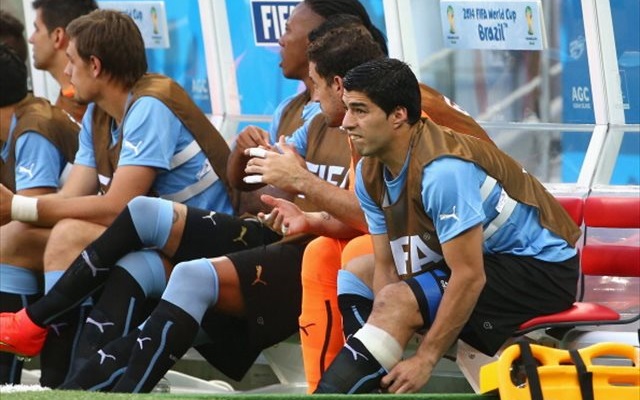 More World Cup: Latest news & notes | Scoreboard | Complete schedule
Apparently, the members of Uruguay's World Cup team like dulce de leche -- really, really like ducle de leche. Per this BBC report, the team attempted to bring 86 pounds' worth of the caramel spread with them to Brazil.
But we say "attempted" because Brazil had other ideas. The BBC reports that the dulce de leche was confiscated by authorities when it arrived in the World Cup host nation, with Brazilian officials citing the treat's milk content and claiming the Uruguayans had failed to produce the "sanitary documentation" necessary to bring dairy products with them.
According to the BBC, "some fans are already blaming Uruguay's shock 3-1 defeat to Costa Rica on the lack of dulce de leche," which we're more than a bit skeptical about -- either that the lack of ducle de leche (delicious as it is) would have any real impact on La Celeste's play, or that any fan would actually use that as a scapegoat for their team's loss over, say, the lackluster performance of the Urugauyan defense.
Then again, we're talking about a World Cup here, and a World Cup in Brazil, the site of Uruguay's most famous soccer victory -- the 2-1 triumph in the Maracana Stadium to claim the 1950 World Cup at Brazil's expense, an injury it's fair to say Brazilians have never come close to getting over. Maybe their customs authorities knew what they were doing? Maybe it really wasn't a coincidence that Luis Suarez couldn't recover from injury in time for the Costa Rica match?
No and no. But if Suarez proves to be less than 100 percent against England -- as he claims he will be -- maybe Uruguay should have some emergency dairy-free caramel imported just in case. 
HT: Dirty Tackle
We were mere centimeters from losing one of soccer's brightest stars

Former Minister of Sport and Deputy Prime Minister Vitaly Mutko is stepping down

The city of Samara's stadium, set to be used for the 2018 World Cup, has seen its construction...
Norway beat World Cup debutants Thailand 4-0 before a historic rout by Germany over Ivory Coast...

He'll be suspended for Friday's game against Iowa.

The World Cup was 'amazing,' but Seattle Sounders teammates Clint Dempsey and DeAndre Yedlin...