Liverpool agrees to sell Luis Suarez to Barcelona, clubs announce deal
Controversial superstar striker Luis Suarez will move from Liverpool to Barcelona after his widely speculated transfer has been agreed upon by both clubs and the player.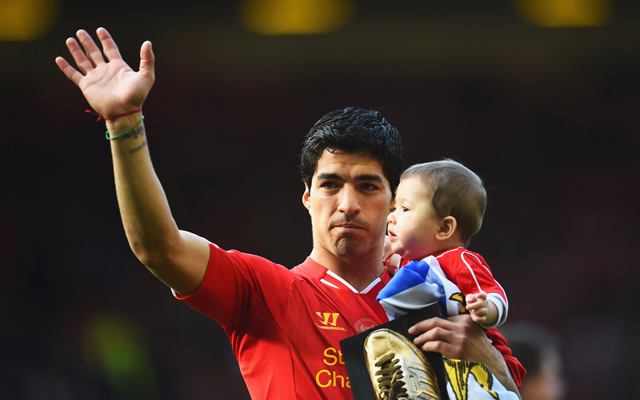 More World Cup: Latest news & notes | Scoreboard | Complete schedule
The widely rumored sale of Luis Suarez by Liverpool to Barcelona is now a reality. Both clubs and the player announced on Friday that a transfer agreement has been reached.
Suarez, 27, will sign a five-year contract with the Spanish giants, where he will eventually feature in an attacking trio alongside Lionel Messi and Neymar. The official transfer fee has not been announced, but it is believed to be in the neighborhood of 80 million euros, which translates to about 109 million dollars.
The Uruguayan is expected to be presented officially at Barcelona next week after undergoing a routine medical. The club has already revealed which number he will wear next season when he is eligible to play.
Find out what shirt number @luis16suarez will be wearing at @FCBarcelona_com #SuarezFCB http://t.co/t0yKs8ZhHL pic.twitter.com/aJShbH7Jgn

— FC Barcelona (@FCBarcelona) July 11, 2014
The controversial striker is currently serving a four-month ban for biting Italian defender Giorgio Chiellini at the World Cup while playing for Uruguay, the third biting incident of his career. He had his appeal denied on Thursday by FIFA and is not eligible to play for Barcelona until November.
Suarez will miss a total of 18 games for Barcelona during the suspension: Five preseason friendlies, three Champions League group stage games, one Copa del Rey contest and nine league games. He will also miss Uruguay's next eight official international matches excluding friendlies, which will keep him from representing his country beyond next year's Copa America.
Following the appeal rejection on Thursday, reports indicated that Barcelona is likely to attempt one more appeal in order to get the suspension reduced. The club will appeal to the Court of Arbitration for Sport [CAS], which has the authority to overrule FIFA's decision.
Suarez is the reigning player of the year in England, winning separate Player of the Year awards voted on by players and media members. His 31 goals in 33 games were tied for the most by any player in any of Europe's major leagues with Cristiano Ronaldo of Real Madrid and it helped Liverpool return to the Champions League for the first time in four years. 
In just over three seasons with Liverpool, Suarez scored 69 official goals in 110 games:
However, his time at Liverpool was also riddled with controversy. Adding to how impressive his goal ratio was this past season in Liverpool was the fact he missed the first six games of the season for biting Chelsea defender Branislav Ivanovic in his final appearance of the 2012-13 season. He was suspended 10 games overall for that incident. Suarez was also notoriously found guilty of perceived racial abuse against Manchester United defender Patrice Evra in 2011 and was given an eight-game suspension.
Liverpool released an official statement on Friday after the move was announced:
Liverpool FC confirms that Luis Suarez will be leaving the club after a transfer agreement was reached with FC Barcelona. The player now has permission to complete the usual formalities, which will then conclude the transfer.

We would like to thank Luis for his contribution and the role he played in helping bring Champions League football back to Anfield.

Everyone at Liverpool Football Club wishes Luis and his family well for the future.
Suarez also released a statement:
"It is with a heavy heart that I leave Liverpool for a new life and new challenges in Spain. Both me and my family have fallen in love with this club and with the city.

"But most of all I have fallen in love with the incredible fans. You have always supported me and we, as a family, will never forget it, we will always be Liverpool supporters.

"I hope you can all understand why I have made this decision. This club did all they could to get me to stay, but playing and living in Spain, where my wife's family live, is a lifelong dream and ambition. I believe now the timing is right.

"I wish Brendan Rodgers and the team well for the future. The club is in great hands and I'm sure will be successful again next season.

"I am very proud I have played my part in helping to return Liverpool to the elite of the Premier League and in particular back into the Champions League.

"Thank you again for some great moments and memories. You'll Never Walk Alone."
The city of Samara's stadium, set to be used for the 2018 World Cup, has seen its construction...

Norway beat World Cup debutants Thailand 4-0 before a historic rout by Germany over Ivory Coast...

He'll be suspended for Friday's game against Iowa.
The World Cup was 'amazing,' but Seattle Sounders teammates Clint Dempsey and DeAndre Yedlin...

A painting in Brazil depicts the Dutchman's amazing goal against Spain.

German midfielder Cristoph Kramer has become the face of the ongoing concussion crisis after...