Luis Suarez injures knee, undergoes surgery ahead of World Cup
Uruguay and Liverpool star striker Luis Suarez underwent arthroscopic knee surgery on Thursday in Montevideo, putting his World Cup status in some doubt.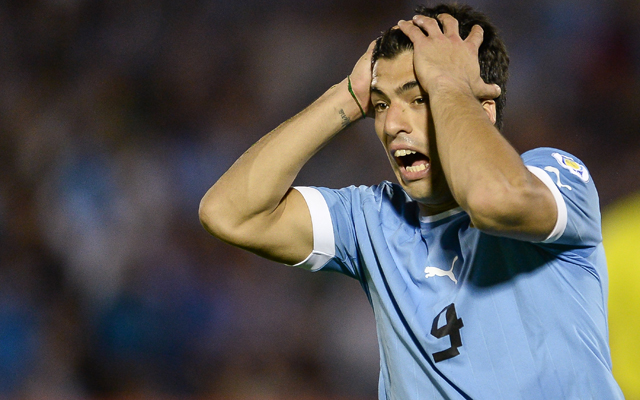 More World Cup: Group Previews | World Cup Roundup | Latest news & notes 
Uruguay and Liverpool star striker Luis Suarez suffered a meniscus injury to his left knee and underwent arthroscopic surgery on Thursday morning in Montevideo. He has not been ruled out of any World Cup games, however, and there appears to be increased optimism that he will be ready for the start of the tournament.
"Take it easy because I'm going to make it (to the World Cup) and will work very hard during these days to be 100 percent so that I can help my teammates," Suarez told Uruguay newspaper El Pais.
Uruguayan journalist Martin Charquero of Tenfield first broke the news of the surgery in the early hours of Thursday morning.
The 27-year-old Liverpool star suffered a meniscus injury while training with the Uruguay national team on Wednesday, just 23  days ahead of his team's debut in the 2014 World Cup. According to a press release by the Uruguay national team medical staff,  he felt "intense" pain in the knee and underwent an MRI which revealed the injury.
"His participation at the World Cup has not been ruled out," read the statement released by the Uruguayan Football Association (AUF).
The press release also noted that Suarez hurt his left knee in Liverpool's season finale against Newcastle on May 11, but the pain had subsided with no training in betweeen the final game and Wednesday's training session with Uruguay.
According to Tenfield, the surgery was performed with the authorization of Liverpool's medical staff, who analyzed his ultrasound.
Suarez is coming off a season with Liverpool in which he was named Barclays English Premier League player of the year by both the Professional Footballer's Association and the Football Writer's Association. He led the league in scoring with 31 goals and was also tied for the most goals overall during World Cup qualifying for his national team.
Tenfield estimates that the recovery time could take between 15 and 20 days (noted here in Spanish). As a result, Suarez would miss his team's two World Cup tune-up games against Northern Ireland and Slovenia.
Charquero reported via Twitter that it is "very probable" that Suarez could be back in time for the World Cup.
The Associated Press also spoke to Suarez's mother and sister in Montevideo, both of whom expressed optimism that Suarez would be fit for the World Cup.
"The surgery is over and thank God everything went well," Suarez's mother Sandra Diaz told the AP. "What Luis had wasn't as serious as we thought."
Suarez's sister Giovanna added that her brother is expected to miss "two to three weeks."
Uruguay will debut on June 14 against Costa Rica. They are also scheduled to face England on June 19 and will close out the group stage against Italy on June 24.
The city of Samara's stadium, set to be used for the 2018 World Cup, has seen its construction...

Norway beat World Cup debutants Thailand 4-0 before a historic rout by Germany over Ivory Coast...

He'll be suspended for Friday's game against Iowa.
The World Cup was 'amazing,' but Seattle Sounders teammates Clint Dempsey and DeAndre Yedlin...

A painting in Brazil depicts the Dutchman's amazing goal against Spain.

German midfielder Cristoph Kramer has become the face of the ongoing concussion crisis after...