Conference Catchup: SMU becomes the favorite as AAC takes step back
The AAC will take a step back next season with the departure of Louisville, but SMU should be a top-10 squad nationally.
• 7 min read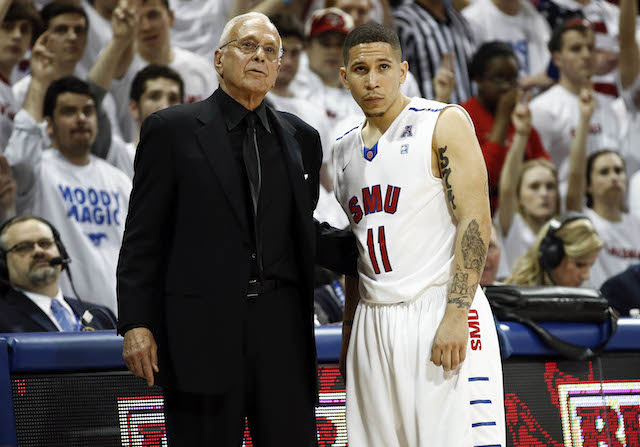 More AAC: 2014-15 schedule pairings | Two teams in 2014-15 Top 25 (and one)
Things are now mostly settled in college basketball. We basically know who will be coaching where. We basically know who will be playing where. So this seems like as good of a time as any to reset everything and get caught up on all of the notable leagues.
That's the idea behind the CBSSports.com Conference Catchups.
We'll post one every other day over a four-week span. We began with the ACC on Tuesday, and now we're going to dive into the American Athletic Conference.
FOUR OFFSEASON HEADLINES
1. Louisville and Rutgers leave the league, replaced by East Carolina, Tulane and Tulsa. Having the Cardinals in the league for its first season was a major boost, but now they are off to the ACC, while Rutgers heads to the Big Ten. In their place is a trio from Conference USA -- including the defending tournament champion from C-USA, Tulsa. It's certainly a downgrade, as Louisville has been one of the best college basketball programs in the country. With that said, the three newcomers should help lessen the gap between the top and bottom halves of the league; all three teams should be in the middle of the pack.
2. Kevin Ollie turns down NBA interest, signs extension at Connecticut. In just his second season as the head coach of the Huskies, Ollie helped lead them to a surprising national championship. And he will be back in Storrs to go for another one. Ollie had some interest from NBA openings, including reports that the Los Angeles Lakers wanted to meet with him, but he spurned the pro ranks and signed a contract extension with the Huskies. He is now one of the highest-paid coaches in college basketball -- and the pressure could increase if the team takes too big of a step back.
3. Kelvin Sampson is back in college coaching, leaving the NBA for Houston. After parting ways with James Dickey, the Cougars made one of the better hires of the spring, convincing Sampson to leave the Houston Rockets for the college ranks. Sampson went to a Final Four in 2002 with Oklahoma and was a consistent winner with the Sooners and at Indiana -- but he was given a five-year show-cause order in 2008 for impressible phone calls at both Oklahoma and Indiana. After a few years as an NBA assistant coach with Milwaukee and Houston, Sampson will have to rebuild Houston. The Cougars had plenty of turnover this spring, but Sampson has convinced some quality talent to join the fold in the past month.
4. Frank Haith pulls a major surprise, departing Missouri to replace Danny Manning at Tulsa. When he was at Miami, Haith made the jump to Missouri before his seat got too hot. And he decided to do the same at Missouri. After only three seasons in Columbia, Haith took the job at Tulsa vacated by Danny Manning, who went to Wake Forest. To many people, it was a major surprise -- who leaves Missouri for what has been a Conference-USA team? Looking closer, though, it's not such a crazy move. Tulsa is now in the AAC, which makes the job more attractive. Moreover, Missouri has taken a step back the past two years since winning 30 games in Haith's first season. Haith would have been on the hot seat next season.
BIG QUESTION THAT REMAINS
How good is SMU freshman Emmanuel Mudiay, and how far can he take the Mustangs?
With Louisville in the ACC, and Connecticut, Cincinnati and Memphis all losing key pieces from last season, the favorite heading into the season will be Larry Brown's SMU team. Despite a massive improvement from the year before, the Mustangs were left out of the NCAA Tournament last season, with the committee pointing to their weak non-conference schedule as reason for exclusion. They won't be on the bubble this season, though. The addition of Mudiay is the biggest reason for optimism. He will be arguably the best freshman guard in the country next season, and his ability to get into the lane to create for himself and others will be a huge asset for a team that struggled offensively at times a year ago. There are plenty of returnees, too, including a couple guys who could be preseason all-conference picks in Markus Kennedy and Nic Moore, as well as immediately-eligible Texas Tech transfer Jordan Tolbert. If there are no chemistry issues, this is the AAC favorite, a top-10 team nationally -- and Moody Coliseum will be rocking once again.
NBA DRAFT REPORT
Could've gone and did: DeAndre Daniels (Connecticut)
Could've gone but stayed: Ryan Boatright (Connecticut)
TRANSFERS
Coming: Kareem Canty (Marshall to South Florida), Devin Coleman (Clemson to Temple), Ronnie Johnson (Purdue to Houston), Malik Morgan (LSU to Tulane), Roddy Peters (Maryland to South Florida), Jordan Tolbert (Texas Tech to SMU)
Going: Musa Abdul-Aleem (South Florida to Troy), Jeremiah Davis (Cincinnati to Ball State), John Egbunu (South Florida to Florida), Lew Evans (Tulsa to TBD), Ahmed Hamdy (Houston to TBD), Javontae Hawkins (South Florida to Eastern Kentucky), Josh Heath (South Florida to Georgia Tech), Danuel House (Houston to TBD), Valentine Izundu (Houston to TBD), Jermaine Lawrence (Cincinnati to Manhattan), Zach LeDay (South Florida to TBD), Anthony Lee (Temple to Ohio State), Eugene McCrory (UCF to TBD), Shemiye McLendon (South Florida to TBD), Jaaron Simmons (Houston to Ohio), Brandan Stith (East Carolina to Old Dominion), TaShawn Thomas (Houston to Oklahoma)
TEAM COMMENTARY IN 140 CHARACTERS OR LESS
Cincinnati: Losing to Harvard in Round of 64 was disappointing. No more Sean Kilpatrick/Justin Jackson; Mick Cronin will rely on young guys to step up.
Connecticut: What will Kevin Ollie and the Huskies do for an encore? Shabazz Napier has moved on, but Rodney Purvis and Daniel Hamilton can really score.
East Carolina: The Pirates lose leading scorer Akeem Richmond, but return nearly everyone else and add Florida State transfer Terry Whisnant.
Houston: Kelvin Sampson will turn things around, but it won't be this year. Transfers of Danuel House and TaShawn Thomas will set Cougars back.
Memphis: Josh Pastner bids farewell to his four senior guards. Tigers will now have to rely on inside duo of Shaq Goodwin and Austin Nichols.
SMU: The Mustangs will be AAC favorite. Emmanuel Mudiay is a star, and Nic Moore and Markus Kennedy are all-conference performers. Top-10 team.
South Florida: Coach Stan Heath was fired and replaced by UK assistant Orlando Antigua. He has already upgraded recruiting, landing multiple transfers.
Temple: After six straight 20-win seasons, Temple dropped to nine victories. Owls bring back scoring guards Will Cummings and Quenton DeCosey.
Tulane: The Green Wave could have two of the best players in the league in Louis Dabney and Jonathan Stark. Potential middle-of-the-pack sleeper.
Tulsa: Frank Haith takes over for Danny Manning, and the Golden Hurricane bring back eight rotation players from an NCAA Tournament team.
UCF: The Knights went 4-14 in the league last season and lose their top three scorers. It could be another long year for coach Donnie Jones.
EARLY GUESS AT THE TOP FIVE IN THE LEAGUE
1. SMU
2. Connecticut
3. Cincinnati
4. Memphis
5. Tulsa
EARLY GUESS AT THE ALL-CONFERENCE TEAM
F: Shaq Goodwin, Memphis
F: Markus Kennedy, SMU
G: Nic Moore, SMU
G: Ryan Boatright, Connecticut
G: Emmanuel Mudiay, SMU
Final Thought: It was an uneven debut for the American Athletic Conference last season. The top half of the league was terrific, including eventual national champion Connecticut. But the bottom five of the conference was awful, with a huge gap between the two groups and no true middle of the pack. Because the bottom of the league was so bad and the fact a few of the top-half teams played poor nonconference schedules, the conference felt disrespected on Selection Sunday. SMU was left out of the field, and no team received better than Louisville's No. 4 seed (in the most difficult region).
Will the conference garner more respect from the committee this season? Connecticut's national-title run should help and the conference's middle should be better, but the conference as a whole will be down. Louisville moving to the ACC takes away one of the league's flagship programs and the other three at-large NCAA Tournament teams from last season will all take a step back. The individual talent is also taking a hit, as there is zero chance the league gets three players in the mix for first-team All-American honors next season.
The future of the AAC will be interesting to follow. The league will be more competitive after the top couple of teams this season, but it is likely to get less national attention. Going forward, it needs the second-tier teams to be consistently competitive. The South Floridas and UCFs of the conference dragged it down last season; that can't be the case every year if the AAC wants to be grouped with the major conferences.
Zack Cimini has been on a roll in college basketball and locked in a play for Texas-West V...

Zack Cimini is on a college basketball heater and just locked in a strong pick for Saturda...

Our advanced computer model simulated Saturday's Arizona-Stanford game 10,000 times
'If you want it, you're world champs,' A-Rod told the Spartans, which isn't exactly correc...

The players have the right to appeal the decision within three business days

Young is coming off his worst game as a Sooner and will try and bounce back vs. the Cowboy...