Duke downs Pittsburgh in key road win; Pitt's March seed in question
It was supposed to be a marquee win for Pittsburgh -- it turned into a statement win for Duke.
• 2 min read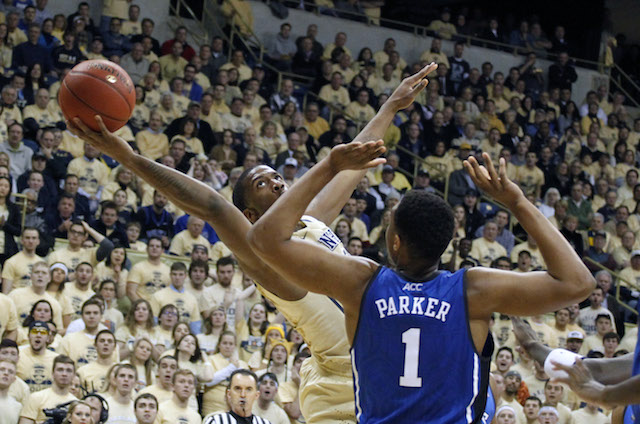 It was supposed to be a statement win for Pittsburgh.
The Panthers were 18-2 entering Monday, with the two losses -- to Cincinnati and Syracuse -- by a combined six points. But they didn't have any marquee wins. That was going to change this week, with Duke visiting the Peterson Events Center on Monday.
Duke had other plans.
The Blue Devils defended inside, crashed the offensive glass, and knocked down 13 3-pointers en route to an 80-65 win over Pittsburgh. 
Jabari Parker was unstoppable in the first half, finishing with 21 points and 11 rebounds. Andre Dawkins was huge in the second half, hitting six 3-pointers and scoring 20 points. Lamar Patterson led Pittsburgh with 14 points and five boards. 
Duke has now won five in a row after struggling to start ACC play. The Blue Devils are rounding into form at the right time, and much of it has to do with their inside play. It was key against Florida State over the weekend, and it was the same against Pittsburgh. The Panthers are known for their physicality, toughness, and rebounding. Duke held their own in all facets down low. The Blue Devils outscored Pittsburgh in the paint, 28-16, and turned 11 offensive rebounds into 20 second-chance points.
Moreover, the defense inside was just as important. Pittsburgh came into the game shooting 53.4 percent from 2-point range; on Monday, the Panthers shot just 41 percent inside the arc. Talib Zanna and the other Pitt frontcourt players missed countless layups and putbacks inside, and much of that had to do with Duke's aggressiveness and ability to contest shots down low. Amile Jefferson was big for the Blue Devils, with 14 points and 10 rebounds. If he keeps playing effectively inside, Duke gets taken to another level.
The play of Parker and Rodney Hood was predictably important. Parker set the tone early on the offensive end, showing aggressiveness going to the rim instead of settling for long 2-point jumpers. Hood, though, was huge at both ends. He had 13 points, three rebounds and four assists, but also played very solid defense on Patterson, who struggled to a 4-for-14 outing.
For Pittsburgh, the loss was disappointing -- but what it means for the Panthers' potential March resume is more concerning. Pittsburgh has now lost to the three top-50 teams it has played this season, and there aren't many opportunities remaining for resume-boosting wins. The six 50-100 wins are good, but none really catch your eye. Stanford is the Panthers' best victory, and the Cardinal aren't even a sure-fire NCAA tournament team. Virginia visits this weekend, and that's a must-win for Pittsburgh. Outside of that, there's Feb. 12 against Syracuse and Feb. 23 against Florida State. And that's it. North Carolina will probably slide into the top-50 at some point, but beating the Tar Heels this season isn't exactly impressing too many people. 
Pittsburgh will likely enter March with a gaudy record and only five or so losses -- but because there won't be too many impressive wins, a No. 6 or No. 7 seed could be in the Panthers' future.
Both teams have another huge opportunity coming this weekend. Duke visits Syracuse, while Pitt welcomes Virginia.
Oklahoma's basketball phenom has won the national Freshman of the Week award again

Happ is a force for the Badgers because of drills at home -- and a big growth spurt

Josh Nagel has his finger on the pulse of Big Blue and just locked in a strong pick for Tu...
The 10th-ranked Jayhawks end a four-game Morgantown losing streak with a big second half

Gary Parrish, after being questioned, explains why he writes the Poll Attacks each Monday

The Blue Devils looked like a team in need of a reboot against Miami, then they morphed into...