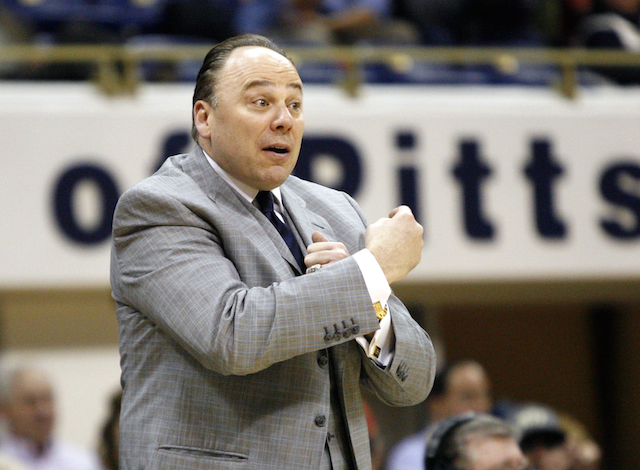 Latest in hoops: Latest News | Coaching Changes | Recruiting
Wednesday marks the beginning of the July live recruiting period, a three-week stretch where coaches from colleges across the country will follow and evaluate potential prospects from coast-to-coast. From Las Vegas and Augusta to Chicago and Louisville, thousands of high school basketball players will take part in a long list of events – and coaches will watch every second of it.
It can get a little confusing, so we're here to prepare you.
Next, we'll look at assistant coaches. While the head coaching carousel received most of the attention this spring, several key assistant coaching moves were also made – changes that could impact the recruiting landscape for the class of 2015.
Kenny Johnson, Louisville: Johnson was at Indiana for two seasons, and has built a repuation as one of the best recruiters in the game. He helped Tom Crean land several players, including Noah Vonleh, Troy Williams, Stanford Robinson and incoming freshman Robert Johnson.
Barry "Slice" Rohrssen, Kentucky: This saga seemed to drag on unnecessarily for weeks, but John Calipari finally landed his replacement for Orlando Antigua. Slice has major ties in the New York area, and immediately made Kentucky a factor for top-10 rising senior Cheick Diallo.
Yanni Hufnagel, California: While at Harvard, Hufnagel loved recruiting high-academic kids from the West coast. At Vanderbilt, he continued the trend. And now, Hufnagel will get to pursue his bread-and-butter – from a much more accessible locale. He should help across the board.
Rob Fulford, Missouri: This could pay off for new head coach Kim Anderson in a major way. The Huntington Prep (W.Va.) coach has relationships across the country, and also coached several of the top players in the country – namely Andrew Wiggins. He and Tim Fuller will form a tough tandem.
Stephen Thompson, Oregon State: Thompson spent the last nine season as the head coach at D-II Cal State Los Angeles – but new Beavers' coach Wayne Tinkle now also has a major in with Stephen Thompson Jr., a four-star shooting guard in the class of 2015. Combine that with Tinkle's son, four-star forward Tres Tinkle, and Oregon State could have a foundation due to family relations. The Beavers also landed Gregg Gottlieb, who made an impact during his time at California.
Eric Musselman, LSU: Musselman was named as a possibility at multiple head coaching openings, but LSU landed him as an assistant last month. He's a former NBA head coach and has been at Arizona State the past two seasons. He was one of the better Xs and Os guys on the board and has AAU relationships.
Marlon Williamson, Pittsburgh: With Slice Rohrssen leaving for Kentucky, Jamie Dixon had an opening – and he looked to New England to fill it. Williamson spent the last two seasons at Massachusetts, but worked with The Family AAU program in Detroit for the previous nine seasons. He has plenty of relationships.
Ryan Miller, UNLV: Dave Rice lost an assistant when Heath Schroyer left for Tennessee-Martin, and he chose to hire Miller, the brother of NBA veteran Mike Miller. He spent the past two seasons as an assistant at Auburn, and is a strong recruiter with Xs and Os pedigree as well.
Dave Cox, Rhode Island: Cox and Rutgers suddenly parted ways back in March, but Dan Hurley had an opening when Preston Murphy left for Boston College. Cox has big-time ties in the Washington D.C. and mid-Atlantic areas, and the move has already paid off – the Rams landed DMV native Leroy Butts recently.
Preston Murphy, Boston College: When Jim Christian was hired at Boston College, there were some questions regarding his ability to recruit the New England area. Well, he solved that with the hire of Murphy, who was at Rhode Island, and Maryland assistant Scott Spinelli. Both have experience recruiting the area.
BONUS: Rick Brunson: This one could be on hold for now, as Brunson was arrested and charged with sexual assault in late June. Brunson was expected to be the next Temple assistant coach. Brunson's son, Jalen, is arguably the best pure point guard in the class of 2015 and Temple could have been the frontrunner with Rick on staff.
BONUS: Keelon Lawson: Back in May, our own Gary Parrish reported that Lawson was being considered for an opening on Josh Pastner's staff, and there is still a vacant assistant coach spot with the Tigers. Lawson is the father of 2015 commit K.J. Lawson, five-star 2016 prospect Dedric Lawson, and elite 2019 prospect Chandler Lawson.