LAWRENCE, Kan. -- Kentucky and Kansas need to play each other every season. It's as obvious, simple and easy as that. 
Saturday night's classic at Allen Fieldhouse accentuated a great day of college basketball, but beyond that, UK-KU renewed a dormant rivalry that hasn't seen these teams play each other in a true road environment since 2006, a 73-46 mollywhopping by the Jayhawks at the Phog. 
Yes, the Jayhawks and Wildcats have been brought back together in recent years, but it's been by the luck of the draw in the NCAA Tournament (three times since 1999) and by nature of the made-for-TV Champions Classic, which rotates matchups between UK, KU, Duke and Michigan State.
TV mandated this season's tilt, too. The Big 12-SEC Challenge boosted college basketball's overall profile on Saturday thanks to enticing matchups, like player-of-the-year frontrunner Buddy Hield taking on the likely No. 1 overall pick in this June's draft, Ben Simmons. (Oklahoma roared from behind to steal the win at LSU.) No. 5 Texas A&M bested blazing-as-of-late No. 14 Iowa State. Improving Florida pulled off a shocking beatdown over one of the better West Virginia teams Bob Huggins has had.
All those games were rightfully overshadowed by Kentucky-Kansas. Because it's Kentucky, and it's Kansas. 
"You probably watch the game and say it's a hell of a game. I'm sick to my stomach," Calipari said.
It was a hell of a game, John. As the 90-84 overtime win for the Jayhawks played out, the question sort of just sat with me for most of the second half and overtime.
Why, exactly, aren't these programs scheduling each other every year?
The teams started their series in 1950. For the next 18 years, they played only once. Then, from 1969 until 1985, they played every year except in 1970. There was a fleeting home-and-home revival in '89 and '90. It's been irregular ever since. Kentucky, surprisingly, leads the all-time series between these teams at 22-7. The fact they've only played 29 times despite 230 seasons between them, it boggles the mind.
College basketball might not need it, but there's no question the sport would be enhanced by a yearly regeneration of something that could return to an earned status of "rivalry." In the past 25 years, the Jayhawks and Wildcats have played only nine times. It's an (albeit minor) crime against the sport. Self got his second career win against Calipari on Saturday night. The first one came in eerily similar fashion some years back. Remember how that one played out? It was a game wherein Kansas trailed often, rallied late, forced overtime and pulled away once the game got there. Also, Calipari's team was awful from the foul line.
Yeah, you remember: the 2008 national championship game.
Kind of neat how Jan. 30, 2016, had reflective qualities to April 7, 2008. These kind of storylines help sell the sport, usher in more attention and create more buzz. Before March, college hoops is always thirsty for that kind of pub.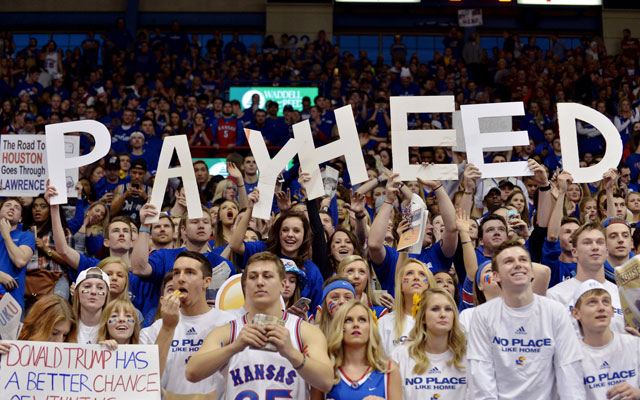 Now, in order to get things moving toward these programs annually battling, you need the cooperation of the head coaches, right? I asked Self after the game about the prospect of playing Kentucky every season. Think about it, the three-year cycle. You know the Champions Classic isn't going away any time soon, so you get a fun neutral-court affair that essentially kicks off the college hoops season every November. Then, in the other two years, you play one game at Rupp Arena and one game at Allen Fieldhouse. It's perfect triangular symmetry.
Self is basically on board with this, which is a big first step.
"The SEC/Big 12 Challenge ... I would assume that Cal will definitely say, 'They're definitely coming back to our place next year. I don't think he'll pass on that one,'" Self said, chuckling. "I would be good with that. The thing about it is, Cal will play anybody, but you look at our schedule, we'll play just about anybody."
To compare this to the college gridiron, it would be like Notre Dame-Alabama or Notre Dame-Texas on a yearly basis. Or, if you want to make the apples-to-apples comparison in terms of the winningest programs in college football: Notre Dame vs. Michigan. A rivalry that was recently halted thanks to the stubborn and immovable worldview of college football scheduling.
College basketball doesn't arrange non-league games five-, 10-plus years out the way football does, though. The schedules can be tweaked every offseason. Self also noted how Kansas' strength of schedule, naturally, would be enhanced by playing this kind of game. 
"When you're playing a top-25 RPI game every game almost, it makes it, you know, those games all sound great, and I would love to do it, but I would definitely, if we did it, not try to do some other things (with the schedule) we're doing right now," Self said.
So now you gotta wonder what Calipari thinks. Would he be up for it? He should. No question it would benefit his team next season to get Kansas at Rupp. The schedule-makers should account for that and plan accordingly. But beyond that, let's move forward with this every season. Two winningest programs in the sport. The two best programs, in the eyes of many, including those not connected to either school. (Like me.) They combine for 4,367 victories, Kentucky barely outpacing Kansas 2,197-2,170. Thirty-one total Final Fours (UK with 17, Kansas with 14). Kansas' 58 league titles are the most in college hoops history; Kentucky's 46 is No. 2 all time.
The yin and yang of Kentucky and Kansas runs decades deep, yet the similarities are noticeable on a surface level. Rupp Arena, named for Kentucky legend -- and Kansas graduate, by the by -- Adolph Rupp. Phog Allen, a man Rupp played for, with his name etched forever in Lawrence. Self referenced the halftime ceremony on Saturday, wherein KU officially unveiled the original rules of "Basket Ball" as drawn up by James Naismith back in 1891.
"Of course it would be great, but we'd have to adjust some things; Cal would have to do the same thing in order to play a game like that every year," Self said. "I think there's something about it that brings so much. You think about our place, and the rules tonight. You know, Adolph Rupp played for James Naismith, who was the assistant coach, not head coach, the assistant, when Rupp played. You think about the programs are intertwined. Because this is such a generational place, how and why they support [Kansas] the way they do. It's the same way at Kentucky, I'm sure. I would think it would be a great game. But not to the point where you add it to what you're doing. Our leagues are already both too hard."
So Kentucky and Kansas both pull back on one challenging nonconference game. That's easy to do. It's sort of insane we've even let it get to this point. The sport and its ambassadors should push for more true home-and-homes. The best should schedule the best as often as possible.
"The programs are so similar," Calipari said. "Kansas fans ever rush the court? Like, at Kentucky, if we beat the Lakers at the buzzer from half-court, banked in, they would never run. These fans are the same. I go to a lot of places. The respect here, like our fans ..."
And on he went, as Cal does in his pressers. He is right. The programs are fraternal. I hope Calipari can see that both fan bases deserve each other, deserve a true home-and-home sandwiching the Champions Classic. All the boxes can be checked here.
Kentucky and Kansas are on level footing at the top of the mountain. Hopefully, power players at both schools will soon realize that Saturday night should be the spark to a return of an annual series. From there, a rivalry can bloom again. In terms of a regular-season event, it's the proudest thing each program, its fans and the sport could ask for.