Houston wasn't just bad when Kelvin Sampson took over in 2014 -- they were irrelevant.
That's certainly not the case anymore.
The former coach who took Oklahoma to the 2002 Final Four has made Houston (22-8, 12-6) a player in the American Conference and after Thursday night's win over Cincinnati, the Cougars clinched the two-seed in next week's league tournament in Orlando, Florida.
Houston has also beaten SMU this season and won by 27 at Temple. The Cougars also beat UConn at Gampel Pavilion last Sunday.
In a conference that's filled with nothing except teams on the bubble, Houston has as good of a chance as anyone to earn an automatic bid to the field of 68 next week.
Who would have thought something like that was possible when practice started in October?
Maryland is still at its best when it goes small
Mark Turgeon has been committed to playing a bigger lineup all season long, but the Terps' strength is when they go small with Jake Layman at power forward were magnified in Thursday's 81-55 win over Illinois.
Thanks to crisp passing and efficient offense Maryland had 21 assists on 30 made field goals against the Illini, including 14 made shots from long distance.
The Terps went for long stretches with Layman at the four and with Jared Nickens at small forward which created better spacing and driving lanes for Melo Trimble and Rasheed Sulaimon to get to the basket.
Turgeon clearly played big for the majority of the year in an effort to get Robert Carter, Damonte Dodd, and Diamond Stone as many minutes as possible, but the Terps' best potential postseason lineup is when they go small.
Ben Simmons can change his collegiate legacy with a win on Saturday against Kentucky
The Australian native has been chastised on social media more than any of the potential presidential candidates over the past few months, despite putting up the type of statistics -- 19.7 points, 11.9 rebounds, and 5.1 assists -- that separate him from anyone else in the sport.
Simmons isn't to blame for LSU's struggles or the fact that the Tigers are a long ways away from the NCAA Tournament.
Johnny Jones' team hasn't been nearly as good defensively as it was in January over the past few weeks and this clearly hasn't been the same squad since they've played the last few weeks without senior guard Keith Hornsby, who has been out with an injury.
But Simmons may almost be able to completely change the narrative if LSU beats Kentucky on Saturday at Rupp Arena (2 p.m. ET, CBS).
How could that happen with one game?
A win over the Wildcats would put the Tigers at 12-6 in SEC play with a sweep over the team that will be the conference's top projected seed in the NCAA Tournament.
That's going to be awfully hard for the selection committee to ignore.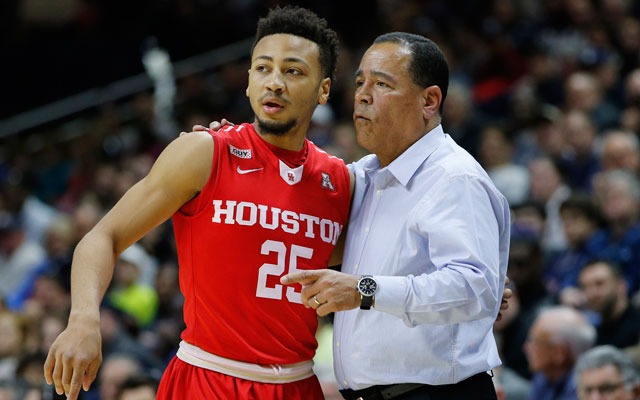 This and That
Oregon's Dana Altman may be the most underrated coach in college basketball. The Ducks have won 21 or more games in each of his six years in Eugene and Altman could win Pac-12 Coach of the Year for the third time in four seasons. Oregon is 24-6 overall and can clinch the Pac-12 title outright with a win at USC on Saturday.
Wisconsin is 11-1 since Jan. 17 and its only loss during that span was a road defeat at Michigan State. Greg Gard -- a silent assassin.
Tonye Jekiri is to Miami what Ray Lewis was to the 2001 Baltimore Ravens. With all due to respect to Virginia's Malcolm Brogdon, Jekiri should be the ACC's Defensive Player of the Year.
Something I didn't think I'd tweet in October: UCLA is 15-15 overall and will likely miss both the NCAA Tournament and the NIT. The Bruins will finish the regular season Saturday at Pauley Pavilion against Oregon State.
Providence is going to play in the NCAA Tournament for the third consecutive season. Think realignment helped out the Friars' national perception a few years ago?
Is there a mid-major conference tournament more wide open than the CAA? Eight of the teams participating have at least 16 wins. This is March folks.
One of the reasons for USC's February slide? The Trojans played seven games without rugged reserve Darion Clark due to injury and only went 2-5 during that span.
Mark Schmidt is in position to win Atlantic 10 Coach of the Year and St. Bonaventure is in position to reach its second NCAA Tournament in five seasons. If you don't think that's an amazing accomplishment then take a road trip to Olean, New York.
Virginia Tech's Zach LeDay has quietly been one of the country's most productive transfers. The 6-foot-7 power forward is averaging 15.1 points and 7.7 rebounds for the Hokies and tallied 20 and 10 in Wednesday night's win over Pitt. LeDay started his college career at South Florida.
With one win in this weekend's MAAC Tournament, Iona will clinch its sixth consecutive 20-win season under Tim Cluess. The Gaels are the tournament's number two seed.