Shabazz Napier uses stage to create one great and awkward moment
The Connecticut star was named the Final Four's Most Outstanding Player, then he asked for everybody's attention so that he could take a shot at the NCAA.
Watch: 'One Shining Moment' | Borzello: Kentucky can't lose Cal | Final bracket
ARLINGTON, Texas -- Shabazz Napier was lying in his hotel bed late Sunday, a little restless, a lot anxious, trying to figure out what he would say 24 hours later when CBS Sports' Jim Nantz put a microphone in his face because he already knew CBS Sports' Jim Nantz would be putting a microphone in his face 24 hours later live on national television.
"Because I knew we were going to win," Napier said.
So the senior guard from Connecticut, the star of this NCAA Tournament, thought about it and thought about it and thought about it, and he finally settled on making a point about the Academic Progress Report (APR) ban that prevented the Huskies from competing in last season's NCAA Tournament. Napier has long believed the ban was equal parts ridiculous and unfair, and he wanted to make that clear to the world. So that's what he did.
"I wanna get everybody's attention right quick," Napier said to a championship-game record crowd of 79,238 and an audience of millions watching on television. "Ladies and gentlemen, you're looking at the Hungry Huskies. ... This is what happens when you banned us!"
Nantz then told Napier he had been named the Final Four's Most Outstanding Player.
Napier nodded and said, "Thank you."
One Shining Moment, indeed.
****
Connecticut led 20 seconds post tipoff, never trailed and defeated Kentucky 60-54 late Monday here at AT&T Stadium to win its fourth national title since 1999 and second in the past four years, and does anybody make things more uncomfortable for the NCAA than the Huskies? They won the 2011 NCAA Tournament while on probation because of a recruiting scandal, missed the 2013 NCAA Tournament because of an APR ban, then won the 2014 NCAA Tournament and used the stage to publicly taunt the NCAA about that APR ban.
(One Awkward Moment?)
It was all so perfect.
A day after NCAA president Mark Emmert once again embarrassed himself by trying to rationalize his organization's outdated and morally dubious way of doing things, UConn shined a spotlight on the hypocrisy, and Napier basically rubbed Emmert's nose in it.
"People know how I feel about the postseason ban," Napier later told me in the UConn locker room, after getting 22 points against UK. "I really don't think it was our fault."
To spend much time focusing on who was and wasn't responsible for UConn's APR issues is to miss the point, I think, because Napier's larger point was that banning entire teams from postseason competition is wrong because it can and often does punish individuals who clearly did nothing wrong. Beyond that, let's get serious. Increased academic standards don't create better students as much as they ignite academic fraud. And, either way, how can the NCAA pretend to seriously care about academics when the system in place has caused UConn's players to spend the past four weeks in Memphis, Buffalo, New York and Dallas?
"That's the tough thing about it," Napier said. "They call us student-athletes, then they take us away from our school."
(Because there are hundreds of millions of dollars to be made, young man. Didn't you hear?)
I asked UConn's Tyler Olander how often he and his teammates have been in class lately.
"Not often," he answered. "But, I mean, I don't really have class anyway because ... I only take two classes. Three days a week, I'm off."
Which is fine, honestly.
As Kentucky's John Calipari might say, it is what it is.
The only problem I have with it is the same problem most have with it, and that problem is the NCAA's hypocrisy when it comes to this and everything else. If you care about academics, why make basketball teams arrive at the Final Four on a Wednesday in the middle of a semester to compete in games that won't be played until Saturday night? And if the reason you do that is because you know deep down that the academics are secondary to the big business of college basketball, that's cool. But then why pretend otherwise with APR bans?
These are questions for which you can never get straight answers.
And I suppose it might forever be that way.
But as the NCAA continues to face attacks, both in the court of public opinion and, you know, the actual court of law, it was neat to see this season end the way it ended, with the NCAA Tournament's Most Outstanding Player on a stage publicly taking a shot at the organization.
"I wanna get everybody's attention right quick," Napier said.
You got it, Shabazz. You certainly got it.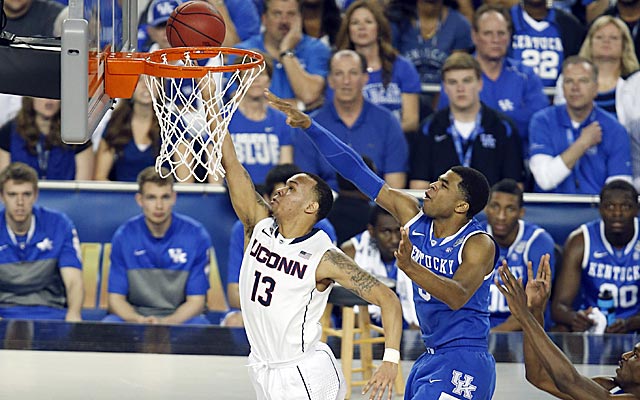 Arizona, for no good reason, doesn't have to play at USC or UCLA this season

We look at the 'Major 7' leagues and give you the best of what's to come in conference play...

Louisville's coach predicts a change is coming to the NBA's one-and-done rule by 2019
Multiple former players of Lonergan's alleged verbal abuse and inappropriate remarks

When Miller left for Indiana, there was cause for concern in Flyerland; a top-100 signee says...

The Hoyas will spend their non-league schedule playing mostly nobodies -- as will most big...