Unfinished business for Oklahoma State
Oklahoma State looked to be on the cusp of great things last season, but could never achieve the type of consistency it needed to reach the top tier. Travis Ford and the Cowboys will try to put their foot on the gas and keep it there in 2013-14.
• 4 min read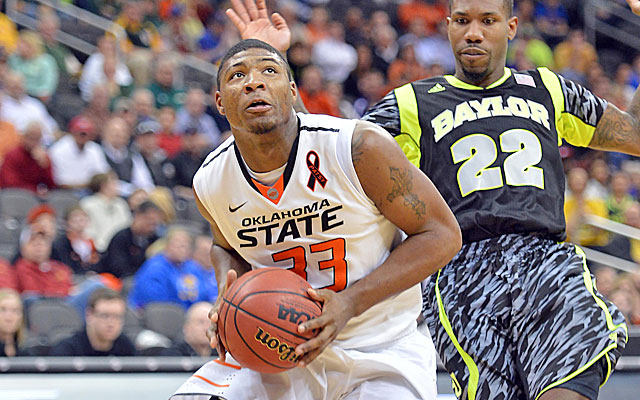 The look on Travis Ford's face said it all.
It was euphoric. It was genuine. It encapsulated everything that college basketball should be about.
Ford's ear-to-ear smile on February 2nd after Oklahoma State beat Kansas at Allen Fieldhouse was a seminal moment. The Cowboys had just beaten the Big 12's best program in arguably the toughest environment in the sport and seemed well on their way to a memorable run through the final two months of the season.
Oklahoma State won four straight games after that win over the Jayhawks, and had a 19-5 record heading into a rematch with Kansas in Stillwater on February 20th. The Cowboys lost that game by a point in double overtime, but they still seemed like a trendy pick to do damage in the NCAA Tournament.
It never happened.
For all the momentum Oklahoma State had built up early on, the Cowboys lost in the semifinals of the Big 12 tournament to Kansas State and then were beaten soundly by Oregon in their first NCAA game.
"We've talked about that all summer," Ford said recently. "The facts are the facts. We had some unbelievable highs last year but we didn't finish the season the way we wanted to. Our team is well aware of that."
The pieces are in place for OSU to build on last year's 24-9 record. Marcus Smart spurned the NBA to return to Stillwater for his sophomore year. The 6-4, 220- pound point guard would have been a top-three pick after averaging 15.4 points, 5.8 rebounds, and 4.2 assists last year as a freshman.  The combination of Smart, Markel Brown, and Phil Forte should form one of the elite perimeters in all of college basketball.
"We obviously feel really good about those three," Ford said of Smart, Brown, and Forte. "We've just tried to tell Marcus (Smart) to get a little better at everything. Be a better shooter. Average a few more assists. Become better defensively. He's obviously already one of the best players in college basketball. He's worked very hard on his shot, and speaking of that, I don't know if there's a better mid-range shooter in the country than Markel Brown. He's not a good shooter, he's a great shooter. I'm happy to see he's getting his due a bit more now. And Phil (Forte) is a guy that's going to be tough to keep off the floor because of how he extends defenses."
Ford is also bullish on super talented forward Le'Bryan Nash, who entered Stillwater with monumental (and probably unfair) expectations a few years back. Now with a stellar supporting cast at his disposal, Nash should be ready to hit his apex as a junior.
"He played as well as anyone during the summer," Ford said of Nash, who averaged 14.0 points and 4.1 rebounds per game last year as a sophomore. "He didn't have the help he needed when he came here but now that's not the case. He understands how tough he is to stop. His maturity level has really impressed me. I'm expecting really big things out of him."
Ford also said 6-5 wing Brian Williams is back and "better than ever" after last season's wrist injury and should challenge for a starting spot. The unsung presence though for the Cowboys, according to Ford, is forward Michael Cobbins.
"He was the reason why we won seven games in a row in the middle of last season," Ford said of the 6-8 Cobbins, who averaged 6.9 points and 6.1 rebounds last season. "For him, it's a matter of consistency. Michael (Cobbins) and Kamari Murphy are both major guys for us. We've got to have guys that defend and rebound."
Oklahoma State is a veteran team but will still need some mileage from its newcomers. Ford said he needs Top 100 recruit Stevie Clark to contribute minutes at point guard while Leyton Hammonds and junior college big man Gary Gaskins could have an impact thanks to their versatility.
The Cowboys have the requisites to be a Top 10 team nationally and go deep in the NCAA Tournament. If they were in any other conference than the Big 12, Oklahoma State would be the consensus pick to win their league. But with Kansas and Bill Self still in the picture, it would be beyond foolish to pick against the Jayhawks.
Nevertheless, Ford and the Cowboys will have a dog in the fight come March, even if they finish behind Kansas in the regular season standings. Now the key is, accelerating the tempo and creating more opportunities for Smart, Brown, Forte, and Nash.
If that happens, 2014 won't end like 2013.
"We're going to try to play a little faster," Ford said. "Our top guys are going to play 25-30 minutes a game. You get excited for different reasons in coaching. I'm excited because this is the most returning players I've ever had since I've been a head coach. We've got a chance." 
Northern Colorado will be on probation through 2020 due to academic and recruiting violati...

You might not see a projected NCAA Tournament bracket quite like this one anytime soon

The Wildcats, once written off after a three game skid, appear poised to enter Pac-12 play...
The Ducks are riding a three game winning streak yet are slight underdogs against the Bulldogs...

The Hurricanes are one of only a handful of unbeaten teams left in college hoops

The Bearcats are fresh off a convincing win over previous unbeaten Mississippi State