Big Picture: Is Tre Mason in Heisman conversation after 304-yard game?
Auburn RB Tre Mason ran wild in the SEC title game, and ran into the Heisman picture.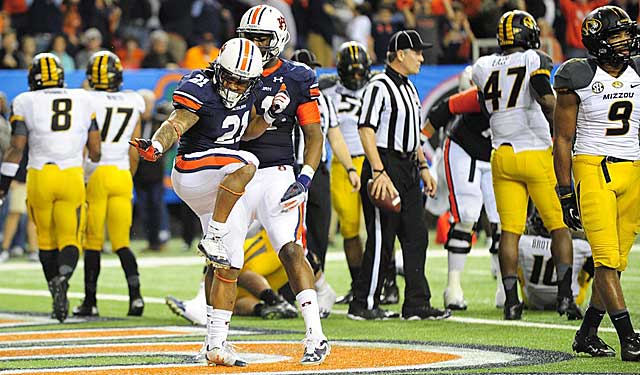 ATLANTA -- Leave it to Bo Jackson, the greatest player in Auburn history and perhaps the greatest athlete to ever play the game, to sum up the Herculean effort turned in by the Tigers' newest hero, Tre Mason, on Saturday in the Georgia Dome.
"He's a bad, bad man," Jackson said as he celebrated with the No. 3 Auburn team, moments after the 59-42 win over No. 5 Missouri in the SEC Title Game.
The 5-foot-10, 205-pound junior carried the ball 46 times for 304 yards and four touchdowns -- all SEC title-game records. Even more impressive was the fact that Mason ran wild against the nation's No. 14 rush defense. As a team, Auburn ran for 545 yards. Mason's 304 yards were actually more than 21 percent of the rushing yards Mizzou gave up combined in 12 regular-season games. In a season when where folks can't seem to find another viable Heisman candidate beyond Florida State QB Jameis Winston, Mason ran his way onto a lot of folks' ballots. I know he ran his way onto my ballot Saturday. He probably won't get higher than No. 2 there, but he definitely deserves to be invited to New York City next week for the presentation.
"He was a warrior today," coach Gus Malzahn said of Mason. "It was unbelievable."
Mason helped spark a stunning resurgence in an Auburn team that went 0-8 in SEC play last season. Saturday's win moved the Tigers to 12-1 and gave them an SEC title -- not bad for a team picked in the preseason to finish fifth in the SEC West. Mason was a 1,000-yard back last season, but this season, like all Heisman hopefuls are supposed to do, he's shining on the biggest stages. The SEC title game is just the most recent of Mason's stellar performances. At LSU, he ran for 132 yards and two TDs. At Texas A&M, he ran for 178 yards and one TD. Last week against Alabama, he went for 164 yards. In five SEC games away from Jordan-Hare Stadium, Mason averaged 180 yards rushing.
"He's got great vision and he's such a tough kid, and whatever that 'it' factor is, he has it," said Tigers RB coach Tim Horton, who admitted he was wowed by Mason carrying the ball 46 times.
"I don't get tired till the clock says 0:00, and we've won the game," Mason said.
Mason has now scored a rushing touchdown in 10 consecutive games and has 22 rushing TDs for the season, breaking Cam Newton's record. Mason also has eclipsed Jackson's school-record in all-purpose yards with 2,137. After Mason scored his fourth TD, he was greeted on the sidelines with a big bear hug from Jackson.
"He was just telling me how much he loved me and how proud he was of me," Mason said of the moment.
Mason, whose dad was a member of famed hip-hop group De La Soul, is a late addition to a murky Heisman picture, but his timing may be an asset. Aside from Winston, one favorite after another has been derailed -- from Tajh Boyd and Johnny Manziel and Marcus Mariota to Bryce Petty and Andre Williams and Jordan Lynch. Mason, though, has picked up more steam than anyone, though it's doubtful he will overtake Winston.
"No one deserves it more than Tre," said Auburn fullback Jay Prosch, Mason's punishing lead blocker.
Mason, who at one point in the game struck a Heisman pose, acknowledged after the game that winning the stiff-arm trophy is a personal goal. "It's always been a dream of mine."
The combination of Mason's slick running -- combined with the speed of QB Nick Marshall in Malzahn's up-tempo, spread-option game heavy on misdirection -- has proven lethal.
"They [Mason and Marshall] really have something special," Malzahn said. "It's hard to explain. It's a thing of beauty."
Random Stuff
• Ohio State had been dominating the Big Ten ever since Urban Meyer took over. The Buckeyes' two-headed monster of Braxton Miller and Carlos Hyde seemed unstoppable. Hyde ran for 700 yards and more than 9 yards a carry in four games in November. Miller ran for 488 more and a whopping 10.6 yards a carry in the month -- and they combined for 13 rushing TDs. The Buckeyes had averaged 53 points in the previous five games, but they came up empty when it mattered most against Pat Narduzzi's vaunted Michigan State D.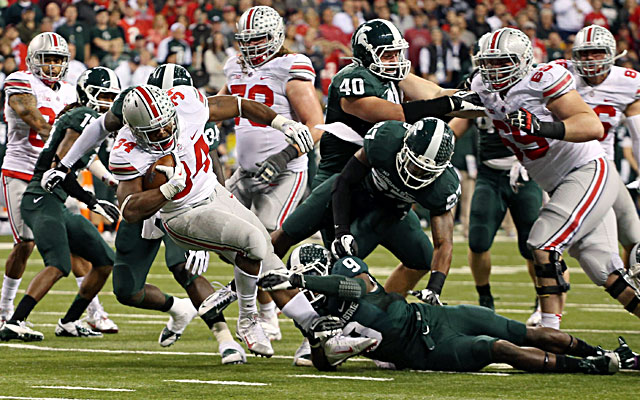 The Spartans were nearly perfect on the money downs, limiting the Buckeyes to 1 of 10 on third down and 0 of 2 on fourth down, including a crucial fourth-quarter stop, when LB Denicos Allen shed the Ohio State tight end to stuff Miller. Going into this weekend, I thought the Big Ten title game matchup was the most intriguing coordinator match-up of the season between two rising stars and future head coaches -- Michigan State's Narduzzi and Ohio State OC Tom Herman. Interestingly enough, it wasn't Herman who made the fourth-down call to run Miller -- not Hyde, their powerhouse running back -- by Urban Meyer, as SI.com's Pete Thamel reported.
After taking a 17-0 first-half lead, Michigan State looked like it was going to wilt as the Buckeyes' offense got cranked up. Ohio State rallied to a 24-17 lead late in the third quarter when Mark Dantonio asked Narduzzi, who normally coaches most of the game from the press box, down to the sidelines.
"I come down [from the box to the sidelines] a bunch in games," Narduzzi said Sunday morning. "But this was early. I usually come down sometime in the fourth quarter, but Coach [Dantonio] said he needed me down. You want much more emotion on the sideline. I came down to get some.
"I love the sideline, but you can see and adjust much better from the box. You can affect the kids better though from the sidelines."
It worked. Narduzzi said he came down to the sidelines at around the 4-minute mark of the third quarter. The rest of the game with Narduzzi coaching from the sidelines: the Buckeyes ran 17 plays and gained only 46 yards (2.7 yards per play) and managed only two first downs on four drives. (In Ohio State's previous six drives, the Buckeyes had rolled up 292 yards, 9.1 yards per play) and three TDs.
If Narduzzi hadn't wrapped up the Broyles Award honoring the nation's top assistant coach already, he should have in Indy.
"This is legendary," Allen told reporters after the game. "We're gonna down in history. Whenever they talk about the last Michigan State Rose Bowl team, they're gonna talk about us now. That's legendary to me, because we've been talking about the last Rose Bowl team forever."
• In 2007, neither Alabama nor archrival Auburn won more than nine games nor finished higher than No. 15 in the AP poll. Fast forward six years, and the two schools from the country's 23rd most popular state have a chance at final five BCS national championships if the Tigers can beat Florida State. That is amazing.
• Florida State dominated Duke, as expected. Jameis Winston, who should run away with the Heisman Trophy, passed for 330 yards and ran for 59 more while the Noles' D terrorized the Blue Devils. On Duke's first eight series Saturday night, FSU forced seven three-and-outs. David Cutcliffe's attempted 42 passes and didn't end up with a pass play longer than 17 yards. The Noles now haven't allowed a pass play of longer than 20 yards in 8 1/2 quarters.
The matchup of Auburn's dynamic offense, especially with the way the Tigers have come on late in the season, against the Noles' nasty D is compelling. My early take: FSU is more balanced but it is going to be a whole lot of fun seeing the Noles, who have allowed only five rushing TDs all season, cope with Malzahn's attack.
• Baylor won the Big 12, its first outright conference championship in 33 seasons. Finally, a bold preseason prediction that came through. I believe in Art.
• It feels like such a down year for Oklahoma with blowout losses to archrival Texas and Baylor, but with Saturday's win in Stillwater, Okla., Bob Stoops reminded folks why he's still one of the best coaches in football. The Sooners, who lost the guts of their defense midway through the season to injury, now have won at least 10 games in four straight seasons, and Stoops is 8-1 in his career against OSU coach Mike Gundy. Some mock Stoops for his old Big Game Bob rep but the guy is 7-4 in his past 11 games against teams ranked among the top 12.
• From the Misery Loves Company file: Florida players sure seemed happy to see No. 2 Ohio State lose and fall from the ranks of the unbeaten, or probably more specifically Urban Meyer, their former coach, lose a chance to play for the BCS Title. Three Gators tweeted some spirited comments after the Buckeyes went down, according to the Orlando Sentinel.
--Florida wide receiver Quinton Dunbar (@QuintonDunbar1) tweeted: "Lol lets see if Urban Meyer play sick again #UnLoyal"
--UF kicker Brad Phillips (@sirekicksalot97) simply tweeted: "Justice."
--Gators offensive guard Jon Halapio (@Jhalapio67) tweeted: "HAHAHAHHAHAHAHAHAHAHAHAHAHAHHAHAHAHAHAHAHAHAHAHHAHAHAHAHAHAHAHAHAH HAHAHAHAHAHAHAHAHAHAHAHAHAHHAHAHAHAHAHAHAHAHAHA"
• As great a job as Gus Malzahn has done at Auburn, let's not forget how much talent was left behind by Gene Chizik. One of the biggest studs in the program, redshirt soph OT Greg Robinson, is tops on that list in the NFL's eyes. I'm told his stock is really rising in NFL scouting world. "He's big, athletic and nasty," said one scout. Word is, Robinson could be a Top 10 draft pick if he comes out after this season.
• DGB = Freak.
• As I reported Saturday, Wyoming will hire North Dakota State's Craig Bohl as its new head coach on Sunday. Bohl led the Bison to national titles the past two seasons and NDSU is 10-0 this year. He's done it by recruiting tough players and thriving in finding players in the northern part of the country. Props to Cowboys brass for landing Bohl. I had heard a bunch of quality names speculated for this job, Bohl though makes as much if not more sense than any of them. Of course, he walks into a very, very tough job.
Bohl will become the second FCS title-winning coach for their Cowboys in their past three coaches. Joe Glenn, who had won a national title at Montana, was 30-41 at Wyoming from 2003 to 2008.
• UCF QB Blake Bortles led the Knights to a BCS bowl. The strong-armed 6-foot-4, 230-pounder also is turning a lot of heads in the NFL scouting world. In fact, a few personnel people I've talked to say Bortles, not Louisville's Teddy Bridgewater, may end up as the first AAC quarterback drafted in May.
•Best under-the-radar coaching job in the country? Look at what David Bailiff has done at Rice. The Owls are 15-3 in their past 18 games. That's the school's best run since 1952-54.
• Stat of the Day: Stanford walloped Arizona State again. This time, it was 38-14. Kevin Hogan, who was 12 of 18 for 277 yards and one TD, is now a sterling 10-0 as a starter against AP Top 25 opponents.
By the way, anyone remember the skepticism about how Stanford would backslide after Jim Harbaugh? David Shaw is 34-6 in his first 40 games as a head coach and led the Cardinal to consecutive Rose Bowls -- all after Andrew Luck left Palo Alto.
• State of the Day, Take II: Auburn is on a nine-game winning streak, with five of those wins over ranked teams. Three of the victories were over teams ranked in top 10.
• Tweet of the Day: From Dave Campbell's Texas Football:
Today, Rice won its first outright conference title since 1957, and Baylor will win its first outright conference title since 1980.

— Dave Campbell's TF (@dctf) December 8, 2013
Freeman will not play in the New Mexico Bowl on Saturday

SportsLine simulated every bowl game 10,000 times for pick'em leagues and confidence pools

Grier will return to West Virginia for the 2018 season instead of entering the NFL Draft
The Chick-fil-A Peach Bowl just got spicy

Anderson had been under investigation for an incident at a bar in Cleveland County, Oklaho...

Between Arizona State and Tennessee, no one would have guessed how this coaching cycle turned...