Michigan interim athletic director Jim Hackett informed Brady Hoke that he will not return for the 2015 season.
Hoke met with the school's interim athletic director on Tuesday afternoon before meeting with the team and making the announcement official in a press conference. Hackett said the process to find Hoke's replacement will begin immediately, though he would not elaborate on the process, adding it was "not fair" to comment on potential candidates.  
Hackett complimented Hoke's job "molding young men" and helping them focus on their success in the classroom and in the community. But he also said that the "longevity of our best football coaches are tied to performance in a measure of wins and losses, combined with values."
"I believe Brady had enough time to produce results and they're just not there," Hackett said at the press conference.
Michigan's season is done after a 42-28 loss at Ohio State on Saturday. With a 5-7 record, the Wolverines will miss the postseason for the first time since 2009. Hoke has a 31-20 record since arriving in Ann Arbor (18-14 in Big Ten play), and the team has regressed every year since his 11-win debut that concluded with a Sugar Bowl victory. 
Hoke's Record at Michigan
Year
Record
Big Ten
Bowl
2014
5-7
3-5
No Bowl
2013
7-6
3-5
L, Buffalo Wild Wings
2012
8-5
6-2
L, Outback
2011
11-2
6-2
W, Sugar
Totals
31-20
18-14
1-2 in Bowls
"I feel very fortunate to have been an assistant and head coach at the University of Michigan," Hoke said in a school-issued release. "I will always support the university and this football program. This is a special place and one that Laura, Kelly and I have enjoyed representing during our time in Ann Arbor. I want to thank all of the sons that played for our teams and appreciate the commitment that our coaches and support staff made to the program every day. I will miss the relationships that I've been fortunate enough to make within this university and community. I additionally appreciate all of the support that our fans, alumni, students, administration and former players have provided our program. I leave with fond memories of my experience at Michigan. Thanks and Go Blue!"
If Michigan was going to make this move, it was good to not waste any more time beginning the search for Hoke's replacement. Florida and Nebraska have already made this an eventful offseason for some of the sport's traditional powers, and if the Wolverines' wish list conflicts with either school, it would be smart to get the process started.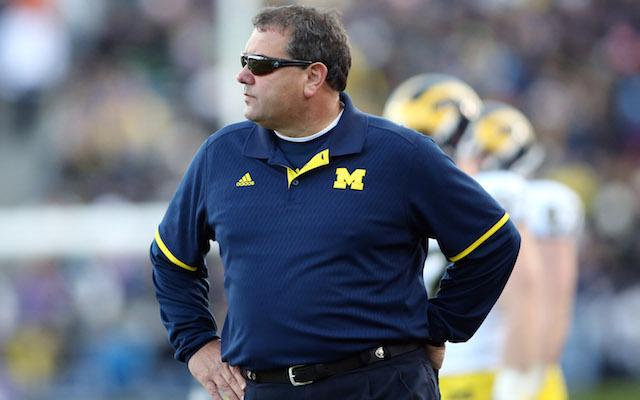 Of all the major job openings, Michigan's search for a new coach will be unique in that it's coinciding with the school's search for a new athletic director. Former AD Dave Brandon publicly supported Hoke but acknowledged some department-wide issues, including the need to repair its relationship with the student body. When Brandon stepped down in late October, interim athletic director Jim Hackett announced that he would make the final decision regarding Hoke's future with the program.