Denard Robinson says he can take Usain Bolt in a 40-yard dash. How ridiculous is that?
'That doesn't mean Robinson isn't ridiculously explosive and very quick. But is he even the fastest football player? If you've got other football players who can beat you, why talk about Usain Bolt?'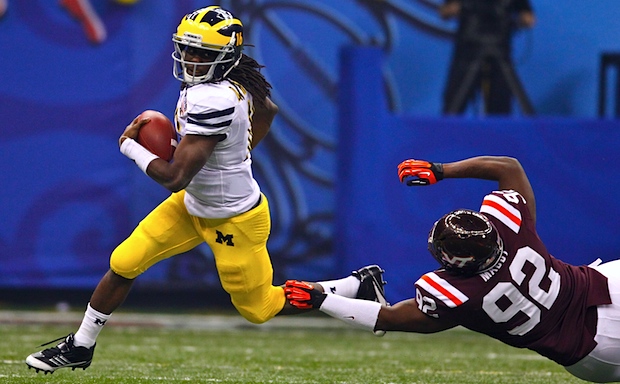 By any measure, Denard Robinson is an exceptionally fast human being. He's football-fast, having racked up 2,878 yards and 30 touchdowns rushing in two years as Michigan's starting quarterback. He's track-fast, having turned in state championship-caliber times as a high school sprinter in Florida. If he wasn't focused on his job on the football team, there's no doubt he could hold his own against some of the best sprinters in the Big Ten. Maybe against some of the best in the NCAA.
The best in the world? Well yeah, according to Robinson: After watching Jamaica's Usain Bolt take three gold medals in three attempts in the London Olympics -- duplicating his trifecta in the 100 meters, 200 meters and 4x100 relay in the Beijing Olympics in 2008 -- Robinson told FoxSports Detroit that not only could he hang with the reigning Fastest Man in the World for the first 40 yards, but at that distance, he could actually beat him. Really:
"I've watched him run, and I'm pretty sure I can beat him in a 40-yard dash," Robinson said at Michigan's media day on Sunday. "I'd get a better start, and I could take him.

"At 60 yards, I'd be in trouble, and at 100 meters, he'd be gone, but I could get him in a 40."
No word on whether he would bother to tie his shoelaces beforehand.
In Robinson's defense, he didn't just walk into a room and declare himself Bolt's equal at some arbitrary distance. He was responding to a question prompted by his teammate, Devin Gardner, who baited reporters by making the claim himself. "Denard could do that in a heartbeat -- he's the fastest man in the world," Gardner said. "I know what Usain Bolt did in the Olympics, and Denard probably couldn't beat him at 100 meters, but when it comes to football speed at 40 yards, I'd take Denard. He's that fast." Not really, but OK, nothing wrong with hyping up a teammate.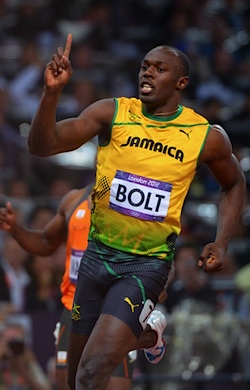 Also in his defense, Robinson doesn't pretend he could hang with Bolt at the shortest distance for which we have an actual time for Bolt. He can't, because the best number we have for Denard at the same distance, 100 meters, is 10.44 as a senior at Deerfield Beach High – impressive, especially for an 18-year-old, but still nowhere near the Olympic-record 9.63 Bolt ran in London. (Bolt's world-record time in the 100, a stunning 9.58, is a full tenth of a second faster than the best time ever posted by any other human.) Even accounting for normal improvement by Robinson with better coaching, training and experience in college, it's hard to imagine that much improvement: As a group, world-class sprinters left the 10-second barrier in the dust a long time ago.
"I love the confidence [by Robinson], but you have to look at the facts," said one collegiate track coach who has coached Olympic sprinters. "Some of the old track/football guys of old like Renaldo Nehemiah and Willie Gault supposedly ran 4.2 [seconds] in hand-timed 40-yard dashes. Before Robinson can claim to be faster than Bolt, he'd have to beat their 40s first. When he runs 4.1, let me know. That's when he can get into the conversation."
In fact, many track coaches consider anything below a 4.2 or even a 4.3 in the 40-yard dash physically impossible under standard track conditions, although no one really has any good idea because the fastest men in the world aren't timed or trained in the 40-yard dash. Only football players are timed at that distance, frequently under conditions that do not pass muster by track standards, resulting in exaggerated times that should be met with skepticism if not outright disbelief. If the clock starts on the runner's movement rather than a starting gun, for example, or is judged by a finger on a stopwatch rather than a more precise electronic system, any comparison to competitive track times is worthless. And that's before you start accounting for weather conditions, running surface, shoes and so forth.
Some informal effort has been made to break down some of the top 100 meter sprints in history into smaller increments, resulting in the vaguely accepted wisdom that elite runners like Bolt and former Canadian sprinter Ben Johnson cover the first 40 yards in the vicinity of 4.38 seconds. Five different guys allegedly beat that time at this year's NFL combine.
But even if you do fall for the superhuman times attributed to football players, the comparison to elite sprinters falls apart when you consider how much faster the latter could potentially cover that distance if they trained specifically for it, as football players do before the combine. In the 100 meters, as Robinson notes, runners typically don't reach their top speed until well after the 40-yard mark; Bolt himself rarely separates from the pack until the second half of the race. ("If you're only going to run 40 yards, you don't have to do speed endurance or maximum velocity work," said our collegiate track coach. "You are just talking about acceleration. You only have to do one facet of what is three facets in a 100-meter dash: One, acceleration. Two, maximum velocity. And three, speed endurance. With the 40-yard dash you only have to work on the one facet.") If Robinson and Bolt raced head-to-head, Robinson would likely fare much better over the first 40 yards of a 100-meter sprint than in a straight-up 40-yard sprint. But no coach anywhere would give him decent odds of actually winning at any significant distance.
"Usain Bolt is in a world of his own. He's not weak as an accelerator," our track coach said. "He gets to 30 yards before everyone else. He's rarely behind at that point amongst the current crop of sprinters. I think [Robinson] is minimizing Bolt's greatness.
"That doesn't mean Robinson isn't ridiculously explosive and very quick. But is he even the fastest football player? If you've got other football players who can beat you, why talk about Usain Bolt?"
- - -
Fellow Eye on College Football blogger Chris Huston contributed to this post.
CBS Sports HQ Daily Newsletter
Get the best highlights and stories - yeah, just the good stuff handpicked by our team to start your day.
Please check the opt-in box to acknowledge that you would like to subscribe.
Thanks for signing up!
Keep an eye on your inbox for the latest sports news.
Sorry!
There was an error processing your subscription.
Big Ten players and coaches will step in front of microphones Monday and Tuesday

UCF's title hopes, Ed Oliver's final season and finding this year's dark horse highlight

The lawsuit claimed Colorado officials failed to properly address domestic violence claims...
The cupboard isn't bare in Tuscaloosa

Media members are now on the record for their picks for the 2018 season

Bubba Cunningham believes his coach's remarks were 'poorly communicated'