Dennard adds bite to Spartan Dawgs as Michigan State smothers foes
Darqueze Dennard, the best CB since Deion? Maybe, maybe not, but there's no doubt he's key to Michigan State's stifling defense.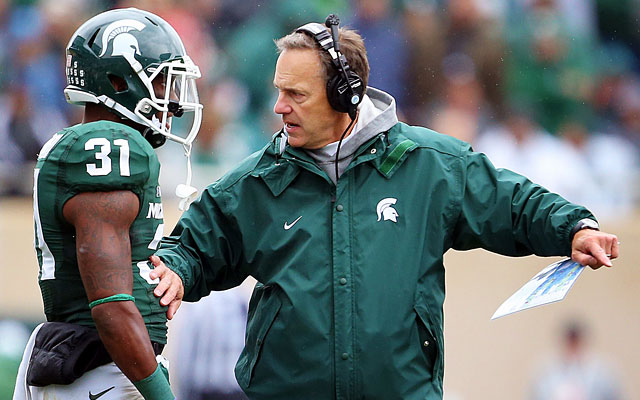 You can't get much more country than Dry Branch, Ga. It's not a one-stoplight town, according to its most famous athletic resident at the moment, it's a one caution-light town.
"Five minutes from Macon, Ga.," Darqueze Dennard said, "but definitely not a suburb."
The native of Twiggs County -- about 90 minutes from Atlanta -- has a grandfather who worked in a chalk mine. His grandmother worked in a zipper factory.
That country enough for you?
Dennard is so country that his nickname is "Country". It's the Michigan State defense he plays on that has redefined the term. Nobody has played better D this season.
"During Monday meetings, we talk about offenses scoring 'this many points, this many points,'" said Dennard, a senior cornerback. "We don't think they could do that on us. We take it personally."
And personal is everything to these "Spartan Dawgs" -- as they have been known for years in coordinator Pat Narduzzi's defense. Dennard may not be the best player on the nation's No. 1 defense, but the fact that a distinction has to be being made for the Thorpe Award semifinalist shouts excellence.
Weakside linebacker Denicos Allen is the speed rusher off the edge with 11 tackles for loss and five sacks. Third-generation Spartan Max Bullough, a middle linebacker's middle linebacker, is the brains of this wrecking crew.
But Dennard had been humbled enough before he arrived out of the Deep South. He didn't have a scholarship offer going into his senior year of high school. Middle Tennessee State called the third week of his final season and told him thanks but no thanks.
"I was bitter," he said. "I didn't know what I was going to do."
Today, Dennard is that Thorpe Award semifinalist (nation's best defensive back), leads the team in interceptions and is a likely All-American. Today, he is the subject of a glowing 77-page report from NFL talent evaluator Dave-Te Thomas, who compares him to Deion Sanders and has the meticulous numbers to back it up.
"This might be," Thomas concluded in his report, "that 'next great shutdown cornerback' a Big Ten school has produced."
There is a lot of that scattered throughout a unit that has had six players drafted off it since 2010. But that's only one measuring stick. Before facing Nebraska on Saturday, Michigan State's D is first nationally in total defense, rushing defense, pass-efficiency defense, yards per play and third-down conversions.
The Dawgs lead the Big Ten in seven defensive categories and no one should be surprised. In this offensive age few are playing defense with the rabidity of the Spartans. Alabama, Florida State, Florida and LSU are the only other schools to finish in the top 10 in total defense the past two years.
You might notice that Michigan State is the only one north of the Mason-Dixon Line. Somewhere Bubba Smith -- legendary Spartan from Beaumont, Texas -- is smiling.
"I wouldn't say it's intimidation," Bullough said. "We're all men. We've played a lot of football.
"We're going to war. If you're playing for Michigan State, you're going to war. ... It's just never-ending. That's the way we do things."
Grabbing Dennard out of rural Georgia harkens back to the days when Michigan State harvested the South for top players at a time when SEC schools had yet to be fully integrated.
Recruiting is totally different now but Dennard's presence in East Lansing was something of a coup -- and luck. That assistant Dave Warner even saw Dennard is a bit of a fluke. He was scouting current Spartans receiver Keith Mumphery and noticed an able-bodied defensive back.
"I didn't realize we were his first offer," coach Mark Dantonio said.
In the head coach's grudgingly stern world, he calls it "getting on the bus." The former secondary coach at Akron, Youngstown State, Kansas, Michigan State and Ohio State keeps a short list of truly great secondary guys who have played for him -- Kwamie Lassiter (Kansas), Mike Doss, Chris Gamble (Ohio State), Renaldo Hill (Michigan State).
"Darqueze is right there with all those guys," Dantonio said.
It's hard to imagine Shilique Calhoun, a redshirt sophomore defensive end, could be leading the Big Ten in scoring after two weeks. Or that a squad that produced only 20 takeaways and no touchdowns in 2012 already has 16 and five defensive touchdowns.
"We hate for people to score a touchdown on us," Dennard said.
There have been only 12 such trips to the end zone for the opposition this season. Only Alabama and Louisville have allowed fewer.
"We get mad when we give up so many yards," Dennard added.
Yeah, like the time three weeks ago when Illinois piled up 128 yards against the Spartans. That was only 318 yards below the Illini's average. If the Dawgs keep allowing their average of 210 yards, that would be the second-lowest FBS figure in at least the past 15 years.
The defense doesn't need much to get motivated. During last year's 7-6 season, sacks and turnovers were down. After two weeks this season, only four Big Ten players (all offensive types) had more touchdowns than Calhoun's three.
Bitter rival Michigan has scored a total of two touchdowns on Michigan State since 2010. How's that for "Little Brother?" This week's opponent, Nebraska, is 7-0 against Michigan State. Taylor Martinez, whose career may be over, could be catching a break. 
"He knows what the other team is going to do before they do it," Dennard said of Narduzzi.
Bullough got noticeably and increasingly excited during a short phone interview.
"Offenses are trying to get their guys in space," he said. "Everyone always asks me, Denard Robinson, Braxton Miller, how are you successful against them?
"I have the most boring answer. If you have nowhere it's hard. It turns that 35-yard touchdown run into an 8-yard gain."
It's getting to the point that excellence has to be ranked. Narduzzi's first four defenses at Michigan State finished 32nd, 58th, 73rd and 43rd. The past two top-10 defenses have allowed seven points or less eight times.
"This is by far the No. 1 [defense I've had]," said Narduzzi, now in his seventh season in East Lansing. "It is because of how dominant we've been, how consistently dominant we've been. It's not like we give up 50 yards one week and 500 the next."
Dantonio knows he has it locked down. The buttoned-up Coach D just won't say it out loud about his D. In Narduzzi, he employs perhaps the best assistant coach in the country.
The dude is so hot that he has to pay the school $250,000 if he leaves for a non-head-coaching position. Dantonio says he wants Narduzzi to succeed him but that could be 10-15 years from now. Nard's next move will be as a head coach.
The school is paying him more than half a million to keep him happy and for Narduzzi to bring the pain. Michigan snapped the ball 59 times against the Dawgs two weeks ago. Wolverines quarterback Devin Gardner was sacked seven times, helping Michigan's rushing effort match what could have been the temperature on the surface of Mars.
Both were minus-48.
Bully is a strong word these days but it had to be asked in regards to the Dawgs.
"We don't bully people," Narduzzi said sternly. "We play football the way it's supposed to be played."
"You get what you coach," said Dantonio, Jim Tressel's defensive coordinator himself a decade ago. "I believe that. If you're not coaching [against] it, you're letting it happen. That's one of things I learned from Nick Saban."
You knew Saban would creep into this story about defense. He had to. Dantonio was Saban's defensive backs coach at Michigan State from 1995-2000. Their demeanors -- and possibly even their appearances -- are similar.
With one exception recently. Asked on the Big Ten Network during Michigan week if they game was personal, Dantonio shot back, "What do you think?"
It is to this defensive excellence that Dennard was recruited. Thomas, the NFL talent guy, said 77 throws have come to the cornerback's territory this season. Only 10 have been completed for 60 yards and two touchdowns. That's .779 yards per attempt.
The last player Thomas saw who allowed less than a yard per attempt was Deion.
"To say that my scouts have been impressed with [Dennard's] leadership and on-field skills is an understatement," Thomas wrote.
For a kid from the country labeled "Country" playing for the best unit in the country, understated is probably best for all concerned.
Because with the Spartan Dawgs it's always personal.
Saban isn't going to win Alabama's special election, but the Crimson Tide coach got some l...

The Sooners' quarterback and Badgers' rusher stood out among their peers this season

Clark led UAB to an 8-4 overall record, 6-2 in conference this season
SportsLine simulated every bowl game 10,000 times for pick'em leagues and confidence pools

The Tigers are going worldwide for their next punter

Led by Heisman Trophy winner Baker Mayfield, the Big 12 finished with seven first-team sel...