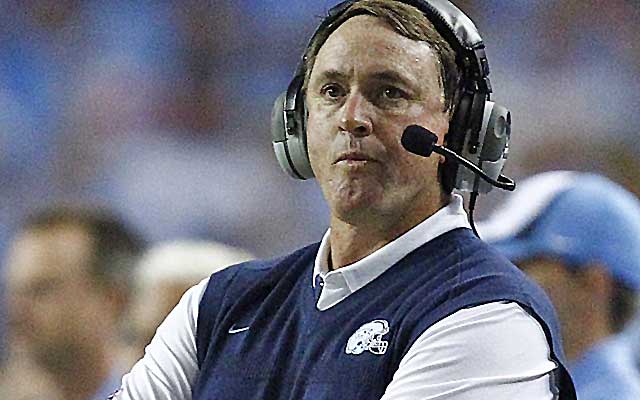 Butch Davis sat in his Chevy Tahoe in shock. It was a sticky night in late July 2011, and the 59-year-old head coach had just been blindsided. An hour earlier he had been told by his boss -- University of North Carolina Athletic Director Dick Baddour --- that UNC Chancellor Holden Thorp wanted to see him in his office. Davis had no idea what the meeting was to be about.
It had been a turbulent year. His football program had been rocked by two investigations, one into players receiving improper benefits from an agent and another involving academic misconduct. Thirteen Tar Heels, many of them standout players and top NFL draft prospects, had been suspended for the 2010 opener against LSU. UNC almost won the game anyway, losing on the final play. UNC's defensive line coach, John Blake, resigned the day after the game. A few weeks later, three star players were ruled permanently ineligible for the agent scandal. Still, Davis' team won eight of its final 11 games, including a victory over Florida State in Tallahassee and a victory over Tennessee in the Music City Bowl.
Davis believed he and his staff had emerged from the storm. He was encouraged by eight months of discussions he had with the AD and the chancellor about revisions and plans to strengthen the academic program. Recruiting was going well. Heck, the chancellor and his wife palled around with the players and staff on the field at the spring game. Davis had just returned from the ACC media season kickoff in Pinehurst, N.C., where he'd spent three days with UNC's AD and the rest of the league's coaches gearing up for the 2011 season. Davis even glowed when speaking to news media about how "reassuring" it was to have the support of his bosses to continue building the Tar Heels into a national power after the program hadn't even been above .500 in the five years before he arrived in Chapel Hill.
Then Chancellor Thorp told Davis he was firing him. Just like that. Said he needed to make a change. Change the culture. He even asked Davis to not tell anyone for a few days because he had a Board of Trustees meeting the next day. Davis, who always brought a notepad and a pen to every meeting, sat there jotting down whatever Thorp said. Thirty minutes later, Davis walked back to his car and couldn't believe what he had just heard. Sitting in the parked SUV in front of Thorp's office, Davis called his wife Tammy. He struggled to get the words out.
"Tammy, you're not gonna believe this, but Holden just told me he's releasing me as the football coach." Davis told her. She sounded even more devastated than he was. An hour later, he was meeting with his entire staff and all their wives in the football complex breaking the news to them.
"I really was in shock," Davis told CBS this month. "It was such an emotional time."
It's been more than two years since that summer night and Davis, now on the Tampa Bay Buccaneers staff as a special advisor to coach Greg Schiano, is still reeling.
•••
Thorp explained Davis' firing as a necessary move to restore North Carolina's integrity. Days later, Baddour announced he was stepping down as AD after 14 years of running UNC's athletic department. One year later, Thorp stepped down too, as allegations and editorials in the local media continued to batter the school's reputation in the wake of an academic scandal that ran a lot deeper than just some football players.
In March 2012, the NCAA hit the UNC football program with a one-year bowl ban and docked the Tar Heels 15 scholarships over three years for previously discovered improper benefits, including cash and travel accommodations. The NCAA also hammered Blake, the ousted defensive line coach, with a three-year show-cause punishment for failing to report $31,000 in outside income while he was "either employed or compensated by" a sports agent.
Another independent investigation, led by former Gov. Jim Martin, investigated irregularities in the African and Afro-American Studies department after an earlier campus probe found 54 problem classes between 2007 and 2011. Martin determined the problems in the African studies department began in 1997. "This was not an athletic scandal," Martin said. "It was an academic scandal, which is worse. But it was isolated. There was no coach that knew anything about this. They didn't need to know. That was not their job."
The problem for Davis was that his reputation was already tied to the UNC mess. After all, from the outside looking in, he was the most high-profile guy to get fired in the wake of it.
"After the truth came out that I wasn't involved, and it was backed by the Secretary of State's investigation, and that I wasn't named in the NCAA's investigation and I wasn't in Gov. Martin's investigation, I thought, 'I will survive this. I'll be OK,' but then last year, when jobs started to come open, and I expressed some interest in certain jobs, the responses we got back made me say, 'Uh-oh. This isn't going good.'"
There was one prominent head coaching job Davis was lined up to land and then the school bailed on him late in the process, sources told CBS.
"There have been guys that get rehired, who have had affairs," Davis said. "Guys get re-hired that have had trouble with kids and the NCAA. Guys that have gotten in trouble for being drunk, but the minute you say academics and a football coach, it's like you have leprosy. People are terrified that I had anything to do with it, and I didn't. The NCAA even said as much and I have a letter from the NCAA saying that."
Davis provided CBS with a November 2012 letter from Shepard Cooper, the NCAA's Director of the Committee on Infractions. It reads: "This is to confirm that former University of North Carolina head football coach Paul "Butch" Davis was not alleged to have been involved in any violations of NCAA legislation in the University of North Carolina Case (Case No. M357 / Infractions Report No. 360, March 12, 2012)."
The man who hired Davis at UNC, James Moeser, now a Chancellor Emeritus, said in another letter that "the ultimate outcome of the UNC process has been most unfair to Butch Davis. His only transgression was excessive trust in one individual [John Blake] and a lack of internal monitoring and administrative control within the program," adding, "I would not have fired him."
Asked why he believes he was fired when he was, Davis said he thinks it "was an overreaction by the chancellor at the time thinking that if he released me, maybe the investigation of the football program would go away or in a different direction."
Thorp, now the provost at Washington University in St. Louis, doesn't want to comment on North Carolina these days, according to a spokesperson.
"It's the action that the chancellor felt was the most important for the institution to move along at that time," Baddour told CBS recently. "That was not a conclusion that I had come to. I wanted Butch to continue to be our coach and Holden knew that. [Firing him] was not my recommendation."
Whether he believed Thorp's decision was an overreaction, Baddour didn't want to speculate. "It's hard to know," Baddour said. "It's a question best asked of him. He said the timing was not good. Holden thought [the pressure on UNC] just continued to mount."
Davis points out that the three players who received extra benefits from agents -- Marvin Austin, Robert Quinn and Greg Little -- never played another snap after he learned about their involvement.
"I certainly wish we would've known about it, but as soon as we found out about it, we acted on it and dismissed all three of them from the team," he said. "Dick Baddour and I acted as fast as we could've. I had gone through this at the University of Miami, where you're talking about the enormous amount of high profile players and what can go on with agents both as an assistant when I was there with Jimmy [Johnson] and when I was the head coach.
"We thought we had absolutely everything in place [at UNC]. And this is a true quote from one of the NCAA investigators and he said, 'I've never seen a place that had more policies and procedures and took more proactive steps.' We had seminars for the players and their parents. We had policy and procedure manuals. We had check-out manuals. We did the check-out thing just because we had parents who might call if there were emergencies how could we get ahold of them."
Davis said that at the time there were just so many battles going on around UNC.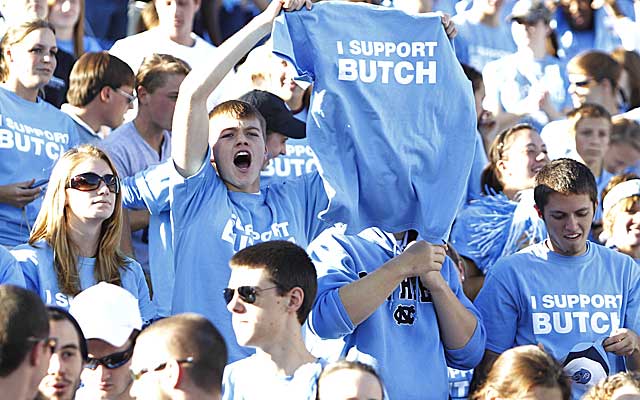 "There was the academic aspect and people were saying players were cheating and then that the honor court was corrupt. The honor court found one player was innocent, but then NC State fans get a hold of a paper that the kid turned in and there was plagiarism, and so the whole honor system that had been in place for 250-some years was under attack. The chancellor was under attack. It was unrelenting. We're in the midst of trying to stop a tsunami on the football team and there's this media perception and we're still trying to play Florida State and Clemson and Miami and win games. Then, the [Raleigh} News & Observer had all these editorials saying they should fire the chancellor. And I guess he panicked and so he fired me."
Davis is aware his reputation took a hit in large part because of the NCAA rules Blake was allegedly breaking. The assumption was that Davis had to know what his longtime colleague was doing.
"My relationship with John is varied over 25-30 years," Davis said. "I knew him when he was in high school as a player and when he was in my biology class. I basically had no contact with him until he came as a minority intern coach as a request from Barry Switzer to Jimmy Johnson with the Dallas Cowboys. And then Jimmy hired him to be the defensive line coach when I was the defensive coordinator.
"When I got the UNC job, [Blake] called and said he was interested in leaving Nebraska. We were putting together a staff. His reputation to me at the time had been that he was a good recruiter and a good staff member, and was a very good teacher of defensive linemen. And, so just like we did with every single member of our staff, we vetted every one of them. Our compliance people called the NCAA and asked if there were any red flags and they reached out to Nebraska, Oklahoma and Mississippi State and no one came back with any red flags. So we hired John. The thing that we clearly underestimated was the time that he had coached at Oklahoma and the time that he got back into coaching, which was about two-and-a-half years, he had actually worked for an agent, training defensive linemen and defensive personnel for the draft. No one really speculated that there was any major connection between he and [agent] Gary Wichard. No one knew that that relationship actually went back to the 1970s when he was a player at Oklahoma. We had no idea that they had a financial relationship between Mississippi State and Nebraska and all that. I guess you could say we dropped the ball on that. Maybe we should've speculated or looked into it more, but we didn't do it."
Davis said he and Blake have not spoken since he left North Carolina.
Davis, Blake and the rest of the coach's staff did an impressive job of stacking the UNC program with talent just as he had done at Miami in the face of crippling NCAA sanctions. In his 10 seasons as a college head coach, Davis recruited a staggering 28 first-round draft picks and that number should swell next May when tight end Eric Ebron and perhaps offensive tackle James Hurst also are drafted. A while back, I mentioned that stat on Twitter and was promptly greeted with the following replies:
"Well, he had some of the best athletes money could buy..."
"It's easier to recruit when you out and out cheat."
"Phoney classes and paid players equals great recruiting!"
I asked Davis how he responds to skepticism about his recruiting, not just given his ties to Blake at North Carolina, but to the success he had for producing so much big-time talent, where cynics feel like "something's up. Has to be."
"A significant amount of the first-rounders and other top players we recruited were actually not high-profile recruits," Davis said. "At Miami, it was rare if we were ranked in the top 20 in recruiting. We'd get a Santana Moss that no one else offered a scholarship to or a Reggie Wayne or an Ed Reed who we only had to beat Tulane or Grambling or Nicholls State for. LSU didn't want them. Jeremy Shockey was a junior college guy from Ada, Okla., that nobody really wanted. Clinton Portis was right in Florida's backyard and Steve Spurrier said he wasn't good enough to play at Florida. Portis' only other offer was to play cornerback at Mississippi State. We were doing a great job of evaluating. The kids knew they could trust us. We had a situation where we were providing a great academic environment where we were graduating about 80 percent of our players typically. And they knew we were running a system where we could develop them into the best football players they could be and the draft sold itself."
As for the allegations about the sketchy academics at UNC during his time in Chapel Hill, Davis pointed back to the investigations that detailed issues long before he ever arrived in North Carolina.
"That entire thing was set up back in the 1990s," Davis said. "None of the academics were run through the athletics department, which I was very appreciative of. The only involvement that I had with academics as a football coach is that I asked if we could have access to our players from 2-6 [p.m.] during the week. They handled everything. Set up their classes. Their tutoring. Their mentoring programs. They ran everything through the Arts and Sciences, and I thought it was a brilliant idea because that way there would never been any conflict of interest. We had a great relationship with the professors and the deans and the people on campus. And many, many kids -- hundreds -- took those classes, and the results after Gov. Martin did his investigation and the NCAA did its investigation is the fact that there was a significant amount of regular students in those classes that they called Paper Classes. That had been going on since the 1990s.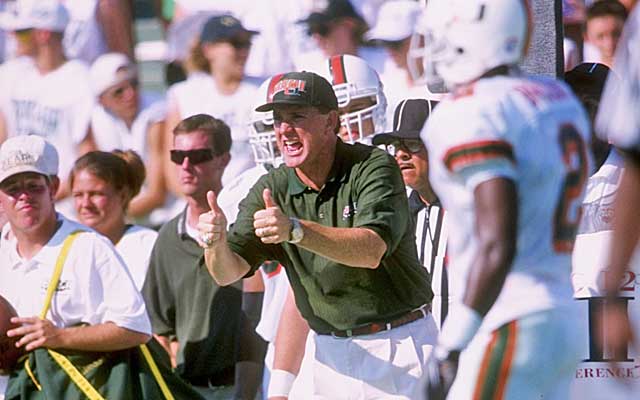 "My perception was they were trying to keep everything self-contained within the football program but the reality is the same people who were doing the tutoring and the academic advising for the football players were doing it for all 28 sports.
"Everybody sees the headlines during the bad times, but when the facts finally come out and it's that Butch Davis has been completely cleared that ends up on Page 975 in a small paragraph. So people around the country only seem to think 'North Carolina. Academics scandal. Well, they fired the head coach, Butch Davis, so it's gotta be something bad.' To this day the one thing I regret was that we weren't more proactive. That I didn't get my side of the story out and that I didn't answer more questions. They put a gag order on everyone in 2010 and wouldn't let us talk to the media. When you saw things getting released to the media, you'd think, 'Well that's not what's going on.' You couldn't say anything about it though, because the chancellor wanted the AD to be the only voice."
•••
At one time Butch Davis was the hottest name in coaching. It was 2001. He had done all the heavy lifting to rebuild a Miami program that had been in ravaged by sanctions. Stocked it with more talent than any program in the history of college football. His 2000 Canes squad finished 11-1 and was ranked No. 2. The next year's team's team would be even better, a group that would live up to the billing as the best college team of all time. But Davis didn't stick around to coach it. Instead, a few weeks before signing day, he bolted to the NFL to take over the Cleveland Browns.
The Browns went 7-9 his debut season and 9-7 in his second year, making the AFC Playoffs. Two seasons later, though, after compiling a 24-35 record, Davis was out in Cleveland. His Miami team ended up winning a BCS national title and playing for another. Davis' Miami program was producing a jaw-dropping amount of first-round picks. Twenty-two of them, ranging from Ray Lewis to Edgerrin James to Ed Reed to Andre Johnson. Larry Coker, Davis' old assistant, did a nice job taking over in the short term, winning his first 24 games at Miami, but eventually the program began to backslide. Four seasons after Davis left, Miami went from finishing No. 5 in the Coaches Poll to No. 11 and then a year later, the Canes finished No. 18, and then unranked. How many titles might Miami had won if Davis had stayed? Both he and Canes fans are curious.
And, yes, he says he regrets leaving Miami.
"Very much so. I would've loved to have stayed for 30 years at Miami," he said. "We couldn't get it worked out from a contractual standpoint and it had nothing to do with money, but that's a whole different story. They win it the next year. They played for it the year after that. Everything was going spectacularly after that. How many would we have won? I wish I had stayed another 10 years to find out how many."
Davis' explanation for what was behind his departure from UM: "Ten days before we played BC [Boston College] in the last game of the season, we had completed 97 percent of the contract. It had taken us three hours to agree to the money. That was done. I was probably one of the lowest-paid [I-A] head coaches when I took that job [in 1995] and then after seven years, they were paying me $1 million. The stumbling block we could never get over was, if they decided to do what North Carolina did [by just suddenly firing him] they were only going to pay me 20 percent of the money, but because [Miami] had been burned by Howard [Schnellenberger] leaving and Jimmy leaving and Dennis [Erickson] leaving, so if I had ever left I had to pay them 80 percent.
"I said, 'Guys that isn't fair. I can't pay you 80 and you're only gonna pay me 20. If you wake up and say, 'I don't like redhead coaches,' I'm gone. Let's either make it 80-80, 20-20 or 50-50.' We battled over 20-80 for almost two months. I turned the Cleveland Browns job down. I turned down two other jobs. Well, lo and behold, the last home visit I made I'm sitting in Antrel Rolle's living room and his mom and dad said, 'Coach, are you gonna be here?' I said, 'Antrel, I will be the head coach at the University of Miami,' and I believed in all my heart I was going to be. Then we go home and four or five days later we still can't get the contract done. [Cleveland president] Carmen Policy calls and says, 'Would you reconsider?'
"I talked it over with my wife. You live a little bit in fear. I thought, 'Well, today they love me, but in 1997 they were flying a plane over the stadium, 'Get Rid of Butch Davis!' It didn't take long to keep reminding yourself that this 80-20 stuff wasn't fair. We made one more stab and called [Miami AD] Paul Dee and he went to the trustees and asked them to make it fair. Finally, we made the change. I wished I hadn't have, but we did."
•••
Butch Davis is 62 now. His role on the staff of his old former defensive coordinator, Schiano, is vague. A masterful talent evaluator, Davis helped Schiano and Bucs GM Mark Dominik write position-specific requirements for each position as part of Tampa Bay's scouting process. He evaluates the other team's quarterback and offers suggestions to the defensive staff. He also sits in on meetings, practices, OTAs and does "a little bit of everything except coach" for his old protege. On game days, he sits in the press box to ensure communication runs smoothly.
"It's been a great experience," Davis said. "If I'm fortunate enough to be a head coach again, I'm going to hire somebody to do the same job I did."
What he doesn't get to do is the actual coaching.
"I miss the adrenaline rushes and the interaction with the players," he said. "I miss getting on the chalkboard and working with the players and helping them develop."
Asked how tough it would be for him to never get another head coaching job, Davis paused for a few moments.
"I'd be very disappointed and saddened. I still feel like I can really do some great things as a coach for another six or seven years.
"I hope I get that chance."
Baddour hopes as well. He said he believes Thorp does too.
"I've called enough schools in support of Butch," Baddour said. "I talk about the positive characteristics and skills that he has, and his track record was strong and he does have a strong commitment to integrity and academic support. … I would love for him to get back into college football. He recruits in the right way and we had no suggestion of anything otherwise. Clearly John Blake caused significant issues.
"I do worry for him that it's taken this long. We've tried to help him and Holden Thorp has absolutely tried to help him last year. I know it for a fact."