Dylan Thompson to start for Gamecocks at Missouri
Steve Spurrier wouldn't rule out Connor Shaw from playing in Columbia, but said backup Dylan Thompson would get the start.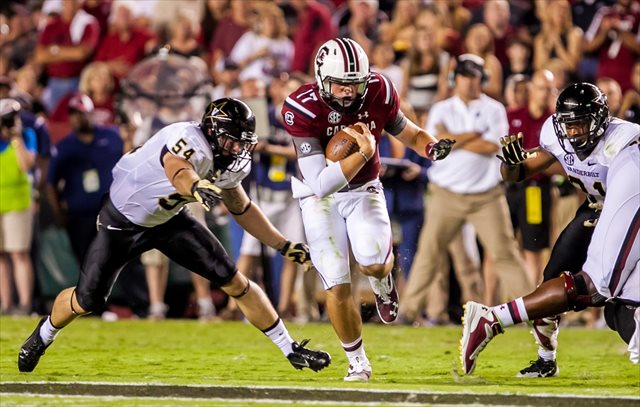 The good news for South Carolina is that Steve Spurrier still isn't ruling out quarterback Connor Shaw from Saturday's critical SEC East showdown with Missouri. The bad news is that he is ruling him out from starting the game.
Spurrier said Tuesday and again Wednesday morning that while Shaw will "maybe be able to back up" Dylan Thompson, it's the redshirt junior second-stringer that will receive his third career start at Columbia.
"[Shaw] may be able to dress and get back up, we don't know," Spurrier said, per GoGamecocks.com. "But Dylan is definitely going to start the game, and it'll be his game to go with." 
"It's time to let Dylan show what he can do," Spurrier said Wednesday, per the Daily Tribune.
Shaw suffered a sprained knee late in the Gamecocks' loss to Tennessee last Saturday and will have limited practice time this week.
But even with the game in the hands of the backup and No. 5 Missouri riding high at 7-0, Spurrier and South Carolina won't lack for confidence. Thompson won each of his previous two starts, throwing for more than 300 yards in both and leading the Gamecocks to an upset of Clemson in the 2012 season finale. Thompson also came off the bench to throw the game-winning touchdown against Michigan in the Outback Bowl.
But Thompson will have to reprise those performances if the Gamecocks hope to beat the white-hot Tigers, and the stakes couldn't be any higher; with a loss, South Carolina will be three games back of Missouri in the loss column and lose the head-to-head tiebreaker. The Gamecocks' chances of winning the SEC East -- and the chances of anyone other than Missouri -- would be all-but-finished.
Thompson is capable. But that doesn't mean Shaw's injury might not still prove to be one of the most critical in an SEC East that's collectively spent all season ravaged by them.
The Fornelli 50 ranks teams based on nothing but their performance in 2017

Penn State better have its eyes wide open with a trip to Iowa City on deck this weekend

Ohio safety Javon Hagan has a rather unique personal tradition during games
Mississippi State has been good to Mullen, but he should be the next Bulldog to upgrade

Cowart was the No. 3 overall recruit in the 2015 class but has not panned out yet for the...

Mayfield has also taken an important side in the Katy Perry-Taylor Swift feud