Former Grand Valley State QB found dead after search
D-II national championship QB Cullen Finnerty has gone missing in rural Michigan as former Grand Valley St. players aid the search.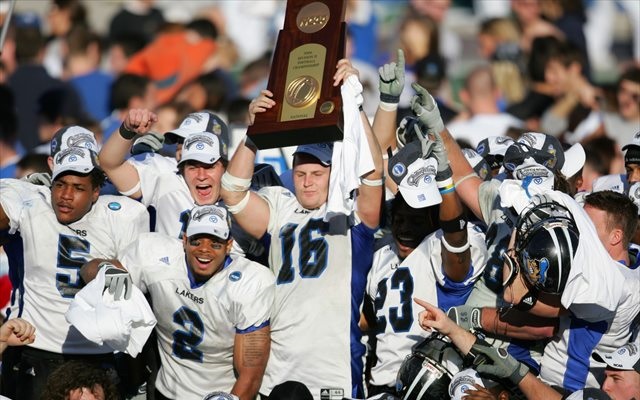 UPDATE (10:50 p.m. ET): Lake County Undersheriff Dennis Robinson confirmed Tuesday night that Cullen Finnerty's body was found in the woods within a mile of where he disappeared. He said the body was not in the water and no foul play is expected at this time. The cause of death is not immediately clear.
---
The current players at Division II Grand Valley State have joined the search to find one of the storied program's most decorated former stars, who went missing during a fishing trip in rural Michigan over the weekend.
Former Lakers quarterback Cullen Finnerty was reported missing Sunday night after disappearing near Baldwin, Mich., some 65 miles north of Grand Rapids. Per the Associated Press, authorities have recovered a small pontoon boat Finnerty was believed to be using to fish in the Baldwin River.
"He talked to his wife on the phone and told her he had concerns about people following him and he was getting off the river," a Lake County undersheriff told the Ludington Daily News. Lake County sheriff Robert Hilts told the AP family members were worried Finnerty "might be having some kind of a mental episode," leading him to run into the woods surrounding the river. 
Grand Valley State filled a team bus usually used to transport the Lakers to games with current GVSU players and staff ready to assist the search, mlive.com reported Tuesday. Some 40 volunteers were expected to leave campus at 10 a.m. Tuesday.
"We want to do all we can," GVSU coach Matt Mitchell said. The Lakers contingent is expected to search the area surrounding the Bray Creek State Forest campground near Baldwin, near where Finnerty was last seen and where his cell phone last "pinged."
Finnerty, now 30, finished his GVSU career 51-4 as a starter, leading the Lakers to D-II national championships in 2003, 2005 and 2006. The NCAA's winningest quarterback across all divisions when he graduated, Finnerty had a brief NFL career with the Baltimore Ravens.
Occidental College was reportedly down to 35 healthy players for the 2017 season

Midway through the season, we make some (more educated) predictions for the rest of the ye...

Babe Ruth supporting the Fighting Irish is one of the best photos of the week
Could two teams from the same conference make it into the College Football Playoff?

Given the schedule and recent performance, can anyone in the SEC stop Alabama?

SportsLine's Barrett Sallee has gone 29-14 against the spread the last two weeks and loves...