Former LSU guard Josh Williford tries to make sense of his future
Josh Williford, a former starting guard at LSU, suffered one too many concussions so has already played in his last LSU-Alabama game.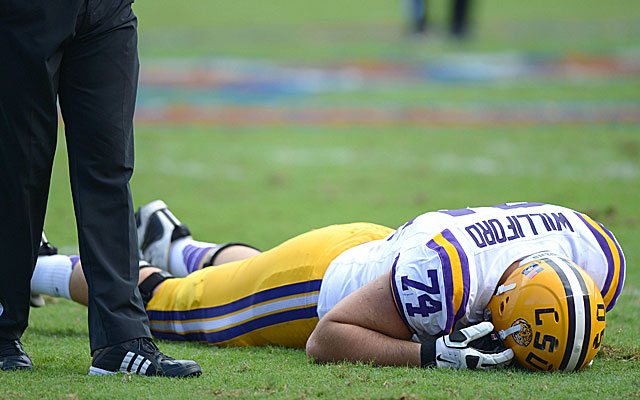 It was 11 seconds. That's it -- the total time Josh Williford lost consciousness on the practice field three months ago.
It was also enough.
"Eleven seconds," LSU's former starting left guard reiterated. "I don't think I'd be here if I was out for five minutes."
But that's what was widely reported the day in August Williford suffered the second concussion of his career. Breathless armchair medical hyperbole gave way to a brutal truth. Williford was out only 11 seconds after a collision in practice. It was also enough to force him to give up football.
"Oh, it was just terrible," he said of the symptoms that drove him to an easy conclusion this time. "Headaches. You couldn't mess with your phone or TV.
"You don't want to have any brain activity. I don't have very much of that as it is."
A humble, ironic smile almost resonates through the phone this week of another LSU-Alabama battle. It is a final battle that Williford will miss. His previous concussion came Oct. 5, 2012 against Florida. It caused him to miss the season's final seven games. Last spring, healthy, Williford won back the starting left guard spot.
Then in that practice collision he doesn't altogether recall, it happened again.
Williford knew his career was over a couple of hours later.
"It sunk in," he said. "I was upset for sure."
It hurts not to be on the field, but not as much as it would hurt if Williford gets concussed again. He is melancholy this week of LSU-Alabama, but at least he's upright.
They don't tell you when you sign those scholarship papers that the game is faster, stronger, bigger than it ever has been. They don't tell you that plaintiffs are lining up against the NCAA like the renewal line at the DMV.
They don't tell you there isn't a helmet in the world that can 100 percent protect you from a head injury.
They don't tell you what happened to Williford could easily happen to you. The same 6-foot-7, 345-pound giant who played in 31 career games, starting 19, couldn't drive and had to miss a month of school after that first concussion.
"I've had time to get over [leaving the game]," he said quietly this week.
Truth is, concussions themselves have taught Joshua Preston Williford that he is over football. The possibility of more pain and symptoms from a similar injury overcame the longing to play.
"When they told me I wasn't playing anymore, I wanted it to end," he said. "The first time I wanted to get out there and help everybody."
Williford doesn't really blame anyone for his plight. On some level, he knew what he was getting into. Williford didn't play until high school, wasn't all-state until he was a senior at Houston Academy, a private school, in his native Dothan, Ala. LSU has taken him to heights he never could have imagined.
For the moment he has transitioned to becoming an LSU student coach. He has five classes left this semester before getting an ag business degree next month.
But Williford does miss the football dearly, especially this week in what has become a season-defining national game these last three years.
"Beating Alabama in Bryant-Denny," Williford said of his favorite football memory. "That was a lot of fun."
That was 2011, the first so-called "Game of the Century" between the teams. This will be the fourth meeting since that year when "LSU-Alabama" became the game to set your season's watch by.
LSU won that '11 game 9-6 in overtime. That week Williford had been to church back home. He made the assumption that the congregation automatically would be LSU fans.
"Everybody said, 'Roll Tide.' I about threw up in church," he said.
That year's result ended up being nothing more than a prelude to a rematch in the BCS title game. Payback can be a witch, as LSU found out in the Superdome. Alabama preserved a national title run in last year's game by winning in the final minute at LSU. Now this year's clash in what might be the season's definitive week.
While the stakes aren't quite as high -- No. 10 LSU has already lost twice -- the programs have measured themselves against each other recently. Williford has either witnessed or played in five LSU-Alabama games going back to his redshirt year in 2009. The Tide have won three.
"The only one I missed," he said sadly, "was last year."
That was the infamous game -- at least for LSU -- when AJ McCarron floated a screen pass to T.J. Yeldon with 51 seconds left, breaking the hearts of Tigers everywhere.
In that stretch of fabled games, the 23-year old Alabama native has gone from dreaming of the NFL, to trying to make sense of the future.
"Everything has kind of happened so fast," he said. "I'm just taking my time figuring out what I'm going to do."
For now, he spends time shouting at scout-teamers.
"I thought, 'Dang, I'm a jerk.' I was a teammate four or five weeks ago."
That and wondering about responsibility in the concussion issue.
"I think it's a combination of everybody," Williford said. "We're very close [on the offensive line]. If you see someone doing something out of the ordinary, you think that they may have something wrong with them, you take responsibility and say something.
"Coaches aren't going to put you in there if you're concussed. I just think it's the responsibility of everybody. It's not one person's responsibility."
There will be no regrets. His story on Saturday will be a sidebar. Williford won't be traveling to Tuscaloosa. In equal shares, he has taken much from football and it has taken much from him.
LSU-Alabama lives on as a special rivalry. A senior guard retired from the game is resigned to the end of this chapter of his life.
"I played a lot of football and had a great career," he said before pausing to consider both his plight and his health.
"You don't want football to be the last thing you do in life."
Fitzgerald was injured while running during the first quarter of the Egg Bowl

D.K. Metcalf certainly had an interesting spin on his touchdown celebration

The Commonwealth Cup has resided in Blacksburg for over a decade
Miami looks to cap an undefeated regular season at Pitt on Black Friday

The biggest game in the AAC this season takes place Friday

Can Arkansas spring the upset on a Missouri team that has caught fire after a sluggish sta...