Golson news latest jolt for Notre Dame in nightmarish 2013
Saturday night's stunner about Everett Golson's departure from the Notre Dame program is the latest bit of bad news that has hit the Fighting Irish is what has been a nightmarish 2013 and leaves Brian Kelly scrambling to get his offense cranked up.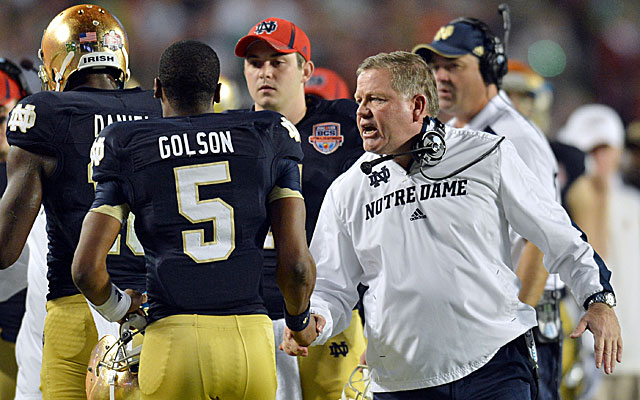 As much as the 2012 season seemed magical for Notre Dame, 2013 has produced one nightmare after another for the Irish.
It started fast with Notre Dame getting blasted by Alabama 42-14 in the BCS title game that wasn't even that close. Then, later that month, came the revelation of Manti Te'o's infamous fake girlfriend and the media circus that ensued.
The spring hasn't been kind to the Irish, either. This month, rumors have swirled that Notre Dame's top incoming recruit, powerhouse defensive tackle Eddie Vanderdoes, might not want to enroll at ND and is looking to play somewhere else.
Saturday night brought an even bigger haymaker: Everett Golson, the Irish's dynamic young starting quarterback who reportedly had blossomed during spring ball, is no longer enrolled in school, leaving the Notre Dame QB situation in even more doubt than it was heading into 2012.
The root of Golson's stunning departure: an academic violation, according to the Chicago Tribune, which later reported Sunday morning that the door wasn't closed on the QB's eventual return to the program.
As the news swirled around the Internet on Saturday night, so did the barbs. Several people noted that Notre Dame's No. 5 jersey (the one worn by by Te'o and Golson) seems to be jinxed; at least it has been since the calendar turned to 2013.
What made the Golson news sting even more for many Fighting Irish fans was the fact that, earlier this year, Gunner Kiel, a touted former five-star QB recruit whom ND had signed in 2012, just transferred to Cincinnati in large part because he realized he would've had to sit behind Golson for the next three seasons.
The site Bylaw Blog, written by a former NCAA compliance officer, posted on Saturday night about how Kiel technically could return to ND and play this year and how he also does not need a release from Cincinnati to return to Notre Dame. Regardless, I'd be surprised if Kiel ends up back in South Bend or even if Kelly would want the 6-foot-4, 220-pound QB back. After all, Kiel bailed on the ND program. He didn't even stick around to go through spring ball to see how things might develop. Word is, folks inside the program were higher on early enrolled freshman Malik Zaire than they were on Kiel. Zaire has dual-threat skills, much like Golson, and his ability to extend plays suits Kelly's system well. And Zaire seems to respond well to competition.
On Sunday morning, Kiel told reporters that he's staying a Bearcat and dismissed any speculation that he wants to return to ND.
Back to Zaire: it's a stretch to think he will be ready to compete for the now-vacant Irish QB spot. Last year, Golson was able to lean on a true go-to receiver in star tight end Tyler Eifert. The athletic 6-7, 250-pound target is now a Cincinnati Bengal.
Eifert, a veteran O-line and a physical defense provided Golson time to grow into the position. Golson went from averaging 175 yards of total offense for the first half of the season to more than 275 for the second half. Golson only widened the gap between himself and the other ND QBs this spring, and it seemed like Kelly, after three seasons in South Bend, finally had his ideal triggerman ready to attack defenses. Golson appeared to be a budding star for an Irish team that figured to open the season somewhere around No. 10 in the preseason polls.
Now, only that defense (minus Te'o) is back for 2013 for a team that relied heavily on its grit to go 5-0 in games decided by seven points or less last fall.
Kelly does have some experienced options to replace Golson. Senior Tommy Rees has thrown 34 touchdowns and started 18 games at Notre Dame. His skill set doesn't wow anyone, but he has won a bunch of games and won't get rattled by anything. Andrew Hendrix, another senior, has a stronger arm and better feet than Rees but less seasoning.
Hendrix has been used as more of a running quarterback, having only thrown 44 passes in eight career games, but Kelly proved repeatedly in his previous coaching stops, especially at Cincinnati, that he's resourceful and can get a QB ready in a hurry. He's going to need to do it again if he hopes to get his team back in the top 10 in 2013. It's less than 100 days until ND's opener against Temple, and there's a road trip to Michigan lurking in Week 2.
Freeman will not play in the New Mexico Bowl on Saturday

SportsLine simulated every bowl game 10,000 times for pick'em leagues and confidence pools

Grier will return to West Virginia for the 2018 season instead of entering the NFL Draft
The Chick-fil-A Peach Bowl just got spicy

Anderson had been under investigation for an incident at a bar in Cleveland County, Oklaho...

Between Arizona State and Tennessee, no one would have guessed how this coaching cycle turned...