Gordon's Greatest Hits: A look back at Gee's gaffes
Newly retired Ohio State president E. Gordon Gee leaves the position with a memorable track record of public missteps. Here's a timeline.
Ohio State president E. Gordon Gee announced his retirement on Tuesday, and it's not fair to remember him primarily as a nonstop gaffe machine. One of the most skilled and charismatic academic fundraisers in the country, Gee helped raise millions of dollars and oversaw multiple wide-ranging improvement projects at Ohio State after developing a reputation as a dogged academic reformer at places like Vanderbilt and Brown.
But the world of college athletics is rarely fair, and the truth is that for college football fans across the country, Gee's name will always be synonymous with his long string of foot-in-mouth embarrassments and scrambling apologies -- a cycle that seems to have eventually cost him his presidency. Here's a chronological look back:
November 2010: 'Little Sisters of the Poor.' Gee dismisses the Mountain West's TCU and then-WAC member Boise State as national title contenders, saying "I do know, having been both a Southeastern Conference president and a Big Ten president, that it's like Murderers' Row every week for these schools. We do not play the Little Sisters of the Poor."
That comment predictably does not go over well with either the Frogs or Broncos or the actual Little Sisters of the Poor, to whom he apologizes in person the following year. But it also leads to Gee swearing off discussing football matters.
"They run the athletic program and I run the university, and I should have stayed out of there," he says. "What I should do is go over to the surgical suites and get my foot extricated from my mouth. What do I know about college football? I look like Orville Redenbacher. I have no business talking about college football." 
March 2011: 'I'm just hopeful the coach doesn't dismiss me.' Gee appears at a press conference to discuss the "Tatgate" scandal threatening to envelop the Ohio State football program and head coach Jim Tressel and is asked whether he had considered firing Tressel over the allegations.
"No, are you kidding?" Gee responds. "Let me just be very clear: I'm just hopeful the coach doesn't dismiss me."
Tressel resigned that May.
January 2012: 'Polish army.' Gee makes an appearance at a Columbus athletic club and, as part of a question-and-answer session, chooses an unfortunate metaphor to describe the task of wrangling different parts of the university together.
"When we had these 18 colleges all kind of floating around, they were kind of like PT Boats. They were shooting each other," Gee says. "It was kind of like the Polish army or something. I have no idea what it was."
The Associated Press describes the aftermath:
As nervous laughter arose in the audience of a couple hundred listeners at a Columbus Metropolitan Club monthly forum, Gee said, "Oh, never mind, who did I embarrass now?" A moment later he said: "I'll have to raise money for Poland now."
He would later apologize, with the Polish-American Congress responding that "Poland not only has a capable military but also is strong economically and does not need money being raised for it."
February 2012: 'Get a life.' In an interview with the Ohio State student newspaper The Lantern, Gee compares the NCAA's investigation of the Buckeye program to a "yearlong colonoscopy." But he saves his true bile for Wisconsin coach Bret Bielema, who had complained about new Buckeye coach Urban Meyer's recruiting tactics.
"We hired the best coach, and we went out and got the best kids," Gee says, "so get a life."
As this space wrote at the time:
Ah, Signing Day: that magical time of the college football calendar that can lead the president of the third-largest university in the country to publicly call out a coach within his own conference using an insult from a 36-year-old Saturday Night Live sketch.
Little did we know Gee was just getting started where Bielema was concerned.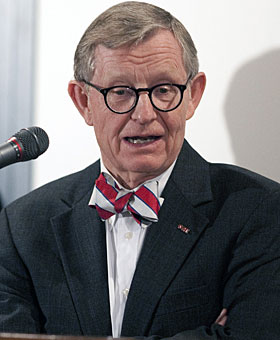 February 2012: 'No precedent.' Not a gaffe, per se, but Gee makes headlines again that same month when he declares that the NCAA had "no precedent" for issuing the Buckeyes' 2012 bowl ban and suggests the NCAA had an agenda to settle with the school.
"If we would have given up five bowl games, they would have imposed the sixth on us because they were going to impose a bowl ban," Gee says, more than a year after saying he has "no business" discussing football. "This was Ohio State. This was [the NCAA's] moment in time, and they were going to impose a bowl ban no matter what we did."
September 2012: $64,000 worth of bow ties. Well, OK, not quite $64,000 worth of bow ties -- the Dayton Daily News reports that Ohio State "spent more than $64,000 on bow ties, bow tie cookies and O-H and bow tie pins for Gee and others to distribute" over four years, as part of a branding intiative. While that tidbit drew the headlines, of more potential concern to Ohio State supporters was the Daily News' report that Gee lives a lavish lifestyle largely paid for by school funds, one that includes thousand-dollar luxury hotel bills and $500 shower curtains.
May 30, 2013: 'Damn Catholics.' The Associated Press unveils comments made by Gee during a meeting the previous December with the Ohio State Athletic Council, comments more damaging than all of his previous missteps combined.
"The fathers are holy on Sunday, and they're holy hell on the rest of the week," Gee says of his experiences dealing with Notre Dame through Big Ten channels. "You just can't trust those damn Catholics on a Thursday or a Friday, and so, literally, I can say that."
Gee doesn't come close to stopping there, saying of Big Ten expansion that it will only feature "institutions of like-minded academic integrity. So you won't see us adding Louisville." And asked about cracks on the Big Ten's math-challenged name from SEC country, Gee says, "You tell the SEC when they can learn to read and write, then they can figure out what we're doing."
Gee apologizes immediately to any and everyone involved, calling the remarks "just plain wrong ... in no way do they reflect what the university stands for. They were a poor attempt at humor and entirely inappropriate."
May 31, 2013: 'A thug.' The day after news of the "Catholics" comments breaks, Sports Illustrated releases full audio of Gee's remarks, which includes a highly unflattering take on Bielema.
"Someone was saying to me, well, you know, Bret Bielema leaving ... that was a blessing for Wisconsin and they knew it," Gee says. "Because he was under tremendous pressure. They didn't like him. Barry Alvarez thought he was a thug. And he left just ahead of the sheriff."
Gee apologizes to Bielema and Alvarez, with reports circulating that Gee has been threatened with dismissal by the Ohio State Board of Trustees if he continues to make embarrassing public remarks.
June 4, 2013: Retirement. "I recently returned from a vacation with my family, during which time I had a chance to consider the university's phenomenal achievements and the road that lies ahead for it," Gee says in a statement, the day after withdrawing as the speaker at a local Catholic school commencment. "Ohio State now has a richness of new opportunities that would be the envy of most universities. During my days away, I also spent some time in self-reflection. And, after much deliberation, I have decided it is now time for me to turn over the reins of leadership to allow the seeds that we have planted to grow. It is also time for me to reenergize and refocus myself."
McElwain will coach receivers and help coordinate the offense for the Wolverines

Nathaniel Watson Jr. was involved in a car accident that injured a passenger in early Febr...

The honorable Tom Fornelli presides over the ASU vs. UM case
Arkansas State is seeking $650,000 for a canceled home game last September due to Hurricane...

Friday Five is tackling the big questions this week

Two unnamed players are being investigated for an incident at an off-campus apartment