Lowlights: College football's worst moments of 2012
Counting down the season's lowest lows.
See Also: The Dreadful Dozen: Counting down the worst teams of 2012.
- - -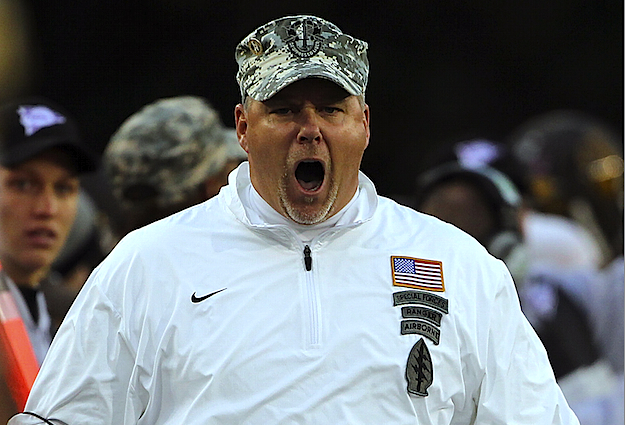 Wyoming coach Dave Christensen has an unusual way of showing "appreciation." (US Presswire)
10. USC's Long November.


USC closed 2011 with a flourish, and began 2012 with such high expectations even their head coach picked the Trojans as the best team in the country to open the season. Instead, they failed to beat a ranked opponent, dropped four of their last five games and became the first team since 1964 to begin the regular season ranked No. 1 and end it outside of the polls altogether. Out of seven FBS teams in the state of California, USC received fewer votes in the final Associated Press poll than all but one (Cal), finishing well behind San Diego State, San Jose State and Fresno State as well as the two in-state rivals who beat the Trojans in the regular season, Stanford and UCLA.
Lane Kiffin, do you have anything to say in your team's defense?
OK then, good luck in the Sun Bowl.
9. Oct. 20: Houston Embraces the Spirit of Giving.


For most teams, it couldn't get much lower than firing the new offensive coordinator after the first game of the season. For Houston, though, rock-bottom was still more than a month away: Taking generosity to the extreme, the Cougars served up an incredible nine turnovers at SMU, including six interceptions at the expense of three different UH quarterbacks in a 72-42 romp for the Mustangs. Four of those giveaways were returned directly for touchdowns by the Mustangs defense, helping SMU set a school scoring record less than a week removed from a humiliating loss to Tulane.
Just in case you wonkier types were wondering how it's possible for a team to score 42 points while also committing nine turnovers in the same game, because I was: The Houston-SMU tilt in question featured 30 offensive possessions between both teams, 10 of which took less than a minute off the clock. Equally incredible: That number includes SMU's final drive of the night, which burned nearly nine minutes over the course of 15 plays.
8. Sept. 22: Georgia Tech's Self-Safety.


Safeties are the sport's ultimate failure, even when inflicted by the opposing team. So let's just assume Orwin Smith's teammates still have not let him forget the time he clumsily aimed the two-point gun at his own foot on a first-quarter kick return in the Yellow Jackets' eventual loss to Miami: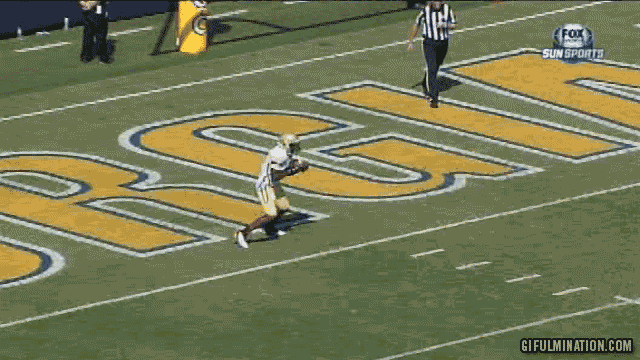 Worse than the embarrassment over a momentary lapse? The Jackets could have really used those two points: After four wild, back-and-forth quarters, Georgia Tech and Miami wound up deadlocked at 36, and Tech went on to lose in overtime.
7. Nov. 3: Nebraska's Phantom Flag.


The worst flag of the season came with Nebraska trailing Michigan State late in the fourth quarter, 24-21, and facing a potential fourth-and-10 from the MSU 20-yard line after an (apparently) incomplete pass into the end zone. If no flag is thrown on the play, the Cornhuskers are forced to line up for a 37-yard field goal just to tie. Instead, a phantom pass interference call against the Spartans' Darqueze Dennard set them up with a first-and-goal at the MSU 5, from where Taylor Martinez hit Jamal Turner for the game-winning dagger with six seconds to go. The penalty alone flipped the odds of Nebraska completing the comeback from somewhere well below 50 percent to somewhere above 90.
That said, Michigan State would have much more room for complaint if it had not allowed 313 yards rushing, or been outgained by more than 100 yards of total offense overall, or left points on the board on four separate trips into Nebraska territory, or managed a single sustained drive in the fourth quarter instead of three consecutive punts on its final three turns with the ball. (Of course, Nebraska had its complaints about the refs, too.) The Cornhuskers played a sloppy, turnover-filled game on the road, but ultimately made enough to put itself in a position to benefit from a little luck, and took advantage of it to remain atop the Big Ten's Legends Division.
6. Maryland Plumbs the Depth Chart.


Every team is forced to deal with injuries, some more than others. But no team in recent memory has endured worse luck at a single position than Maryland had this year at quarterback: Beginning with senior Danny O'Brien's transfer to Wisconsin in the spring, the Terrapins were hit by a wave of attrition that refused to relent until it had claimed every last viable signal-caller on the roster. After season-ending injuries to C.J. Brown (ACL), Perry Hills (ACL), Devin Burns (foot) and Caleb Rowe (ACL), the Terps were literally left with no choice over the final month of the season but to turn to a true freshman linebacker, Shawn Petty, who happened to run the option in high school.
Predictably, Maryland dropped its final four with Petty in the lineup by an average of 22 points per game, and limped into the winter with a dismal 2-6 mark in ACC play. Even Iowa running backs are relieved they didn't have to go through a season like that.
5. Aug. 30: Kent State's Wrong-Way Run.


The season ended with Kent State playing for its first conference title in 40 years in the MAC Championship Game, sealing the 2012 Flashes as the best team in school history by far. But it began with the most instantly infamous play of the year, when linebacker Andre Parker picked up a muffed punt by Towson less than 10 yards from paydirt in the Tiger end zone … and proceeded to barrel 58 yards toward his own end zone, and an unwitting safety for Towson if he made it. Which is worse: That Parker was so amped by getting the ball in his hands that he lit out in the wrong direction, or that every Towson player on the field gave chase to stop him?
Think about it this way, Andre: It happened to Roy "Wrong Way" Riegels in the Rose Bowl. It happened to Jim Marshall in the NFL, and he's considered one of the greatest defensive linemen in history. So when you really think about, you're in some pretty rare company.
4. Sept. 22: Michigan's Meltdown.


Not one. Not two. Not three. Count 'em: Four interceptions from the arm of Michigan quarterback Denard Robinson floated gently into the arms of Notre Dame defenders in a 13-6 Irish win. Not just four interceptions over four quarters: Four interceptions on four consecutive passes in the first half.
Including the first-quarter pick thrown by Vincent Smith on a halfback pass and Robinson's fumble on the opening drive of the second half, Michigan turned the ball over on six consecutive offensive possessions, out of just 10 possessions for the entire game. For every dagger Robinson stuck in the Fighting Irish in exhilarating, last-second comebacks in 2010 and 2011, consider them paid back in full. With interest.
3. Oct. 20: Southern Miss' Misdemeanor Mom.


The season was embarrassing enough for the Golden Eagles on the field, where they finished 0-12 with double-digit losses to East Carolina, Western Kentucky, Marshall, Rice, SMU and Memphis and finally fired head coach Ellis Johnson on the heels of the worst campaign in school history. And then there was the time the starting quarterback's mother was arrested in the middle of a game for confronting some disgruntled hecklers in the audience:
The mother of Southern Miss freshman quarterback Anthony Alford was escorted from the stands at M.M. Roberts Stadium Saturday and charged with a pair of misdemeanors after being arrested by Hattiesburg Police.

Lawanda Ann Alford, 38, was booked into the Forrest County Jail Saturday on disorderly conduct and resisting arrest charges.

She was ordered from the stands after getting into a loud argument with another fan who was berating her son's play during USM's 59-24 loss to Marshall.
Video? Why of course there's video:
Alford was only the most prominent of four different starting quarterbacks who took the wheel of an attack that finished among the worst in the nation in total offense, scoring offense and pass efficiency, and failed to top 24 points in regulation in all but one game. Last week, he was suspended indefinitely after being charged with aggravated assault in an on-campus fight.
2. Sept. 15: Slaughter of the Buffaloes.


There was already considerable evidence before Sept. 15 that the Colorado Buffaloes, 0-2 with demoralizing losses to Colorado State and Sacramento State, again ranked among the worst teams in major-college football. At Fresno State, though, the Buffs made a compelling bid for the ages in one of the most hapless performances in recent NCAA history: By the end of the first half, Fresno led 55-7 with twice as many touchdowns (8) as Colorado had first downs (4) en route to a 69-14 debacle that could have been twice as bad if the Bulldogs didn't have the humanity to start pulling their punches.
At one point in the first quarter, Fresno State scored five touchdowns in the span of 10 offensive plays (read that again, out loud), which is not really possible against Division I scholarship athletes who are actually trying. Two of the scores in that string came on a 97-yard touchdown pass from Derek Carr to Isaiah Burse, immediately followed by a 94-yard touchdown run by Robbie Rouse on the Bulldogs' next series, his fourth touchdown of the quarter. The first quarter.
Although Colorado rebounded the following week for a come-from-behind, 35-34 upset over Washington State in its conference opener, the Buffaloes never really recovered, dropping their last eight Pac-12 games to close the season by an average margin of nearly five touchdowns per game. Head coach Jon Embree was fired in November, but he was doomed months earlier.
1. Oct. 13: Wyoming Would Like to Sincerely Apologize ...


Oct. 13 was Military Appreciation Night at Wyoming, in honor of a visit from the Cowboys' Mountain West rival, Air Force. After the game, a 28-27 Wyoming loss, Cowboy coach Dave Christensen decided to show his appreciation for Academy coach Troy Calhoun by launching into an extremely explicit, on-field tirade, berating his counterpart as "Howdy Doody" and a "flyboy" with "no f------ ethics" and "no f------ integrity." (Warning: This video is uncensored and contains extremely explicit language that is almost certainly NOT safe for work.)
Surprise: Despite the obligatory apology, Christensen was subsequently fined $50,000 by the university and suspended for Wyoming's Oct. 27 game against Boise State. The rant -- reportedly sparked by Christensen's suspicion that Air Force quarterback Connor Dietz faked an injury to stop the clock just before the Falcons' game-winning touchdown in the fourth quarter, despite the fact that more than six minutes remained at the time and Air Force had all three timeouts -- also caused some internal tension in the athletic department, which was left to field boosters' complaints about a coach who had not only embarrassed the university nationally, but whose team had managed a single win over the first two months of the season. Had the Cowboys not reversed course with three consecutive wins in November to finish 4-8, Christensen might have been finished in Laramie himself.
LSU at Florida has been picked as the SEC on CBS Game of the Week

The Michigan coach had quite a few things to say on Monday after their visit to West Lafay...

Injuries are ravaging an LSU team that is searching for an identity
Jones started answering an injury question and then went off about 'fake news'

The full ranking of all 130 college football teams includes TCU up and a major drop for Florida...

The charges all stem from an investigation into improper debit card charges