Middle Tennessee State, Florida Atlantic to join Conference USA
Conference USA has moved quickly to fill the void left by the recent departures of East Carolina and Tulane by inviting Middle Tennessee State and Florida Atlantic of the Sun Belt Conference to join.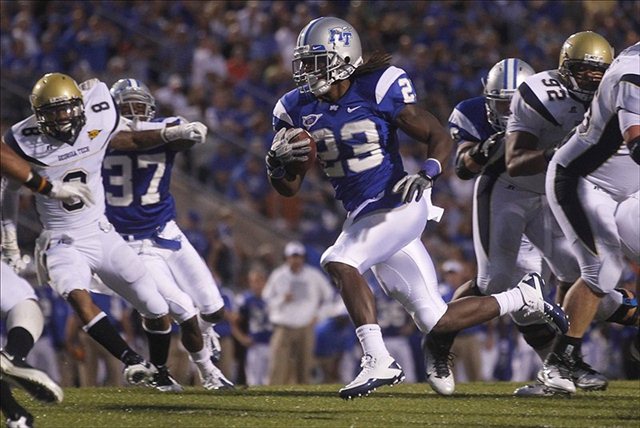 D.D. Kyles' Blue Raiders will make the leap to Conference USA. (US Presswire)
The conference realignment trickle-down from the Big Ten's surprising decision to add Maryland and Rutgers continued Wednesday. Conference USA has added Sun Belt schools Middle Tennessee State and Florida Atlantic.
The Hampton Roads Virginian-Pilot reported Wednesday that C-USA has already issued the invitation to MTSU and that the Blue Raiders will help fill the void left by the departures of Tulane and East Carolina to the Big East. Per the Virginian-Pilot, MTSU was a finalist for one of the six invitations issued by C-USA earlier in 2012 that eventually went to Louisiana Tech, FIU, North Texas, UT-San Antonio, Old Dominion and 2015 transitional member Charlotte.
CBSSports.com's Jeremy Fowler has confirmed through source directly involved in the process that Florida Atlantic will join Middle Tennessee in moving from the Sun Belt to C-USA. 
The Miami Herald reported Wednesday that FIU officials had been lobbying Conference USA to issue FAU an invitation, reestablishing the schools' crosstown conference rivalry. 
Though the Virginian-Pilot set no timetable for the Blue Raiders' move, East Carolina and Tulane are scheduled to play 2013 as Conference USA members and move to the Big East in 2014. That would mean Middle Tennessee would likely be on the same schedule for its jump from the Sun Belt to C-USA.
Middle Tennessee State is a school of some 24,000 students located in the Nashville metro area city of Murfreesboro. After back-to-back losing seasons, the Blue Raiders have rebounded in 2012 with an upset of Georgia Tech, 8-3 overall record and 6-1 mark in the Sun Belt. They face rivals Arkansas State on Saturday with the conference title on the line.
The Owls have gone 3-8 in their first season under Carl Pelini, FAU's second-ever head coach after Howard Schnellenberger kickstarted the program in 2011. Schnellenberger took FAU to bowl victories in 2007 and 2008 but retired following the opening of the school's new on-campus stadium and a 1-11 2011 season. The Owls' 2012 season concludes Saturday vs. UL-Lafayette. 
FAU is located in Boca Raton, Fla., and boasts an enrollment 29,000 students.
With the additions, Conference USA moves up to 13 teams for the 2014 season and 14 once Charlotte becomes a full-fledged FBS member in 2015. The Sun Belt, meanwhile, drops to only eight teams for 2014, and could look at either re-adding former members (and future FBS independents) New Mexico State and Idaho, or encouraging current FCS members to make the leap up a division.
A new names joins Saquon Barkley, Baker Mayfield and JT Barrett in the race

Anderson didn't hold back when taking a shot across the state

Arizona State will wear military-themed uniforms against Colorado on Nov. 4
The Gators are off to their worst start since 2014

Just in case you wanted another reason to watch this game

Irvin's son is a sophomore tight end for the Hurricanes