Music City Bowl Quick Hits: Vanderbilt 38, NC State 24
It's all Commodores in Nashville as NC State's Mike Glennon can't get it going.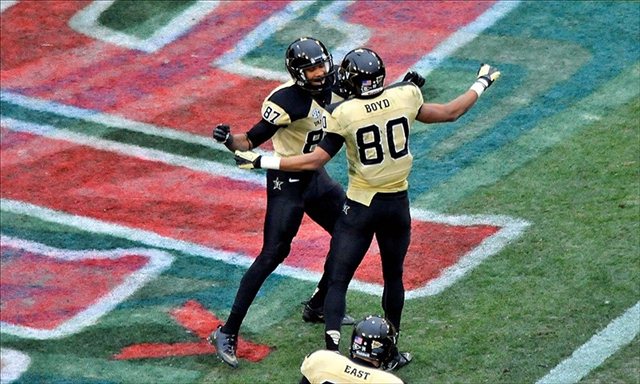 Jordan Matthews and Chris Boyd had reason to celebrate against NC State. (US Presswire)
VANDERBILT WON. For just the third time in their history, the Commodores have won a bowl game -- but they couldn't have done it without a lot of help from the Wolfpack. Mike Glennon threw three interceptions, Vanderbilt recovered two fumbles, and the Commodores turned those five gifts into 17 points. Zac Stacy finished with 108 yards rushing, accounting for 48 percent of Vandy's (meager) 224 yards of offense.
WHY VANDERBILT WON: It's not often that a team can finish with a 214-yard disadvantage in total offense and be comfortably in control of the game throughout the second half, but the Commodores managed it, thanks to their overwhelming advantage in field position. The five turnovers -- four of which gave Vandy the ball in Wolfpack territory, and the fifth of which started Vandy at their own 49 -- had a lot to do with that. State also had a 22-yard punt from its 9-yard line and gave up a 51-yard kickoff return followed by a 15-yard unsportsmanlike-conduct flag. Long story short: Vanderbilt's game-long field position could not have possibly been better without rewriting the rulebook.
Add that advantage to Stacy's repeated ability to find holes out of the wildcat set and the 'Dores ruthlessness in the red zone -- where they scored five touchdowns and a field goal in their six tries -- and an easy victory was in the cards no matter what the total yardage said.
WHEN VANDERBILT WON: The Commodores had settled for one second-half field goal and missed another to keep the Wolfpack within striking distance ... at least until quarterback Jordan Rodgers burst over the left side of the line for a 15-yard touchdown, putting Vandy up 38-17 with 5:11 to play. 
WHAT VANDERBILT WON: A ninth game in one season for the first time since 1915, meaning that James Franklin has probably also earned himself another round of entirely deserved plaudits.
WHAT NC STATE LOST: Potential first-rounder Mike Glennon probably cost himself some draft stock with his three ugly interceptions. (383 passing yards have never seemed to amount to less.) But team-wise? With Tom O'Brien already gone, any stakes for the Wolfpack aside from ending the season (or the seniors' careers) with a win were nonexistent.
FINAL BOWL GRADE: With all the turnovers and Tobais Palmer's 94-yard kickoff return for a touchdown, the first half was entertaining. But the Wolfpack's total inability to mount a second-half charge meant that the final 30 minutes were riveting viewing for Commodores fans and no one else. Grade: C+. 
The 21-year-old quarterback was expected to start for the Cougars in 2018

The Fighting Irish will be without some playmakers in 2018

It may have been impossible for Sumlin to meet the expectations set for him in College Sta...
Some players are more easily replaced than others

The 2017 season is in the books, and several big-name stars are jumping early to the NFL

Love was second in the nation in rushing with 2,118 yards in 2017