NCAA, Defense Department will create concussion database
The White House describes the $30 million effort as the most comprehensive database ever about the evolution of concussions.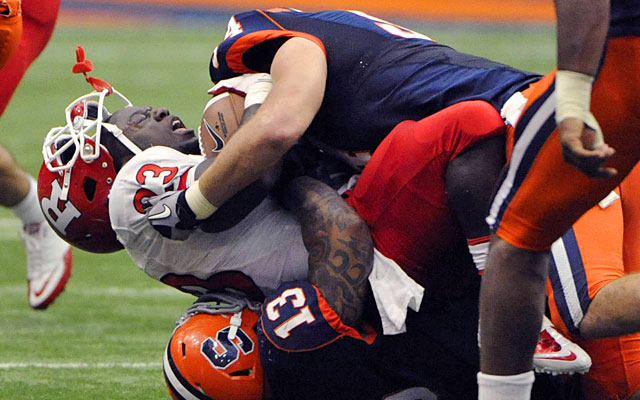 More college football: Jon Solomon | Dennis Dodd | Jeremy Fowler | Latest news
The NCAA and Department of Defense are launching a $30 million effort to produce what the White House calls the most comprehensive concussion database ever.
The initiative was announced Wednesday in conjunction with President Barack Obama's youth safety sports summit this week. In addition, the NFL  has committed $25 million to support youth sports safety projects, including support for new programs to expand access to athletic trainers in schools.
As scientists search for new research about head injuries, the NCAA and Department of Defense's database will attempt to comprehensively track the natural histories of concussions. The goal is to produce research on concussion risks, treatment and management by studying how concussions evolve over time.
The widespread, systemic collection of sports-related concussion data at all levels has been a major challenge for scientists to further discover potential links between head injuries and longterm brain damage. The lack of larger sample sizes gets cited by some policymakers in sports for not taking more actions related to concussions.
Last October, the National Research Council recommended a national surveillance system to accurately determine the number of concussions in youth sports. The Obama initiative stopped short of a national registry for youth sports, but White House officials said a $10 million investment by the UCLA Steve Tisch BrainSPORT Program is part of that collection goal.
A database has been a longterm dream of NCAA chief medical officer Brian Hainline, who has previously said he eventually wants to have a centralized concussion database with all 450,000 college athletes.
The initial phase of the research involves NCAA athletes from 10 universities, plus the entire student bodies of the service academies. Michigan is in negotiations to have its athletes be part of the research, plus some other Power Five conferences. By the end of the third year, the White House estimates up to 37,000 athletes will be participating. Athletes will have a baseline test and be reevaluated after every concussive event over periods of time.
Hainline has been working for a while on research ideas with Col. Dallas Hack, director of the Army's Combat Casualty Care Research Program. At a meeting last December with 10 military scientists and 10 scientists from NCAA universities, Hainline and Hack asked the group what a dream concussion project would look like if given $30 million to spend.
"That was a three-hour discussion and there was unanimous consensus in the room what's still lacking is no one understands the progression of a concussion's history," Hainline said earlier this year.
The NCAA is currently in settlement talks with plaintiffs who are suing the association over how it has handled concussions.
"NCAA schools have placed a priority on improved concussion management, but we still have many unanswered questions in this area," NCAA President Mark Emmert said in a statement Thursday. "We believe in the incredible potential of this research. Student-athletes will be first to benefit from this effort, but it also will help to more accurately diagnose, treat and prevent concussions among service men and women, youth sports participants and the broader public."
The research will be managed by the Concussion Assessment, Research and Education Consortium and co-chaired by three universities. Indiana will provide fiduciary oversight and data and analysis management, bioinformatics, biospecimen and clinical trial support. Michigan will lead the longitudinal clincal study of the history of concussions among college athletes. The Medical College of Wisconsin will lead studies looking at head impact sensor technologies, advanced neuroimaging and biological markers related to concussions.
"Culturally, self-reporting head injuries or reporting others who display head injury symptoms is seen by some a sign of weakness," Hainline said in a statement. "We hope to change that by arming physicians and scientists with better clinical data, and by creating educational programs to increase understanding of the importance of diagnostics for immediate action and tracking for follow-up treatment."
The White House describes the NCAA project as an "Educational Grand Challenge" to create evidence-based education and research proposals that changes the concussion culture and behavior of college athletes. Other initiatives announced by the White House:
• The National Institutes of Health is starting a new effort to detect and measure the longterm effects of repetitive concussions. The clinical trials are aided by $16 million from the NFL, fulfilling the NFL's $30 million commitment to NIH in 2012.
• The National Institute of Standards and Technology will invest $5 million over five years as part of the Materials Genome Initiative to accelerate the development of advanced materials for better concussion protections.
• Pop Warner will have 100 teams participate in a pilot program tracking concussions in youth football.
Locksley joined Alabama's staff in 2016

Saban reportedly wants to hire Freeze, but there may be things keeping that from happening

Florida State-Miami will be on Oct. 6, and the Seminoles will play Clemson on Oct. 27
Weis Jr. was an offensive assistant for the Atlanta Falcons in 2017

Lott is joined by three current athletic directors and will serve a three-year term

These are the top guys every school is still chasing