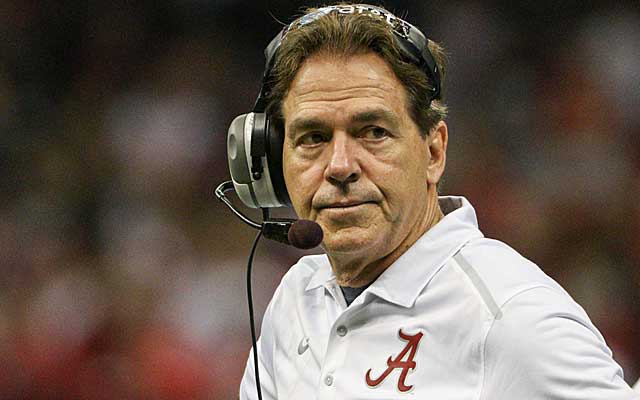 There was shock expressed by some reporters and fans late Saturday when news broke that Alabama football player Jonathan Taylor had been arrested again for domestic violence. "Unbelievable," "wow," and "whoa" seemed to be the most common responses.
The public wonders how Taylor, four months after being indicted on two felony counts for hitting and choking his girlfriend in Georgia, could get arrested again on a similar charge given a reprieve by Nick Saban, if not a court of law. In this latest case that led to Taylor's arrest and resulted in his dismissal Sunday by Saban, the Tuscaloosa Police Department said a 24-year-old victim stated she was assaulted by her boyfriend and had "minor injuries to her neck from the assault," plus there was a punched hole in a bedroom closest door.
Sadly, the reaction of surprise about Taylor's latest arrest is part of the problem on the subject of men abusing women. There's such a huge disconnect in how America handles domestic violence and fervor for 340-pound defensive linemen that Saban could use terrible judgment to apparently think his process would change someone alleged to have hit and choked a woman.
"This is reprehensible," Kathy Redmond Brown, founder of the National Coalition Against Violent Athletes, said Sunday. "For anybody to think it wouldn't happen again is naive at best and completely false and lying at worst."
Saban blew it. Alabama athletic director Bill Battle blew it. The University of Alabama blew it.
And it has to stop. Powerful men such as Saban could be part of the solution by sending clear messages with actions, not just words, on where they stand on men hitting women.
At what point does a head coach get held accountable for signing players with known criminal backgrounds who get arrested again for similar behavior? As incredible as this sounds, does the SEC actually need a rule preventing one school from signing another school's ex-players who face pending felony charges even after their junior college rehab tour?
Taylor deserves his opportunity to work another case through the legal system. We all have rights. That's a big difference than deserving the opportunity and prestige of playing major college football through taxpayer-funded services.
On Sunday, Saban announced Taylor had been dismissed from the team. "This will still need to go through the legal process, but when he was given an opportunity here, it was under strict guidelines and we made it clear there was a zero tolerance policy," Saban said in a statement.
Alabama spokeswoman Deborah Lane released the following statement early Sunday morning: "UA is aware of the incident. The student has been referred to judicial affairs."
Battle said in a statement he still believes in "second chances" but that it requires responsibility and accountability. "In Jonathan's situation, the University and the Department of Athletics set forth very clear standards of accountability and expectations of conduct," Battle said. "Jonathan was afforded a chance to successfully overcome the difficulties that resulted in his departure from the University of Georgia. Unfortunately, it appears he was unable to do so, in spite of extensive efforts to assist him. All of us hope that Jonathan and the young lady involved can deal constructively with the issues that led to this situation, and their aftermath, so that both of them can have productive, healthy futures."
Saban is the highest-paid public employee in the state of Alabama. He shares a responsibility to create a safe campus in Tuscaloosa. (Adding to a disastrous weekend for Alabama, cornerback Geno Smith was arrested for the second time for driving under the influence.)
Instead of Saban lecturing the media about "second chances" -- and this was actually at least Taylor's third chance given a previous arrest on theft charges at Georgia -- maybe Saban should speak with people who know about the uglier side of a player.
Last month, Battle said "we thoroughly investigated numerous sources" and had "extensive discussions with several people" who are "very close" to Taylor. Saban had cited conversations with Taylor's high school and junior college coaches and mentioned unspecified behavioral stipulations imposed by Alabama on Taylor.
Here's who said they weren't contacted by Alabama: Georgia coach Mark Richt and Athens-Clarke County district attorney Ken Mauldin, the prosecutor in Taylor's first domestic violence case. Think they might have offered a different perspective?
Instead of Saban taking a chance with the safety of his university's campus, maybe he should talk to domestic violence experts. Some of them warned that another incident could happen and the potential legal implications for Alabama.
"Coaches and administrators are not stupid," Redmond Brown said. "They know that someone accused of domestic violence or sexual assault has high risk rates to do it again. This is the script. This is how they react. This is their coping mechanism.
"So unless you have somebody doing big-time intervention with them with a lot of psychological counseling over a period of years, you are going to get this. In my opinion, what Alabama was hoping is within the structure and protection of Alabama, that nothing would be reported. And that's a very different thing. I'm not surprised this happened again. I'm surprised the arrest became public."
Domestic violence is not a singular incident. It's deeply rooted in our culture and can be a hidden but constantly terrorizing factor for victims, some whom live in denial. Hitting a woman is about establishing control and fear in a relationship through violence.
Every nine seconds a woman is beaten in America. One in four women will be victims of severe violence by a partner in their lifetimes. There were 11,766 American women murdered by current or ex-male partners from 2001 to 2012 -- nearly double the number of American troops killed in Iraq and Afghanistan during that period.
Yet there's also "a narrative that women lie, women are dramatic, women can't be trusted," Redmond Brown said. "If a woman says she's been beaten, we don't know what that looks like. That's what's going in a lot of people's heads, until a Ray Rice video comes out."
This was Saban when I asked him in February if he's worried about the message he sent by signing a player with pending charges for hitting and choking his girlfriend.
"The guy was charged. There's no question about that," Saban said. "He was accused. I can't discuss the circumstances of all that. I've said this before: When people are young and they make a mistake -- and that is not a mistake that we condone in any way, shape or form, that it's any disrespect to any person, let alone a female -- that there isn't some occasion to not condemn them for life, but to give them another chance. And it's up to them to prove that they deserve that chance."
Redmond Brown gets furious when she hears the word "mistake" attached to domestic violence.
"This isn't a mistake," Redmond Brown said. "It's ingrained and it's wrong behavior, and I hate when people call it a mistake. What you teach people is you're making excuses for horrible behavior and you're setting a standard that it's OK. I talk to athletes all the time and they know what wrong looks like. But we dumb all these things down for them as if they don't know.
"Georgia kicks him out. He gets picked up by Alabama. What's the lesson? There is none. So why would he not do it again? Alabama basically became an enabler of his behavior. If this guy beat up his mother or grandmother, nobody would call it a mistake. But we look at a narrative that minimizes the impact to a woman because of all the things we've been desensitized to in society and then it's a mistake."
If you want to know why people become cynical of major college sports, stories like this offer sharp insight. If Alabama had not signed Taylor, someone else would have. That's what happens when you're a very large man who can play football well.
Even many Crimson Tide fans shook their heads in surprise a couple months ago at Saban's decision to sign Taylor. It's not as if Saban is short on talented players. Fans may hold the key to change coaches' own behavior on taking these risks.
"Nick Saban is obviously not going to change it," Redmond Brown said. "Administrators aren't going to change it because why mess with a team that's not broke? As long as the fans are appeased and go with it and support you while you're winning, who do you have to answer to? The fans can say we don't want to be known for this."
Someone in Alabama surely needs to say it.